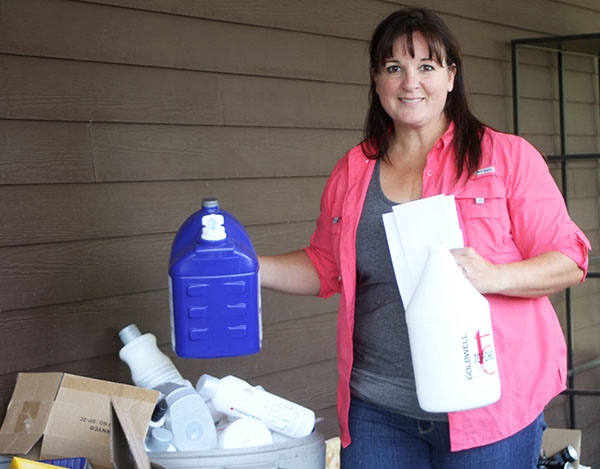 Michele Lapointe looks forward to having an easier time recycling all of the waste products at EM Salon.
Although Michelle Aston and her staff at EM Salon already practice environmentally-friendly ways, they are about to contribute more to sustainable living. As of August 1, the salon will become a Green Circle certified salon.
"What this means is that 95 per cent of our waste will be taken away and recycled," Michelle said.
Hair salons and spas use a lot of materials that have, in the past, gone into the landfill. As a Green Circle salon, the waste will now be picked up to be recycled, repurposed and reused.
All of those hair clippings that drop to the floor will be turned into giant pods and used to clean up oil spills. The hair is taken to a warehouse where the pods are stuffed and stored in the event of an emergency.
All of the chemicals and colour, as well as the containers they are packaged in, will also be disposed of properly so the materials are not going down the drain. For the first time, EM Salon will also be able to recycle foils and wax strips that are used each day. Currently, what can be recycled has been sorted and taken to the recycle depot, but it piles up quickly.
"We have so much stuff," Michelle said. "People are shocked at how much is thrown away. We can recycle some things, but much of the waste we create we cannot. With Green Circle, it will be picked up as needed and some of the items will be processed at a plant in Burnaby. 
Green Circle Salons promote sustainable beauty and with more salons participating in their program, industry professionals can feel they are doing their part for a better future.
There is an eco-fee for certified salons, but Michelle feels it is a win-win for the salon and clients.
"For us, we feel better about where our waste is going," Michelle said.
Em Salon also participates in an annual clean water fundraising event to be able to provide people in developing countries with safe drinking water. Last April, through a wine and cheese evening and sales of Earth Month candles, the salon's efforts raised $1,300 and saved 63 lives.
Michelle said there are more exciting changes coming to EM Salon this year, so stayed tuned and follow them on Facebook.