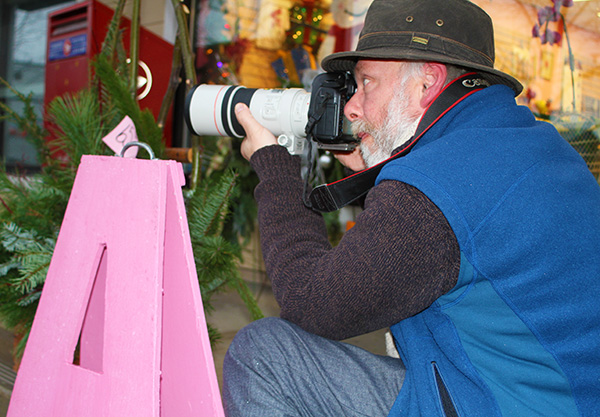 When he is not busy at Azalea Flowers and Gifts, Lyndon Cassell is capturing local scenes with his camera.
December 22, 2015 - 6:35am
Lyndon Cassell was born and raised in Newfoundland and over the years made his way to British Columbia. The experience he gained along the way is as varied as the two coasts, but when he landed in Port Alberni five years ago, he put all of his skills together to launch a new business with his partner, Pam Fong. 
Although his dream had always been to make movies, he followed in his family's footsteps to first acquire an education in business. 
"My grandfather owned an oil company and I knew I couldn't do anything without a solid foundation in business," he said.
After completing his studies at Memorial University, Lyndon moved to Toronto. He went from the town of Deer Lake, Nfld with a population of 5,000 to a city of more than 3 million at the time. Deer Lake was a town based on the forest industry and similar to Port Alberni with a pulp and paper mill. 
"It had a certain style and atmosphere, so that's why Port Alberni feels homey, but Toronto was mind-blowing," he said. 
There for only a couple of years, he worked in the Ford company's glass factory to pay the bills, but on the side became involved in performing stunts for the film industry. Through a stunt school, he learned basic fight moves, including how to throw a punch and kick, free falling, car driving techniques and fire. 
Lyndon's other passion, music, led him back to Memorial University for five years for an English degree. 
"I thought that if I learned poetry, I could have a better understanding of the solid music out there, like Bob Dylan, Neil Young and the Stones. It brought my appreciation of music to a different place." 
While there, Lyndon also worked at the university's television station helping to produce documentaries and material for distance learning courses. From there he worked on the audio and video in the Biology Department. 
Further education ensued when Lyndon was hit by the computer bug. He studied computer programming in Halifax and ended up with jobs in the field, both in Newfoundland and in Toronto. He then started making his way west when he was hired by an engineering firm. Near the end of his 11 years there, he met Pam and the two came to Port Alberni for a house swap. After meeting residents and taking in local events, Lyndon said he knew he wanted to stay and start a business. That was also when he started capturing sights on his camera with the hope of using his photos to help promote the town. After the move, though, he was offered a consultant position in Winnipeg that he could not pass up, so while Pam remained in Port Alberni, Lyndon lived there for three years. 
In February of this year, his contract renewal came up and he declined, deciding instead to plant roots in Port Alberni. 
"I had to decide if I should go somewhere else to be a computer software developer, but we were willing to invest in this town and decided to finally start our business," he said. "I always wanted to go into photography and film but realistically it's a tough gig. Pam worked in the floral industry and has solid skills."
With Pam's knowledge of flowers and talent in design and his business background, it made perfect sense. The two opened the doors of Azalea Flowers and Gifts on Argyle Street on May 1 and have been happy with their decision and success so far.
He said photography has been a part of his life since he received his first Polaroid camera for Christmas a child and is now rarely seen without his DSLR. 
"I like to use my photos to promote the town and our business," he said. "It is the simplest and most cost-effective way." 
One thing that has become synonymous with Azalea is the large pink A outside the shop.
"I was constantly shooting and then a lightbulb went on," he said. "I wanted to promote a couple of things so I posted then on (the Facebook page) AV Chatterbox. I decided to share more and saw a positive response." 
Lyndon continues to see the town with new eyes and enjoys sharing some of his favourites to the page. 
"I didn't expect it to be so great," he said. "The comments are encouraging. I hope some of the pictures tell a story. I want to be a long time resident and business owner and I will do my little part in promoting the town through whatever means I can."