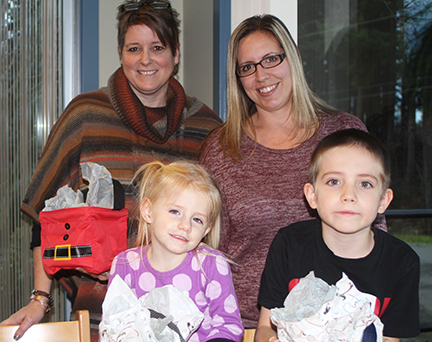 Laurel Seabrook and Trena Carpenter, along with Trena's children, are ready to start filling totes for women and children in need in the community.
November 18, 2016 - 11:44am
Two local sales reps are using their networks, products and own commissions to help other local women in need over the holidays.
Laurel Seabrook and Trena Carpenter are putting together "Winter Warm Up" bags to help warm the hearts of others. As a Jamberry rep, Laurel started a fundraising initiative last year for the Alberni Community and Women's Services Society (ACAWS). It was after a family circumstance that she learned of the importance of the Society and felt compelled to help. She collected donations to cover the cost of bottles of nail polish and donated her commission as a cash donation, all of which was distributed to clients of ACAWS.
"I realized there are a lot of women and girls who need support and they are the ones that are usually left without help," Laurel said. "It made me think of everyone who might know someone close to them (in a similar situation). It went over well last year so I decided to do it again."
Laurel, a teacher with School District #70 approached Trena, whose son is in her class. Trena sells cute decorative totes through the company, 31, and they decided to fill them with essential items and treats.
"When she asked me if I wanted to help, I said, 'Yes, absolutely!'", Trena said. "Now my kids see me doing it and my son asked about it. I explained that there are some women and children who need support in the community. Some are in abusive relationships. This is a good way for us to help."
The two have been seeking personal and business sponsorship to cover the totes and hand cream. Already they are halfway to their goal of filling fifty bags. They are donating the commission of their sales for the fillers, including hot chocolate, lip balm, soap, tissue, mitts, socks and other items.
By pairing up, they have been able to reach more people. Each have social media networks and hope that by extending their reach they can help more women in need.
"If anyone has someone in their life that needs the support, it is nice to support a non-profit that is there for women and children during the worst time of their lives," Trena said. "We all hope to not have to use the resources but it is so good that they are there."
So far the two said response has been good and everyone they have approached for sponsorship understand the importance of the project. Sponsorship is $45 per bag. For more information, Laurel and Trena can be reached through their Facebook profiles.