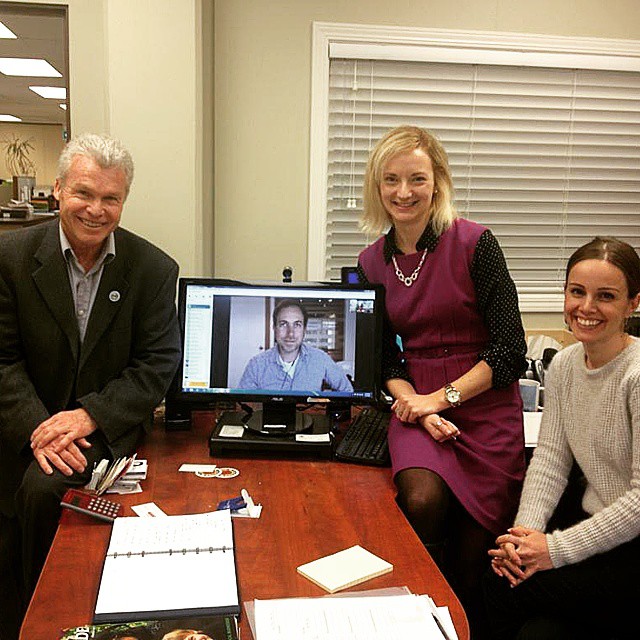 Credit: Heart of Vancouver Island
Pat Deakin, along with Heart of Vancouver Island contributors, Kama Money and Tashia Potter, believes the campaign is a positive one for Port Alberni.
January 26, 2016 - 11:42am
According to City Economic Development Manager Pat Deakin, when he said last week that he wanted Valley citizens to combat negative online chatter, his intention was not to suppress freedom of speech. Instead, he wants the entire community to help make Port Alberni a positive place to live, and consequently, promote growth. 
"When I mentioned people going 'off the rails', it was probably a poor choice of words, but it was about working with people to work on the issues, not about shutting down social media or anything against free speech," Deakin said. 
He said he has recently read negative posts on various local online media and would rather see those people proposing solutions. 
"I am aware there are several online sources where a lot of time is spent complaining about aspects of our community but it is in everyone's best interest when people are addressing a problem, that they offer up a potential solution," Deakin said. 
Deakin brought up his concerns at a special budget presentation in front of council last Wednesday.
"I noted many issues that people were concerned about were not within the municipal jurisdiction or the city's mandate, however I was urging council to see how we could begin to resolve them," he said. "I've gone so far as to try to find funding for some of the journalists without judgement of a column that experienced frustration with what's being done and not being done."
That said, Deakin agrees that social media has worked in favour for Port Alberni's reputation several times. 
"There was Carolyn Jasken's Ultimate Fishing Town campaign which resulted in Port Alberni being known as Canada's Ultimate Fishing Town, a half hour TV show on the World Fishing Network and $25,000 used for stewardship and marketing," he said. 
He remembered two examples featuring local VAST teacher, Kama Money. Both of her experiences with the Reach Out With Red Rose and Smartwater Because I am a Girl campaigns ended up taking her to Africa and giving her the opportunity to market Port Alberni. 
"There was Angel Magnussen's social media campaign in support of her endeavours to get acknowledgement for the work she is doing," he said. "And there was Jaeger Mah selected by YVR to blog, write and video moments in the Vancouver airport. All of those are instances where social media in Port Alberni harness really good things." 
He also mentioned the growing popularity of the Heart of Vancouver Island Facebook page, which reaches international audiences and highlights reasons to live in Port Alberni.
Deakin admits there are issues in Port Alberni that need improving, including housing, health, poverty and commercial buildings in poor condition. 
"They affect our ability to attract visitors, investors and businesses, but what we need are people to propose solutions," he said. "Given the challenges we have as a community to market outside the community, we need everyone's help. If someone has a complaint, air it, but make a solution. I don't have time to read all of the posts that go out on the forums so if you are not getting a reaction, phone council members, the mayor or myself if it is directed at an economic development opportunity." 
Deakin said that when faced with a screen full of lengthy comments, sometimes it's best to just get outside, despite the dreary weather. 
"We even get bashed for that," he said. "That is a perfect example of something we can't control. Instead of talking about it, we can talk about all the things people can do as individuals or families. Go to the lookout and get above the fog. There's also the pool or music at dozens of venues. I am not always 100 per cent happy sitting in the fog, but these are choices I can do to change my mindset."