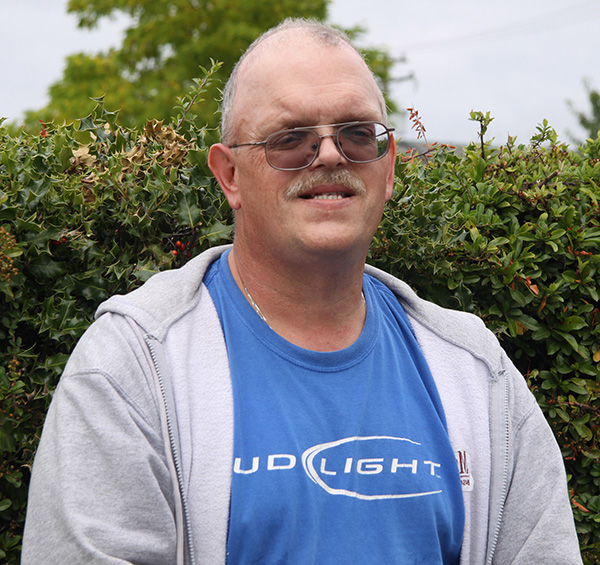 Dale Sanderson will be seen all week at Clutesi Haven Marina, setting up for the Salmon Festival and working the event all weekend.
For the 45th year, the Port Alberni Salmon Festival at Clutesi Haven Marina will be the place to be over the long weekend. Consistently run by volunteers since its inception, Dale Sanderson will be on-site putting in his many loyal hours during the three-day event.
For Dale, it all started in the mid-1990's when he saw an advertisement by the Kiwanis seeking help painting the stage for the Salmon Festival. He was told that job was taken care of, but there were other things he could do to help. One of those things was joining the Kiwanis Club, which he did, and has been a member ever since. He works year-round with the Kiwanis Club and puts in countless hours for the Salmon Festival.
"I decided to join the Salmon Festival Society because I saw there was a real need for help with the building being taken down and the office disappearing," Dale said. "I figured I could fill in some holes."
Dale is a familiar friendly face and is always willing to help where needed. He has specific roles, but is quick to fill in and multi-task as unexpected issues come up. Just yesterday, he made a last minute trip to pick up supplies. Dale is quick to volunteer his tech skills and was a big help a couple of years ago enabling onsite wifi for continual updates.
Even when glitches occur, Dale prioritizes and handles everything in stride. This year he is looking forward to having a live feed from Clutesi Haven Marina to China Creek Marina so both weigh-in stations will have instant access to the top catches.
"The guy at the weigh-in station at China Creek will have his laptop on-site and will be able to find out the biggest fish as they come in," Dale said. "It will make his life easier."
Dale also helps with finances and is the main organizer of the many supplies needed for a successful event. He touches base with suppliers up to four months ahead of time and during August, the work is non-stop.
Two years ago Dale was presented with the coveted Egon Matheson Memorial Trophy at the closing ceremony for his exemplary volunteer service. He said it was a great surprise. He had known Matheson since the 1970's when his father owned Argyle Machine Works and both Matheson and Salmon Festival president Dan Washington were employees. On the final day of the festival, he was unaware of the honour, and was given the run-around to be distracted before the closing ceremony began.
"I was surprised and one hundred percent shocked and humbled," Dale said. "Egon always kept his nose to the grindstone and he always had a smile on his face. To get that award in my first year as a Society member was overwhelming," he said.
Dale intends to continue working with the Kiwanis Club and hope the group's efforts help the community.
"Our biggest push is for the Kiwanis Hilton Children's Center," he said. "We want to make sure the kids are taken care of."