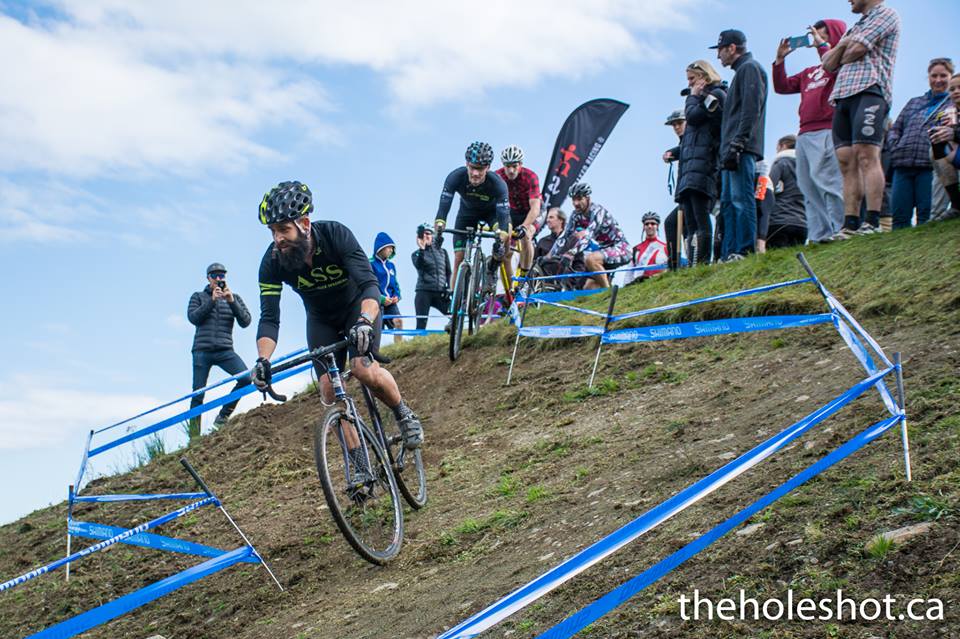 Lee Blais took part in the cyclocross race at Bear Mountain on Oct. 10 as part of the Cross on the Rock series.
October 21, 2016 - 7:35am
About 250 cyclists are expected to be at Farmer Bill's farm this Sunday for the annual Cross on the Rock cyclocross race. The race is not only open to all ages and abilities, but is an exciting spectator sport. Picture athletes riding through a muddy course, carrying bikes over obstacles and veering around farm equipment.
Lee Blais has been organizing the event for several years and for the third consecutive time, the Cattle Cross will take place just off Pacific Rim Highway. For the past couple of weeks, he has been preparing the course.
"I had to rack all the debris from the storms, chop weeds down and change things up a bit," Lee said. "It's nice to have somewhere in the Valley where the Thomsons are. They pretty much allow us to do anything out there."
He has also coordinated volunteers, registration, secured prizes and has the Lime 'n Food Truck.
It is one of the most anticipated races of the Cross on the Rock series because of its unique course. Most races take place in parks with a mix of pavement and trails, but are not as rough and technical as the one at Farmer Bill's. Even though heavy rain isn't expected for Sunday, there will still be plenty of mud left.
Lee is convinced the sport has been increasing over the years because of its wide appeal. Beginners to experts will be seen on everything from full carbon cyclocross bikes to mountain bikes and single speeds. Riders will be required to be on the course from 35 to 60 minutes, depending on level, to see how many laps of the 3.2 km course they can complete.
Lee encourages the public to come out to watch. When asked why, he said, "Because of how ridiculous it is. You will see people covered in mud riding around in a farmer's field."
For Lee, cyclocross season is a good time to do something different. Typically a long distance cyclist and runner, he has competed in about 50 cyclocross races over the decade.
"I like to stay active in the Fall and Winter and have something to focus on," he said.
This year, even though he experienced flat tires and wipe-outs, he still remains in the Top 10 on the Island. The finals wrap up in Saanich on November 20.
The first races of the Cattle Cross begin at about 11 a.m. for beginners and run through 2 p.m. with intermediate and expert levels on Sunday at the left turn-off just past the Tseshaht Market. 
For more information, check out www.crossontherock.com.