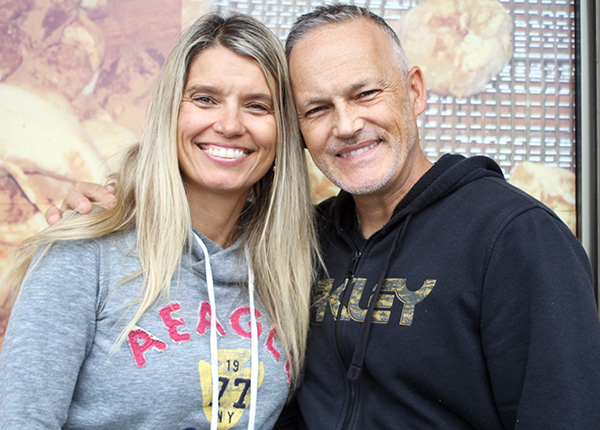 Nori and Shelley Anderson are seeking members for their new church, which they hope to build within the next six months.
September 23, 2016 - 7:17am
A couple who have been working closely together as a pastor and wife team overseas are building the foundation for a new church in Port Alberni. Currently growing a membership with an evening gathering at their home, Nori and Shelley Anderson have goals for the future and are following the direction they believe has been set for them.
As a carpenter, journeyman and welder by trade, Nori has a solid background in the ministry, as his father was a minister and he, himself, pastored two churches in Alberta. While he was a child and his father a minister in Chase, BC, the family moved to pursue an opportunity in Edmonton. Nori attended both NAIT and SAIT to acquire his trades certificates and then headed to seminary to get his Masters in Theology in Regina. After that, he continued his schooling, this time in Calgary at another seminary and is currently completing his training through a seminary in Vancouver.
"For me it is about lifelong learning," Nori said. "It helps me in the context of the ministry."
Nori and Shelley met while at a Bible College in Saskatchewan in 1988. The following year they married and shortly after, started a family. Between 1993 and 1995 they had two sons, and Shelley did a bit of everything.
"I mainly stayed at home at first and took care of other kids as well," she said. "I worked downtown for awhile until Nori and I both went to seminary. I studied my first year of my Masters".
In 2008, the family travelled to Indonesia for a cultural and language study opportunity. After that, they returned to Alberta for six years, but more travel and learning was calling. The two spent the last two years in Bali serving in an international church and recently moved to Port Alberni to be closer to family.
For Shelley, it is also a return home. Born into the large Massop family, she graduated from ADSS in 1987.
"My dad was a jack-of-all-trades but wanted to go into the ministry debt-free, so we moved around a lot and always came back to Port Alberni for his work," she said. "To me, Port Alberni has always been home."
She said as a people-person, she adapted to the changes and thrived on seeing new places and having new adventures.
"While in Bali, we were a bit unique, working as a pastor and wife together so closely," she said. "Even though mine wasn't a paid position, the journey has indeed been that. It was a fantastic way to kick off empty-nesting."
"What we learned in Indonesia we will use as a continual reminder of how people will feel if they know compassion," Nori said.
Now they hope to continue their adventures together in Port Alberni. Two and a half years ago, the Evangelical Free Church contacted Nori about restarting a free church in town. There used to be one in the 1970s, but it was unable to sustain itself.
"After we went overseas and engaged in an international church, we came home and felt the need to look into it," Nori said. "We believe in a fresh vision for a church. If a church loves and serves a community, it will grow."
Shelley said they have the desire to work in camaraderie with other local churches to develop healthy relationships and stresses they are open to everyone.
"It is multi-generational, multi-ethnic, and all are welcome," she said. "We are already accomplishing that with the group we have. We want everyone to feel like they are part of a family, through the good, the bad and the ugly. Life is part of that for all of us and we want to be able to talk and share freely."
Once their numbers increase, the couple hope to be renting a space within six months and have regular Sunday services. To spread the word and gain interest, they are holding an information session this Sunday, Sept. 25 at 6:30 pm at Echo Centre. For more information, they can be reached at nori.shelley@gmail.com or 780-297-1251 pr 780-257-1274.