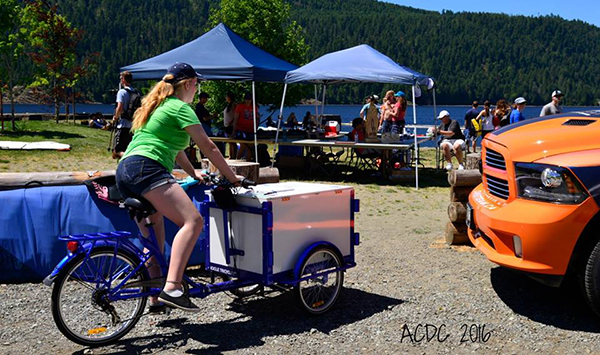 Chelsea Jansma will be seen riding around this summer with a cart full of ice cream treats to cool everyone off in the hot Alberni Valley.
It isn't a truck and it doesn't drive by with the familiar tune that neighbourhoods all over the country look forward to hearing every summer, but it does the same job of delivering cool treats on a hot day. Chelsea Jansma recently created a sweet summer job for herself and it looks as though her vacation from school will be a fun, busy and profitable one.
The young, 13-year old entrepreneur started out by babysitting, but with indefinite hours, she wanted something that was more regular and something that she could work around her own extra-curricular activities. The mobile ice cream cart was the perfect option. She is able to go to community events and work her own hours.
Chelsea attends John Paull II Catholic School where she took the Junior Achievements program. Through the program Chelsea and her classmates have worked with local business owners to learn what it takes to run a business. She said she also gained self-confidence from the experience, something that gave her the extra encouragement to launch Daesea's Cool Treats.
Chelsea said she got the idea from her mother, Colleen.
"I thought it was a great idea, so we looked online and found a cart to buy and same with the treats," Chelsea said.
She said the only challenge so far is pedaling the bike and maneuvering the attached cart at the same time.
Accustomed to being active, the job is designed for her. As a member of the local 4-H Club and Pony Club, Chelsea will now be able to split her time between riding a bike and riding a horse this summer. She will also be preparing for her obligations within the Clubs, including shows, fairs and events. The Clubs have been integral to helping her learn life skills and responsibility, traits that will help with money management for her new business.
"They also help with socializing because I'm not one of those people who can talk easily with people I don't know," Chelsea said. "The money I make this summer will go towards the things I do with the clubs."
Chelsea's launch of the ice cream cart was at the Mini World Cup soccer tournament in May and it was more successful than she imagined. It was a hot weekend with fields full of young players and she had fun meeting people and providing them with something refreshing.
"It was so hot and I was surprised all those kids made it all weekend, so I wanted to give them a cool treat," she said.
Next up was the ACDC Stand Up Paddle Board race at Canal Beach and the Quarter Horse Show on the Fall Fair grounds. Reaction has been positive.
"I can usually tell if people like it because they come back for more," Chelsea said. "I sold a three or four Kadoozies to the same person in about two hours."
Chelsea plans on riding her ice cream cart at various events this summer, including Our Town and cruising the spray parks. Check out her Facebook page for updates on where she will be.