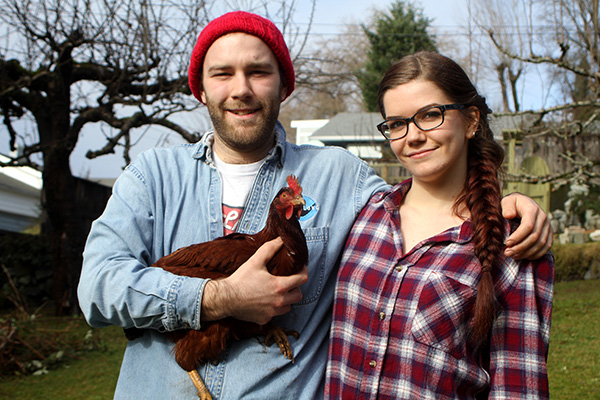 Urban growers and entrepreneurs, Josiah Gadsby and Talia Jorgenson, look forward to opening View Street Market online and at Hansen Hall.
February 19, 2016 - 7:28am
Anyone looking for another source of local produce, meat and homemade goods will soon have it in a convenient location. Relatively new to town, the operators of the new family-run View Street Market are excited about the launch of the business next month.
The team, including Rick Jorgenson, partner Jane Oliver, daughter Talia Jorgenson and her boyfriend, Josiah Gadsby, has come up with a unique-to-Port Alberni farmers market that has both online and physical locations. It also brings all of their skills and interests together.
When Rick and Jane were looking for a place to semi-retire on Vancouver Island in 2013, they took their time to investigate different communities. For the two, Port Alberni provided a perfect balance of city amenities and a quiet, small-town feel.
Talia was in Calgary at the time and was ready for a change.
"I jumped on a plane and took a chance," she said. "It was mid-summer and I loved the heat. I walked around Harbour Quay and got a feel for the town and the people were so friendly."
Josiah was studying Aquaculture in Campbell River, which he said opened his eyes to the food system and food security. He followed Talia to Port Alberni and they quickly discovered the art of urban farming.
"You don't necessarily need a lot of land, money and capital," Talia said. "Port Alberni is the best place to grow anything you can think of. I can grow more than we can eat in just a small yard, so I was inspired to grow and feed others."
With that, and Rick and Jane's background in web marketing, View Street Market came to fruition.
The concept is based on similar ventures that require farmers and producers to upload their own orders.
The two said their approach is to make it easy for both producers and consumers.
"We take all the work off of them by doing it ourselves," Jorgenson said. "All they have to do is pick up the phone or send an email. That way they can be spending their time on the field."
The website allows not only farmers, but anyone who grows edibles, raises meat or makes homemade goods and preserves, to list their products at no charge. Talia said it is an outlet for people with a love of producing, but need access to a buyer's market.
"There are a lot of people who have a passion to grow but do not have direct marketing skills," she said. "We encourage and inspire them to grow more this year. With food security an issue, we need to realize how wonderful of a place we live in."
The products will be listed on the website each week for the public to place orders. Farmers only have to drop off their products on Thursday mornings, which will be personally inspected by the market team, and buyers have that same afternoon for pickups. The location is at the top of Johnston Road, at the side entrance of Hansen Hall.
Talia said she is optimistic about the venture.
"We just have to plant the seeds and wait for them to grow," she said.
Look for more information and watch for the official launch at www.viewstreetmarket.ca.