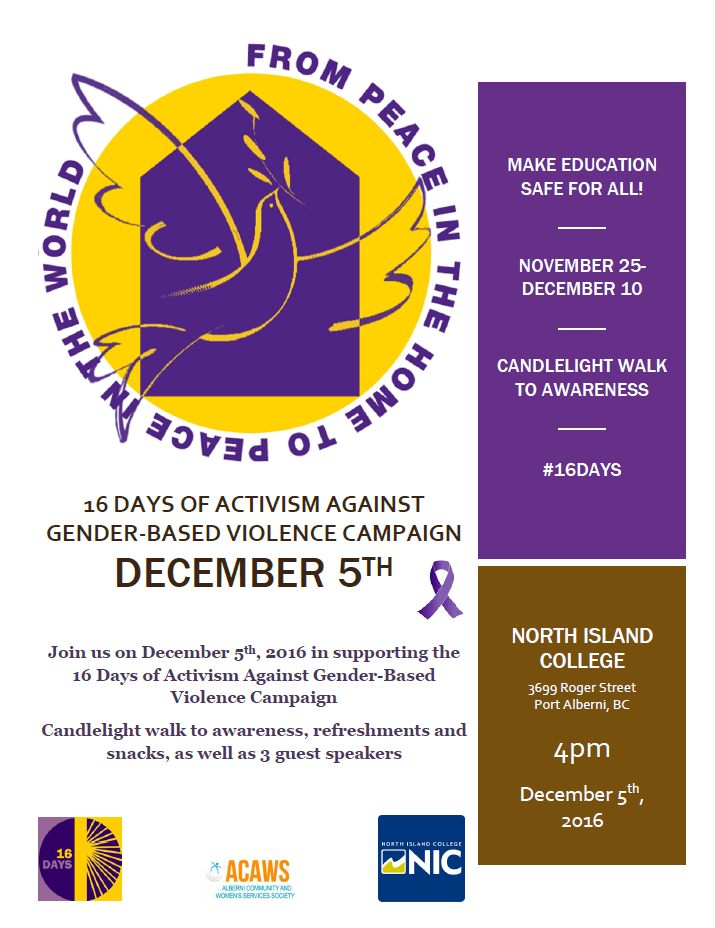 December 2, 2016 - 6:36am
Students of North Island College's Human Services Program are inviting the public to a candlelight vigil and walk on Monday. It is a part of the violence against women campaign which consists of sixteen days of activism from November 25 to December 10.
If you have noticed the display of purple ribbons lining Stamp Avenue, you have seen a visual reminder of the fourteen women whose lives were taken during the 1989 massacre at l'Ecole Polytechnique de Montreal. Each year, staff of the Alberni Community and Women's Services Society (ACAWS) pitch the ribbons to honour those women and all who have experienced any form of gender-based violence. The number of ribbons represents the calls local RCMP have responded to regarding domestic violence in a one-year time period. That number has increased from 118 to 219 since last year. Those involved feel it is time for such abuse to end.
That is why local students are getting involved again this year.
Robyn Hesby is a first-year student in the Human Services class and has taken the helm to organize the event. She has a number of helping hands as the large class of nearly 25 students are all taking on a role.
"We started organizing about a month and a half ago when Marla (Kjernsted) from ACAWS came to our class and we started discussing it," Robyn said. "In the last two to three weeks we have been focusing on it."
Students have put up posters around town, organized speakers, arranged snacks and refreshments, and decorated the college in preparation. All the work has been done in anticipation for a remembrance they hope will bring the community together in solidarity.
"Gender-based violence is a societal issue," Robyn said. "It is also an issue in our classroom, so being involved in this really helps our class. It is important to get the community involved and talking about it. It is a touchy topic so it will be interesting to see the speakers come together."
Tentatively lined up for Monday's short speeches are Ellen Frood, executive director of ACAWS, Sharie Minions, City Councilor, and RCMP Boyd Pearson. The mic will be open for anyone who feels compelled to speak.
"This biggest thing is to raise awareness," Robyn said. "If we get people talking more it will become something that is not hidden behind closed doors. The more we talk, the more knowledge we will have to help eliminate violence against women."
Robyn said the class is looking to first help those affected in Port Alberni.
"The calls to the RCMP of gender-based violence have increased this year so we want to focus locally because it is what matters most to us," she said." Poverty and domestic violence is a huge deal in this community."
The gathering will begin at the North Island College campus at 4:00 p.m. on Monday, Dec. 5 with a candlelight walk and refreshments after the presentations. Everyone is welcomed and encouraged to attend.