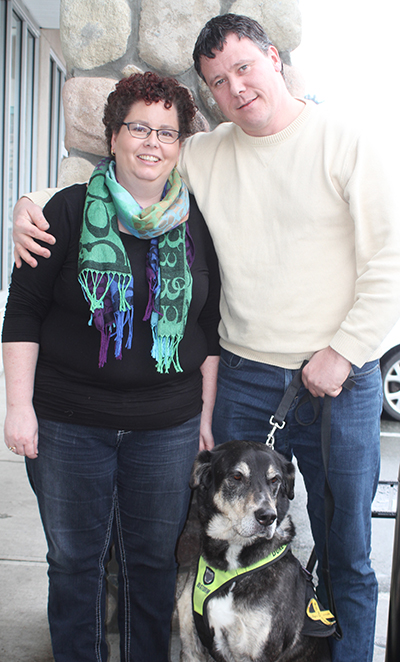 Rebecca and Shawn Standley, along with their service dog, Duke, look forward to opening up Full of Beans play cafe on Argyle Street.
Rebecca Standley is putting two of her passions together to bring something new for parents and children in Port Alberni. She has the skills, experience and the business' backup and support from her husband, Shawn. Within a few months, the two will be launching a unique play café on Argyle Street.
The two had previously been living in Ontario and while Shawn served in the military, Rebecca taught elementary school. When he was transferred to Alberta, Rebecca discovered there was a lack of teaching positions, so she worked in Early Childhood Education at a Montessori school. Shortly after, she received her Family Resource Program certificate and put it to use in a preschool and in parent groups. Needless to say, she loves children and the Standleys have three of their own.
By 2010, the they travelled to the United States with the kids, who were six, four and the youngest in infancy.
"We were looking for things to do so I googled indoor play places," Rebecca said. "I came across a play café so we took the kids and I thought it was a really good idea. I hadn't seen anything like it."
It was a dedicated play center that had simple equipment for children to play on while their parents could relax with a coffee, snack and a book or a visit with other friends. She put the idea on the shelf as something she would like to pursue when the time was right.
"It was always in the back of my head until Shawn got a job at Huu-ay-aht First Nations and we moved to Port Alberni three years ago," Rebecca said.
Two years ago, the idea came back as something feasible to pursue, so she started slowly with some brainstorming.
"I did an online search and saw that there weren't any indoor play cafes except the one that closed on Bute Street," she said. "Now the kids are in school full-time and we feel this is home so it seems like the best time."
At the same time, Rebecca started working at the Health Unit with the Healthy Babies program, as well as facilitating the toddler group.
"I have gotten to know parents and I am always hearing that there is nothing to do here, especially when it rains so much," she said. "There seems to be a hole in services for families."
That was the spark that lit the beginning of Full of Beans. The aim is to give families something different than programs that are solely focused on activities for children. While the kids keep occupied on the equipment, parents can enjoy time for themselves.
"The idea is to have a place where parents can sit and relax," she said.
Not only that, they can provide healthy snacks for their family. Skilled at home cooking and baking from scratch, Rebecca said there will be no fried nor fast food at the café. Instead, the traditional café fare will include soups, a station for customized sandwiches, quiche and other light meals.
"It will be a place where parents can feel good about what they are feeding their kids," she said.
The equipment, too, including a playhouse and climbing and sliding apparati, is something the Standleys feel good about. It made of responsibly-sourced white cedar, finished with VOC-compliant stains and paints.
"All the wood is milled and used in such a way that any leftover is composed or recycled and there are no chemicals in the end product," Rebecca said.
"It will be different than others but it won't be a Jumpin' Jiminy's," Shawn said. "There will be no loud colours and it will convey an atmosphere of relative calm. This has been Rebecca's dream for years and I will be helping do the nuts and bolts behind the scenes."
Once up and running, the Standleys hope to fill a niche for parents and children looking for some indoor fun. They expect to be open by May or June and will be located at the former Harbour Pizza Factory location on Arygyle Street. For more information or to provide feedback, check out https://www.facebook.com/alberniplaycafe/?fref=ts.