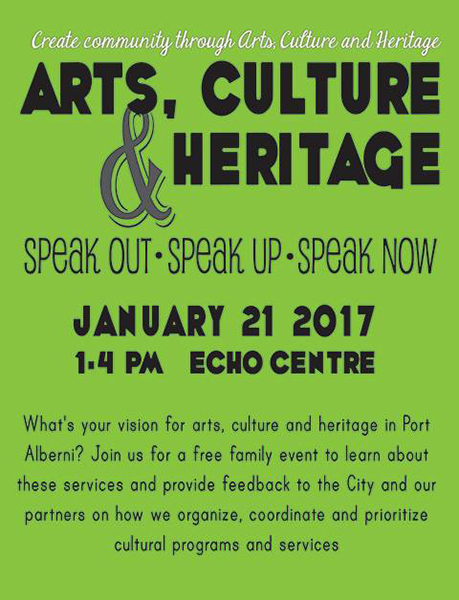 January 13, 2017 - 6:43am
Do you have an opinion on where you see the arts, culture, and heritage sector fitting into the community? The City of Port Alberni is putting together a large, interactive event to make sure your voice is heard and to help promote all aspects of local arts. Best of all, it is a free, family-oriented event with a variety of ways of participating.
The Arts, Culture, and Heritage Engagement Event was created following Council's desire to seek an innovative means of changing how the museum is governed. A previous public engagement event was held in the past but this one was formed to attract a wide range of people.
"We looked at the barriers as to why people don't come out to engagement sessions, so this one is on a Saturday, there are activities for kids and there are a lot of different ways to be involved," said Theresa Kingston, director of Community Services.
She said the goal of the event is to have the public consider the City's model for heritage in the Valley and collect feedback on the overall plan.
"The overall plan will be dependent on what people want," Theresa said. "So we're inviting everyone from children to seniors who are interested in the community arts to participate in a process to give their feedback and suggestions."
Echo Center will be open with activities to accommodate a wide range of different ways that people prefer to interact. From speaking out to writing it down to creating something visual, there will be something for everyone.
The kid's room will be the place for children three and older to play and participate in hands-on activities. For older kids and adults, a banner painting station will be set up for more painting. These are the banners that will be hung on street poles in the summer as part of the Rotary Arts District Project. The official weekend for the banner project and paint-out is on February 9-12 at Glenwood Center. Arts Rave will also be there for people to contribute to a paper quilt by posting their suggestions.
In the Dogwood Room, a coffee house will be set up to provide a comfortable atmosphere for small groups to talk and for those more outgoing, there will be a speaker's corner to have your ideas recorded on video.
A graffiti board will be available in each room to write comments and a paper and online survey will be another option to put your thoughts in writing.
A trade show will be set up and so far there are 12 to 15 groups signed up. Tables are still available for arts and culture groups. Anyone interested can contact Theresa at 250-720-2506 or email Theresa_Kingston@portalberni.ca.
It will be a chance to spend the entire afternoon with like-minded people or just drop in to have the opportunity to be a part of change. Theresa said the feedback could provide an important direction for the City.
"We hope to get hundreds of people out," she said. "The arts, culture, and heritage add to the vitality of the community and, in my opinion, to economic growth. That is something everyone should be interested in and have something to say about."
It all takes place Saturday, January 21 from 1-4pm at Echo Center.