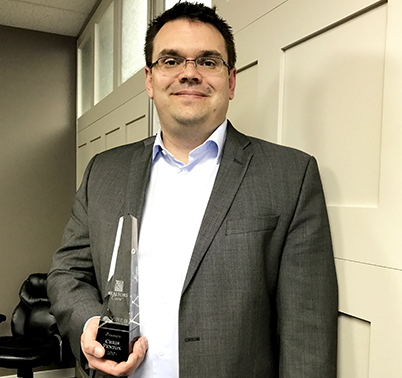 Chris Fenton with the award he received on Monday at a ceremony in Nanaimo.
Chris Fenton, a familiar face in the local real estate scene, knows all about the Valley and what makes it a great place to live. He was born and raised in Port Alberni and has lived here the majority of his life.
When Chris was younger, he grew up influenced by the business, which his mother, Esther, has been involved in for 30 years, and that contributed to him being drawn to the industry. After attending Alberni Elementary and Mt. Klitsa Jr. Secondary, Chris graduated from ADSS in 2000.
He then went to North Island College with intentions of becoming a computer software engineer. After the first year, though, he entered the real estate business for a few years before heading to UVIC to further his studies and came out with a Bachelor of Commerce degree.
"I always intended to come back to Port Alberni and to real estate," he said. "I like working with people and being able to work as much as I want being self-employed."
While in Victoria, Chris dove into web design and specialized in search engine optimization. Much of it was self-taught and he took the "learn by doing" route.
"In 2003 I built one of the first websites for real estate and the internet has completely changed everything," he said.
One of the sites he did for a deep water shipwreck dive team was ranked number one in the world on Google for keyword searches and he was involved with the Underwater Archaeological Society of BC for which he managed the website.
After meeting his future wife in Victoria, the the couple had a small wedding at Long Beach and relocated to Port Alberni in 2011. Soon after, they became the parents of two children.
From there, he helped grow The Fenton Team to a crew of six. Along with Chris, the team includes Esther, the lead buyer's agent, Tom, the client care coordinator, Tracy, the listing coordinator, Danielle, real estate agent, and Andrea, who is about to become a buyer's agent after working hard on her studies. As a group, they work under the Royal LePage banner.
"Everyone here are competitors and colleagues," Chris said. "It's always been that way but we are a close group. We are one big team but we still have to do our own work to get paid."
He said a person has to be well-suited for the industry because it has one of the highest turn-over rates. Highly self-motivated, Chris has even sold a home on Christmas Day and at 12 o'clock midnight.
As a group of realtors, Royal LePage has locally supported a number of initiatives, including Action Against Hunger, a global organization fighting childhood hunger, the Port Alberni Women's Shelter, and the Port Alberni Shelter Society.
On his own, Chris took on a project to compile a list of local trails and maps, and with the help of writers and photographers, set up www.valleyoftrails.ca. He was inspired by his own love of hiking and the desire to do something positive for the community.
"It is ranked number one on Google," he said. "We want to branch out to include more stuff on it but haven't had a chance yet. It would be great to have more people contribute photos or blogs."
For all of his contributions, Chris recently won a REALTORS Care Award from the Vancouver Island Real Estate Board. He was presented with it at a luncheon in Nanaimo on Monday.
"I was honoured to receive it," he said. "It was special because realtors can often get bad reputations and this highlights the positive work we do. A lot of realtors do (the same) and don't get recognized for it."