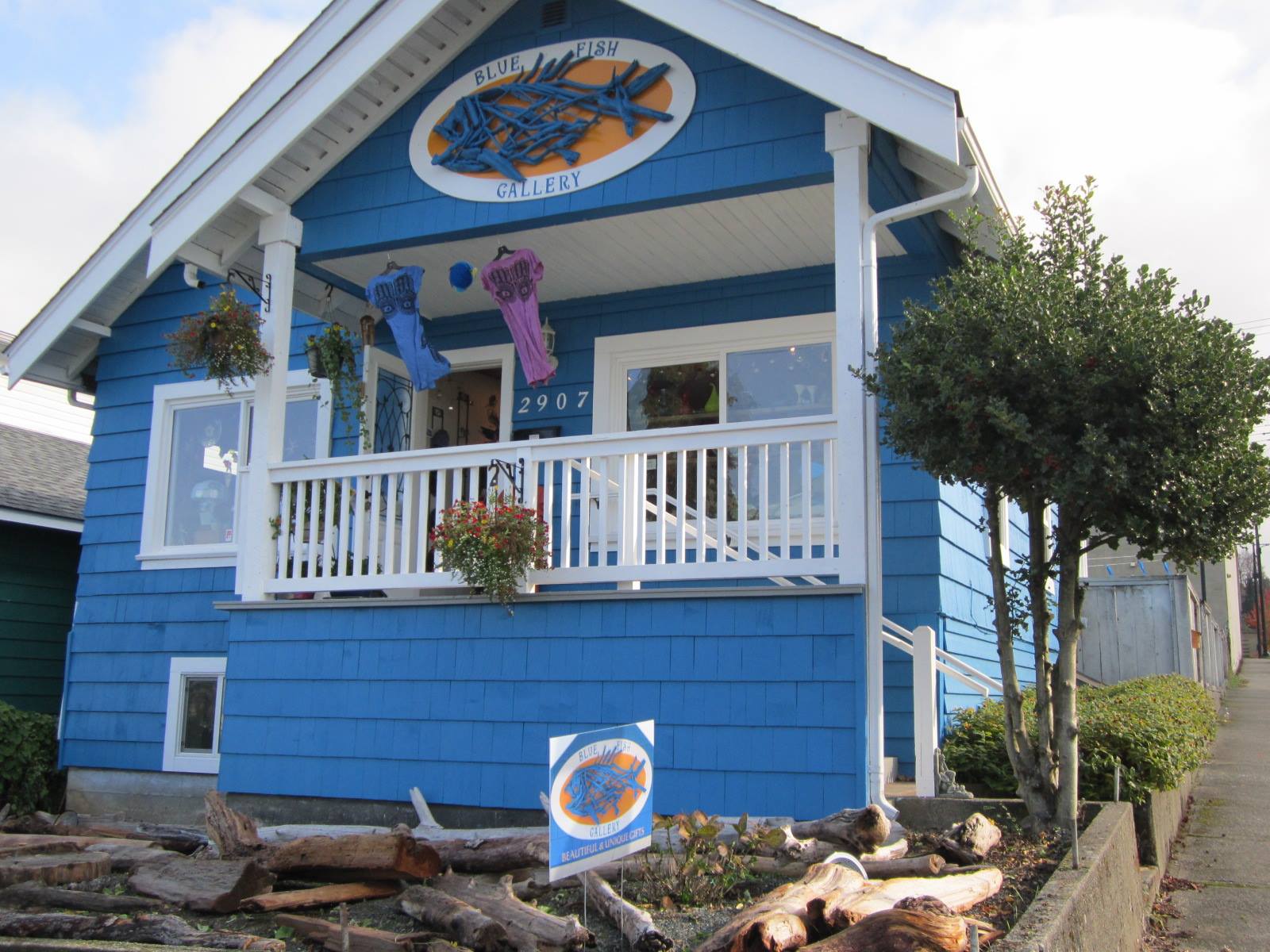 This is Blue Fish Gallery as it looks today. Check out the amazing transformation from the photo at the end of the story.
What started out as a dream three years ago quickly became a successful reality. Cheryl Iwanowsky's vision to transform an old, shabby house into a stunny art gallery came to fruition when she followed her heart and believed in what she was doing. Today, she continues to provide customers with a unique shopping experience with hand-crafted items from all over Vancouver Island, Canada and fair trade goods from around the world.
"When I first started, I thought it would be a little pottery shack and a sleepy little shop for a few years," Cheryl said. "I knew I would have a few artists, but it took off right away. That speaks volumes to the quality of art people are doing."
It was a risk when she purchased the house on the top of Second Avenue with the idea of transforming it into a commercial venture, but she knew it had potential.
"I was afraid to go in," Cheryl said. "But (her partner) Andy, said it has good bones and he knows houses. Right away I pictured it a bright colour with white trim."
Soon, the name came together.
"We had all kinds of names coming up, but I was just not feeling it," Cheryl said. "Then we made a driftwood sign for the front with a fish and painted it blue. So, we painted the house blue and decided, that's it, Blue Fish!"
She said the reactions of people coming in is always encouraging. Whether it is the looks of surprise at how many quality products are displayed in and about the rooms or the thrill of finding the perfect gift is what keeps Cheryl returning to work each day.
"Every week I have somebody bring me something that blows me away," she said. "That is why it is always changing in here."
The gallery has also recently expanded to include a shop at the Chamber of Commerce Visitor Centre. When she was offered the space, she said she could not pass it up and it is the perfect location for items that tourists love.
Between both shops and a busy summer, Cheryl had to put her own pottery on hold, but promises to have more of her popular Women of the Water mugs for Christmas.
Tomorrow, she invites you to join her in an anniversary celebration like no other. It will be her largest sales event, complete with on-site artisans, prizes and goodies. There will be new jewelry, freshly roasted coffee beans, wooden signs and pallet board work, soaps and lotions from Spiritual Sage Artisan Soap and much more. It runs from 10:30am to 5:30 pm at the big blue house at 2907 2nd Avenue.