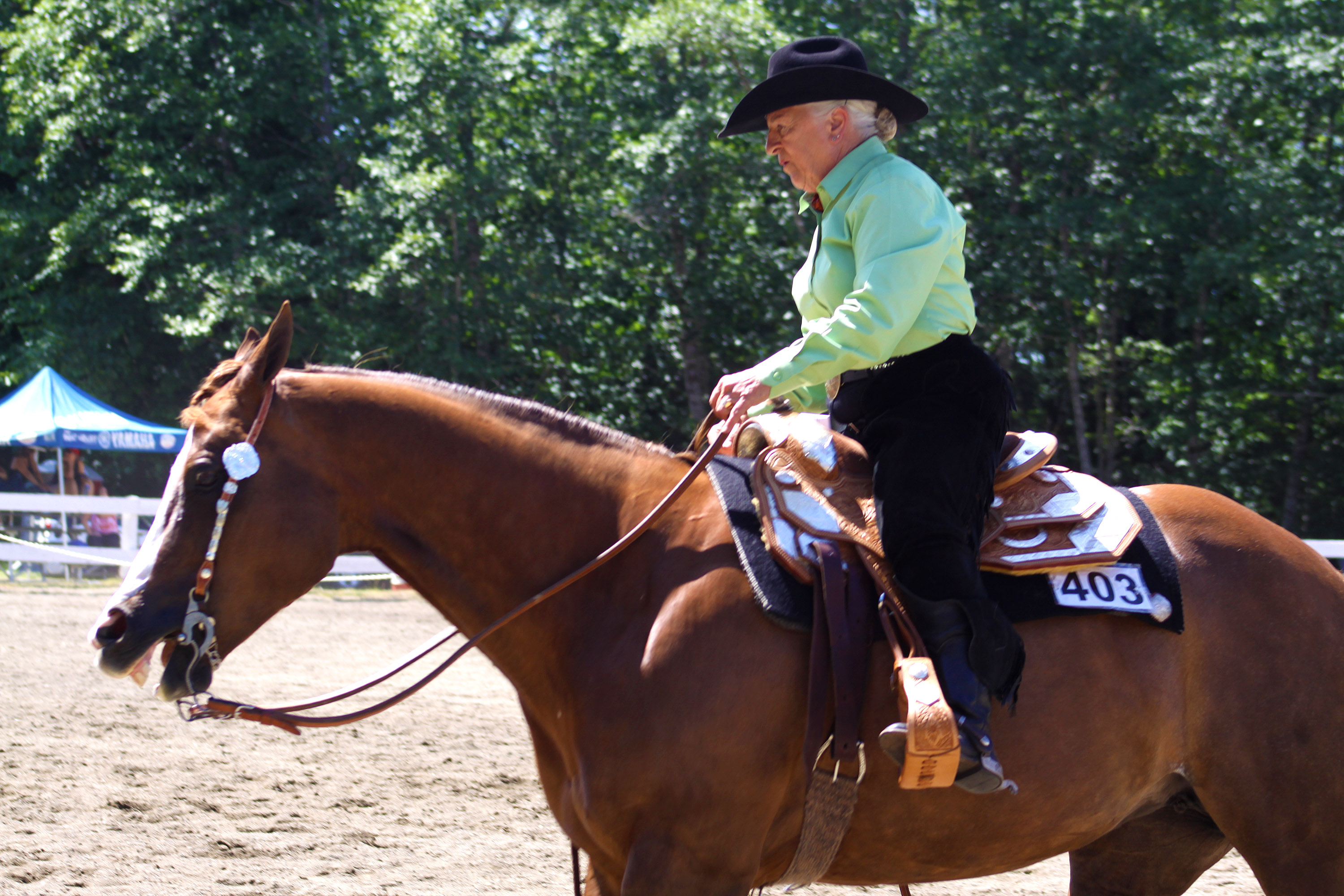 Carole Walton feels most at home when riding, grooming and caring for horses.
As a young girl, Carole was always fascinated by horses. She lived in the country with her parents, Johnny and Mary Murray, where the family had work horses. Their jobs included pulling the mowers and hay, while the entrepreneurial Murray's ran a drive-in restaurant on Beaver Creek Road. The Brite Spot, as it was called, was the hot spot in the 1950's and Carole remembers being there when rock and roll was born. 
More than anything though, Carole wanted her own horse to ride and at the age of seven, her dream came true. 
"My dad said to my mom, 'if she really wants a horse, we'll get her one'", Carole remembered. 
From there, Carole's love of the animal only grew and she has owned a series of horses since. She has been involved in trail riding, lessons, training, breeding and showing. She has taught all five of her grown children to ride, as well as numerous local students, many of whom she has seen go on to excel in the field. 
Carole has shared her love with others as a riding instructor and horse trainer for most of her life. Her career began as a Certified Equine Canada coach and she was soon approached by its provincial affiliate, the Horse Council of BC. 
"I was asked if I would be interested in developing a coaching program for Canada and became the provincial coordinator for BC," Carole said. 
She traveled to Ottawa every year and the Western coaching program came to fruition. 
"I sat at my kitchen table at home, wrote the tests that the students would take and presented them. These tests are still being used today," Carole said. 
Over the many years of helping local students get on a horse for the first time and become accomplished riders, Carole worked her way up to become Master Course Conductor for BC and Horse Council of BC. Her role then turned to instructing others on how to become coaches themselves. 
May to August is the height of the season and every show has the opportunity for riders to gain points. The more shows they attend, the greater chances to move up the ranks. 
At last weekend's Quarter Horse Show at the Fall Fair grounds, Carole wanted to help out some riders who did not have their own horses and would not otherwise have been able to participate. She loaned four of her horses for the weekend. 
"I wanted them to have the experience of riding at a high level horse show," she said. "I am an avid enthusiast and this was one way I could help."
Over the past years, Carole had extensive success, some of which sprung from showing her former horse, Kira. In July 2011, she attended the American Quarter Horse Association Regional Championships in Langley and she walked away with three championship awards in Select Equitation, Horsemanship and Halter. One week prior, she was the team tournament winner at the LMQHA Summer Circuit in Langley. At the Mt. Arrowsmith Quarter Horse show, she won high point Amateur and high point senior horse at both. 
Aside from top seed qualifications, Carole reaped little rewards along the way. These include belt buckles, high point awards, trophies and jackets. Her collection is extensive and each award has a special meaning. 
Last year was another successful one. Attending with a new horse, she won the all-around honours in Armstrong. This year she will be accompanying the 4-H Club to all of the Island Fall Fairs as a volunteer coach. 
Although a lot of work is required to keep the horses in shape and up to par for shows, Carole said it is all worth it. 
"It is a labour of love, it has to be," Carole said. 
Helping out with the younger generation is a lifestyle that Carole is doing for herself now that she is retired. Along with her animal companionship, she enjoys sharing her passion and the friends she meets along the way. It is a family-like community that she could not imagine living without. She is living her dream as a young girl on the family farm.