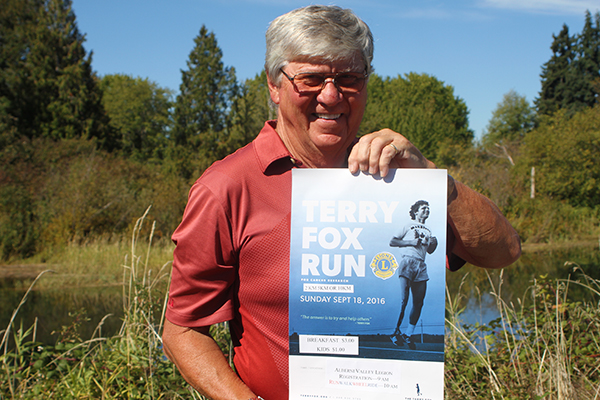 Lion Rob Dalton hopes to pack the parking lot of the Royal Canadian Legion for the annual Terry Fox Run on Sunday.
September 16, 2016 - 8:12am
If there is one thing the Alberni Valley Lions Club knows how to do is commit to giving back to the community. That is the main reason Lion Rob Dalton has been a long-time member and remains passionate about the causes supported by the Club.
Born and raised in Port Alberni, Dalton spent some time working at the pulp mill before moving to Vancouver for the majority of his working life. He was hired by BC Tel from 1963 to 1995 and then worked his way up to President and CEO of Venture Capital Telecommunications. While in Vancouver, he and his wife, Lynda, had two children and became active volunteers in Cubs/Boy Scouts and Brownies/Girl Guides.
"When the kids grew out of that, I was invited to join the Lions Club in North Vancouver," Rob said. "During my tenure there, I was the Zone Chairman and then District Governor, where I oversaw most of B.C. from Vancouver to the Sunshine Coast up to Stewart."
In 2004, the Daltons decided to retire to their waterfront property at Sproat Lake. Rob started playing golf and met the late Joe Dvorak, and the two became good friends. Joe was a Lion with the local club so it was not long before Rob joined the group. Since then, he has been involved in all of the Club's activities.
"The newest and most significant is 'Your Vision is Our Vision'," Rob said. "We got a spot scanner and go into grade schools to scan eyes. It looks for basic eye anomalies, near and far sightedness, blurred vision and crossed eyes."
In some cases, the Club has been able to provide financial support to families with children who need glasses or further eye exams.
"Locally we have found that about 12 to 14 per cent of the kids are in need of further vision care, especially in the lower income arena," Dalton said. "After that, they regain self-esteem and self-respect and there is nothing better to see than that."
Through its annual fundraising, the Club is also able to help out families needing support with transportation costs to medical appointments and other causes based on individual assessment.
On the heels of the Club's largest fundraiser, the TV Auction in November, is the annual Terry Fox Run. It is a community event the members have been organizing since 2004.
"Joe got word that one of the coordinators was having health issues and the others were looking for someone to take over," Rob said. "So, that year, as co-chairs, we took over, and still today, it is something the Lions do to give back."
Dalton said the cause is universal and hopes to see a large turnout of families attending the traditional fundraiser.
"Cancer has no boundaries, it has no limits and can strike anyone; the old just as easily as the young," he said. "So, come this Sunday, we hope the Legion parking lot is full of kids, adults and people willing to participate."
Dalton stressed the donations are used in one of the most cost-efficient ways among charitable organizations because the all of the Terry Fox Runs are to be organized by volunteers.
"84 cents of every dollar goes to cancer research, which is huge," he said.
The Terry Fox Run all takes place this Sunday in communities world-wide. In Port Alberni, registration begins at 9am at the Royal Canadian Legion Branch 293 and the walk/run begins at 10am. There will be 2km, 5km and 10km routes, as well as a breakfast available for $3 for adults and $1 for children.