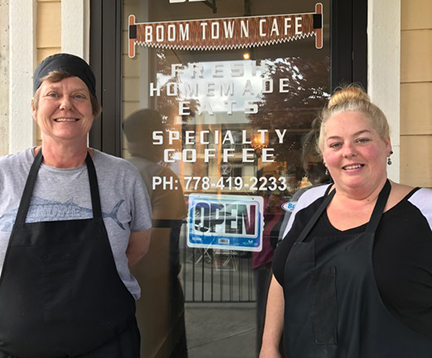 Brenda Dunbrack and Dana Dore recently opened Boom Town Cafe near Harbour Quay.
When Brenda Dunbrack and Dana Dore opened Boom Town Café earlier this month, it was a dream come true. The two found themselves with an opportunity to do something for themselves and the timing was right. The idea was to bring quality, fresh food to the community while honouring the history of Port Alberni.
Although Brenda only moved here in November, it was a return to the Island. She was raised in Alberta until the age of 14 when her family moved to Parksville. She attended (then) Malaspina College to take the Culinary Program and completed her Red Seal Chef apprenticeship in Vancouver. She continued to work there for several years, as well as being a chef on VIA Rail and in restaurants in Victoria. From there, she moved to Calgary for 12 years, but by 2013, the Island called her back.
It was then that she met her future wife, Teresa Ludvigson and the two settled in Nanaimo for a short time, until Teresa was presented with an opportunity she could not pass up. She accepted a job as the executive director of the West Coast General Hospital Foundation.
"We were excited to come here and meet new people, so it was an easy decision," Brenda said.
One of those new friends was Dana, who had been living life as a self-proclaimed "domestic goddess". She also worked as a baker and breakfast cook at a logging camp in the Interior. Most recently, Dana and her husband, Rick, lived in Qualicum where he commuted for years to work at APD. Eight years ago that commute ended when the two moved to Port Alberni permanently. They are not new to town as Rick's family have been long-time residents.
When Brenda saw the former Canvas Cup location up for lease, she proposed the idea of opening up a new café to Dana.
"My kids are grown up now and I am a grandma, so it was a good time," Dana said.
The two decided to make the eatery a place that would appeal to everyone of all ages. That is why they have highlighted the historical side of town, particularly the rich forest industry when it was booming. The name came about through a brainstorming session.
"We want to honour Port Alberni and what it stands for," Dana said. "It was a booming place and we are convinced it will be again."
When they were looking to decorate, Dana headed to the Alberni District Historical Society's archives and purchased the rights to old photos.
"The ladies there were so helpful," she said. "And I'll tell you what, these photos are conversation starters. People start talking to each other from different tables."
On the wall is also a vintage saw that belonged to Sonja Drinkwater's late father.
"We have gotten a great response from seniors who recognize it," Dana said.
She also visualizes members of the vintage car clubs parking their shiny vehicles outside while enjoying a snack with fellow enthusiasts. She understands the camaraderie well as she owns a vintage truck.
As for the menu, everything on it is fresh and homemade from scratch. The baking offered is something new every day and Brenda said the paninis are a big hit.
"We have a small breakfast menu, but I make the poached eggs using the steam wand of the espresso machine so they are really fluffy," she said.
Also available are Italian sodas and specialty coffees.
Located at 5262 Argyle Street, Boom Town Café is open Monday to Friday from 8am to 4:30 pm and Saturdays 9am to 4pm. 
Check it out on Facebook here.