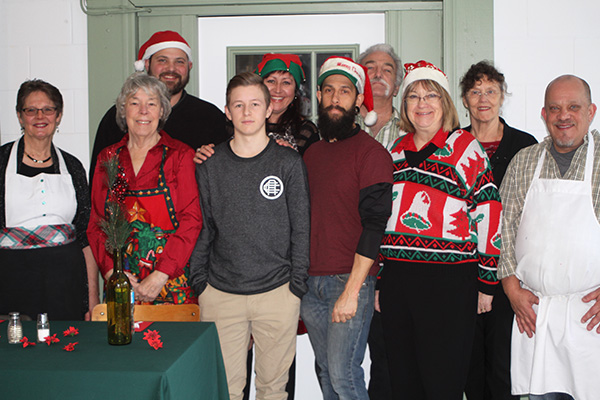 Guests at the Bread of Life enjoyed a full Christmas Dinner on Saturday thanks to a group of dedicated volunteers.
December 27, 2016 - 6:49am
The Bread of Life had its doors open on Christmas Eve for its annual Christmas dinner and welcomed a full house of guests. As a non-profit organization geared at helping those in need, the dinner always goes off without a hitch, thanks in part to a group of volunteers. Saturday's meal saw some new volunteers as well as some regular faces at the Bread of Life.
Darlene Tuinstra was one of the new helpers. She started volunteering with the Bread of Life in February when she was asked to help with a big task of organizing the thrift shop's donations. The clothing and household items were piling up in the basement so a few volunteers were tasked with giving the room a fresh start. After a few months of sorting, Cornerstones's manager, Darlene Crossley was able to easily find what she needed.
"There was a great amount of stuff and it was getting overwhelming with so many generous donations," Tuinstra said. "It had been a few years since it had been done but we had a lot of fun working together. It was like a big treasure hunt."
By the summer, the volunteers were caught up and had everything categorized, so they moved on to holding a few fundraising garage sales.
Former board member, Erica Schubart, organized the cleanup as one of her many jobs at the Bread of Life. Each week she takes a shift in the thrift store and returns recyclable items to the depot. She has been a dinner volunteer since it was held at the Trinity Church. This year, guests gathered at the Bread of Life where it was decorated in the newly painted dining room.
"Dawn (McMillan) and her crew had everything prepped and ready for us to arrive," Tuinstra said. "The tables were set with centerpieces and looked beautiful."
As a first time volunteer, she said she was happy to help.
"I can't think of a better thing to do," she said on Saturday. "All of my shopping is done and I don't want to do anymore. It is a joy to help out in this way."
Schubart agreed.
"I always like meeting the guests," she said. "There is always a different group of people and the atmosphere is lovely. It's all about people putting love on each other. I always walk away feeling life is more complete by helping others."
The Bread of Life and its soup kitchen continue to rely on volunteers and donations to keep them both operating. The organization is currently looking for financial contributions to help with a budget shortfall and assist with expanding the meal program to seven days per week. Donations can be made at CanadaHelps.org