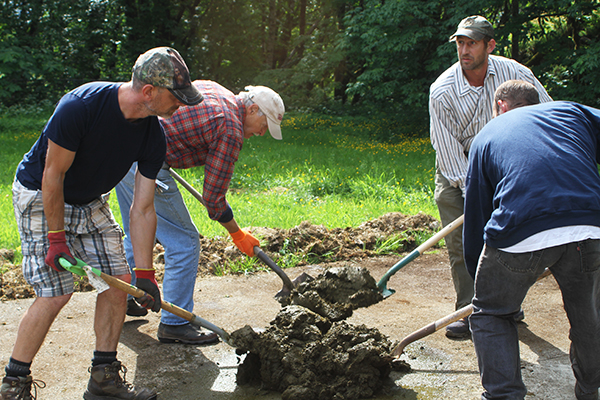 A handful of volunteers spent an hour Thursday morning turning cow manure using Biodynamic techniques on the ground of the Nuu-chah-nulth Tribal Council.
On Thursday morning, Gary and Louis Swann, along with Aaron Woodward, held a barrel compost demonstration behind the Nuu-Chah-Nulth Tribal Council office. The purpose was two-fold: to explain the benefits of biodynamic farming and to help bring positive energy into the surrounding area.
Biodynamic agriculture is based on the principles developed in the 1920s by Austrian social activist, Dr. Rudolf Steiner. Through various organic preparations using manure, herbs and minerals, as well as working in alignment with the cosmos, proponents believe the outcome brings higher yields and improved quality of the food produced.
Leda Organic Farm, run by Gary and Jacqueline Swann, prides itself on its organic products, but since incorporating biodynamic methods in 2003, the two believe they are working towards improved self-sustainability in the Alberni Valley.
"We started using the planting calendar in 2003 and Jackie and I said it looks like it obviously works so we started using more preparations," Swann said. "The compost we make contains everything you need to continue life. We are doing this because the importance as farmers and gardens knowing this will allow our farm to be self-sustainable."
He said that is something the community will need to know for the future.
"Feeding humans is a part of nature and the process of doing things in rhythm with the cosmic atmosphere lets us eat food from a natural place. It is important for the community to have that knowledge."
The barrel composting demonstration was one of a variety of methods used in this type of farming and it was not an easy task. After minerals and herbs were added to cow manure, it was mixed for one hour in a rhythmic circle. After that, it was placed in a plywood pyramid with a copper cap, based on scale similar to the Great Pyramids of Egypt. When mature, it will turn into a healthy soil.
A number of volunteers helped with the labour intensive process on Thursday. The finished product will be used on-site.
When Aaron came to work at Leda Farm about five years ago, he had little knowledge of biodynamic techniques, but by digging his hands in the earth everyday, he has learned by doing and is extending his knowledge to the community. He recently built a community garden for the Tseshaht First Nation just behind the Nuu-Chah-Nulth Tribal Council office.
 "The intent is to have human interaction working in nature in everything we do," Aaron said. "We should be a part of nature instead of trying to control it. A lot of negative things have happened here and we want to help continue with the healing. Today the calendar is in Capricorn and it is the best day to make things."
The produce of Leda Organic Farm can be picked up every Saturday at the Spirit Square Farmers Market at Harbour Quay or on-site Tuesdays from 9am to noon at 4361 Batty Road.