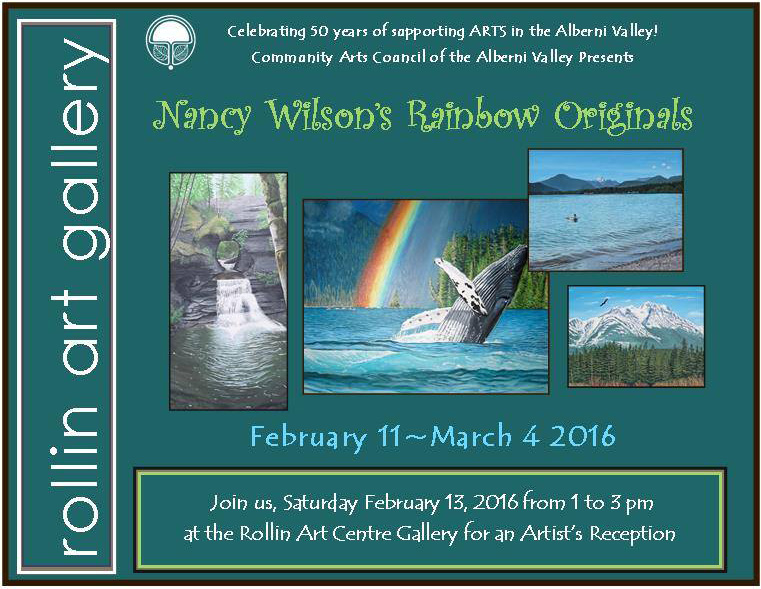 February 10, 2016 - 8:00am
It might be less than stellar weather outside this month, but those involved in the arts in Port Alberni are bringing the colour indoors. 
The Rollin Art Centre is off to a busy start this year. Just as Hugh Braker's "Traveler's Collection" exhibit wraps up, Nancy Wilson's colourful art is being set up in the gallery. Wilson is a local artist whose eclectic acrylic paintings feature a variety of subjects, including landscapes, animals and flowers. She has been painting since childhood and many of her pieces are miniature detailed creations on agate. Some of her small pieces have been made into brooches and pendants, while her larger ones are suitable for wall hangings. 
Wilson's Rainbow Originals exhibit starts tomorrow and the Centre will be hosting a meet and greet on Saturday, Feb. 13 from 1pm to 3pm at the gallery. 
Now is the time for any local artists who want to showcase their work in an exhibit for 2017. Applications are available until April 30. 
Every Tuesday and Thursday morning, volunteers are busy sorting through boxes of used books. The big book sale in May is the largest fundraiser for the Community Arts Council and donations of gently used books are now being accepted. Along with soft and hard covers, the sale has tables full of CD's, DVD's and puzzles. Donations can be dropped off just inside the main door in the big wooden box under the staircase. 
Another easy way to support the arts in the Valley is by renewing or taking out a new membership. At a cost of $17 per year for adults, $12 for seniors and $22 for a family, members receive benefits and discounts in the gallery. 
Rollin Art Centre depends on community support and volunteers are always welcome. There are opportunities to help out in the gardens, at fundraisers or as a donor.   
This month the Vagina Monologues returns to Char's Landing. On Feb. 20, a number of local actors will take to the stage for a humourous, serious and educational performance to raise awareness of violence against women. The February show is a lead up to the International Women's Day events in March. 
Art Matters is producing the events on March 5. The all-day celebration of women includes art, yoga, meditation, belly dance, body movement and stage performances. Tickets can be purchased for one or all of the following:
1 p.m. Visualization: The Creative Spirit with Jillian Mayne
2 p.m. Meditation and Gentle Yoga with Livi
3 p.m. Belly Dance and Movement with Kat Wahamaa
That evening, includes Art Matters' showcase of the day, its 20th production of The Vagina Monologues, with an opening performance of song and dialogue.
Tickets are available at the Main Artery at Harbour Quay with proceeds going to the Alberni Community and Women's Services Society.
Looking ahead to June, plans are in the works for the first annual Solstice Arts Festival. Set for June 18-19, the event is a joint effort between the Community Arts Council, Art Matters Society, Art Rave Society and Portal Players. Art Matters will be holding entertaining shows for all ages, with the likes of Mad Hatter, William vs. the World and Cougar Annie, New MacDonald Had A Farm, a radio play and a new one-act by Gwynn Hunt called, The Tin Box. Street performers will be performing Psychedelic Shakespeare, puppet theatre and children's improv. Information on how to volunteer or to audition for any of the plays can be found by emailing Hunt at gwynne1@telus.net.