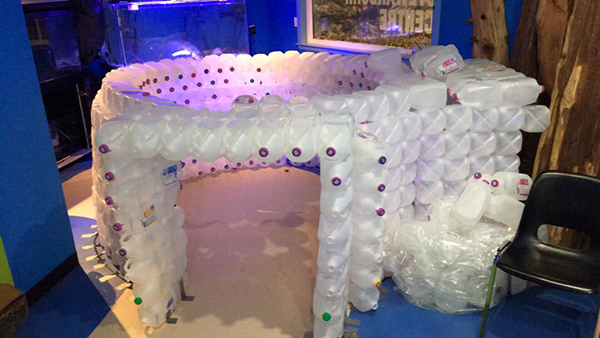 The staff and volunteers at the aquarium at Harbour Quay have been building a beaver lodge and are near completion.
February 14, 2017 - 3:18pm
"We had such an amazing community response that we posted on our Facebook page that we don't need any more milk jugs," said Jenny Fortin….
Family Day was a hit yesterday at the Alberni Aquarium and Stewardship Centre at Harbour Quay. Staff opened it up with free admittance for the public and about 500 people came through. Not only that, they brought their milk jugs.
What does milk have to do with the aquarium? A beaver lodge is under construction using the recyclable jugs and should be finished within the next week. When the aquarium put out a call for residents to forgo putting their plastic four-litre milk containers in their blue boxes a few weeks ago, the response was quick and it did not take long until all 450 were collected.
Jugs came trickling in and a big donation came from a local grocery store.
"Buy Low Foods donated the majority," Jenny said. "They brought in 200 and then made another donation after that so we're very thankful to them."
The idea came about from Westcoast Aquatic's executive director, Sheena Falconer, who wanted to do something interactive to teach the public about local beaver ecosystems. All it took was a look around Pinterest to get inspired. There she saw a small-scale igloo and she decided to kick it up a notch.
"Sheena is so full of ideas," said Jenny Fortin, who assists with a variety of tasks. "She wanted a much larger version. There were about seven or eight of us working on it and it took a couple of failed attempts. The first time we marked out where we wanted the jugs on the ground but didn't tape them in place so it just kept expanding outwards. We learned glue sticks don't do the best job, so that second attempt collapsed, but we have a good base now."
More than just a base, the walls are up and all that is left structure-wise is the roof. After that, it will be decorated with moss and twigs to give it a more authentic look.
The lodge allows kids to walk through and is complete with two tunnels.
Sheena wanted to educate the public and children on the importance of beavers in the ecosystem.
"We teach a lot of biosphere programs here on how larger animals depend on smaller animals and vice versa, and how everything is connected," Jenny said. "The beaver plays an important part in that."
She said the point is to get the community involved in a project and use it as a teaching tool. "The kids really enjoyed it on Family Day. We hope to use it with a story time on Tuesdays and Thursdays for our preschool drop-in program," she said.
The aquarium also held a scavenger hunt yesterday where kids were required to search for specific animals in the tanks. Kayla Ruttan was the winner of a stuffed bear clenching a fish in its mouth.
The aquarium's next fundraiser to support its programs involves their new neighbourhood owner of All Mex'd Up Taco Shop. It will be a cerveza and taco night at the Black Sheep Rugby Club on April 22. Check out the event here for more info.