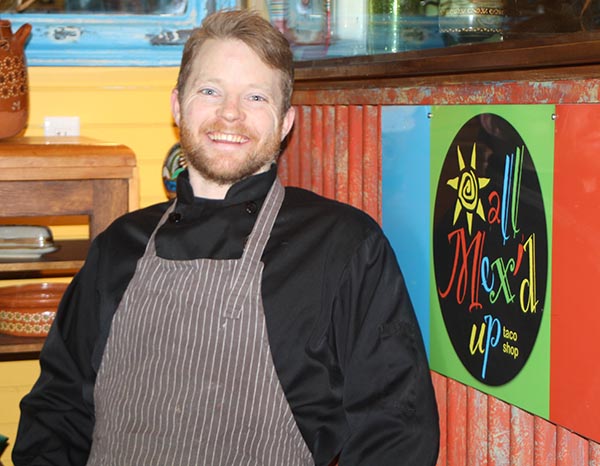 Matt Dunk is opening the doors of his new venture at Harbour Quay's All Mex'd Up restaurant February 1.
January 31, 2017 - 10:58am
Fans of Mexican cuisine will be happy to know that All Mex'd Up on the waterfront will be reopening tomorrow.
Under the new management of Matt Dunk, the colourful and cozy restaurant has been closed since December, but after a bit of painting, additional décor, and a few additions to the menu, the spicy flavours are back. Previously owned by Judy Walker, it was an opportunity that Matt could not pass up.
Originally from Ontario, Matt grew up with a love of food and cooking. His father is an avid BBQ'er and his mom has a passion for cooking and baking. The family regularly holds large gatherings for holidays and special occasions.
"It's not uncommon in the summer to have big spreads out on the deck," Matt said. "I always saw the way food brings people together and that is something I enjoy."
By the age of 13, he had his first job in the industry, starting out with dish washing and prep duties at a schnitzel house. From there, he quickly moved up the ladder by completing co-op placements in high school. He took his chef apprenticeship at George Brown College in Toronto and then moved to the United States where he worked at the Hyatt Hotel in Lake Tahoe. Thirteen years ago he made his way to BC and five years ago, made Port Alberni his home.
"I was in Vancouver and loved the Island," he said. "We were doing a lot of camping and visiting the coast so Port Alberni was the most accessible and central for us to get to the ferries. I also love the hiking and fishing here."
Matt was first introduced to All Mex'd Up when he and his wife came to town to search for a house.
"We had fish tacos and that's where we decided what house to buy," he said. "The food was so good we went there three more times that week, and were regulars ever since."
Matt took hold his entrepreneurial side and launched Dunk's Dogs, a successful hotdog stand, then worked for a few years for Murphy Sportfishing, running Riverside Lodge, and seasonally at Kyuquot. He and his wife started a family in the meantime, and being away from them was difficult.
"Then the opportunity came up when both Judy and I were ready for a change," Matt said. "It was the perfect fit. Now I can be home every night."
Matt spent the winter months getting the restaurant ready, complete with some of his late grandmother's items which she brought home from regular stays in Mexico. He said he looks forward to sharing his love of Mexican flavours and having fun adding his own flair.
"We will keep most of the menu the same but will add some desserts and new tacos and keep the same great quality and fresh food that Judy always delivered," Matt said. "I am ready to open and excited to be a part of the Harbour Quay community and the Port Alberni food scene. I'm looking forward to bringing some fresh energy and fresh ideas to Port Alberni."
For now, the restaurant hours are Tuesday to Friday, 11am to 4pm and Saturday 9am to 4pm but by June, expanded dinner hours will be added. Check it out onwards from February 1 right next to the Alberni Aquarium and Stewardship Centre.