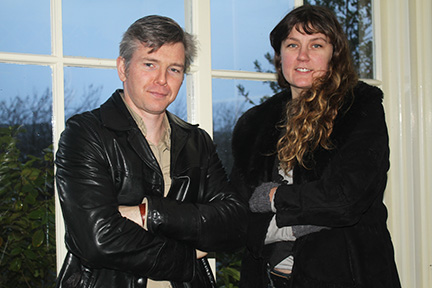 Eric Plummer and Alicia La Rue are two of the faces behind a new grassroots movement to bring local news to the forefront.
December 11, 2015 - 7:41am
A small group of relatively new residents have a passion to help Port Alberni thrive. Not only that, they want to start dialogue, spark interest and create change. That is why a month ago, Alicia La Rue, Eric Plummer, Sandra Gentleman and Malcolm Menninga launched albernithrive.com, a website dedicated to empowering the community to become active in local news. 
With the closure of the Alberni Valley Times in October, the four saw an opportunity to bring issues to the foreground. It started with a discussion of how the group would be able to fill the void and decided a grassroots movement was the way to go. Soon La Rue, an artist and graphic designer, created a website and published a story written by Plummer, former AV Times reporter, on Nov. 12. 
"We saw there were stories just not being covered," La Rue said. "We all, in our own way, have a stake in the community and want to be the voice for the people. We want to get people talking about issues that are not being brought up." 
Plummer, who was used to digging into the top stories, said the demise of the daily paper was a significant change. 
"I was hearing from a lot of people that they felt it was a loss and wondered how they would get their information," Plummer said. "We're making an effort to elevate the discourse by putting up pieces that people will talk about, things that are important to people who live here. Not everyone will be happy about it but that is how it should be in a democracy." 
Plummer said he does not expect the website, which posts one news story per day, to replace his former full-time career. 
"It is an opportunity for me to write, which is important to me," he said. 
Plummer said he not only wants to inform and engage readers, he wants to push authorities for transparency. 
"Any organization, company or government that has enough power to affect the decisions of the people, and are responsible for those decisions, deserves to be questioned and have pressure put on them," he said. They deserve to feel nervous about what people are writing about them. Even if they have the best intentions, they will still push through their own agenda, which doesn't necessarily fall with the best interest of the people." 
La Rue said it is also an opportunity for the public to put pressure on local politicians and authorities. 
"We want to get them to do what they are supposed to do," La Rue said. 
Between the three current writers, La Rue hopes to gain trust of the community. 
"They are digging deep where a lot of news sources are not digging," she said. "We don't answer to anyone so we have complete freedom." 
All four are committed to the website on a volunteer basis among other responsibilities. 
"I get up at five in the morning to get it done because it is a passion," La Rue said. "I still have to pay the bills and feed my family." 
La Rue said the collective effort has received a positive response in the short time Alberni Thrive has been active and hopes to get people talking. 
For daily stories and polls, check out www.albernithrive.com.