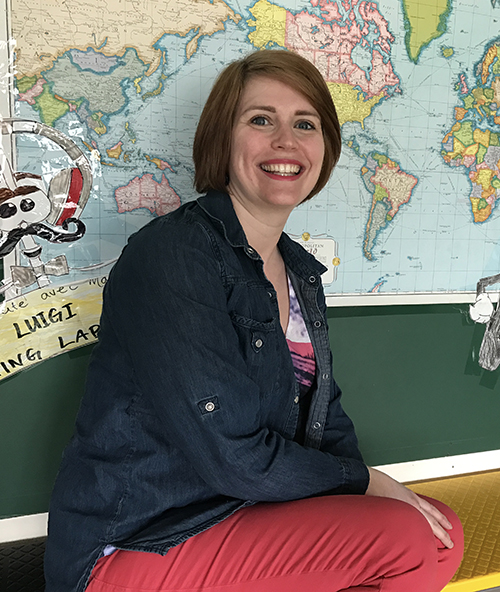 Alberni Elementary School teacher Megan Reddick enjoys teaching and learning about new cultures.
Last year the Port Alberni International Twinning Society celebrated 30 years of friendship between Port Alberni and sister city, Abashiri, Japan. Local teacher, Megan Reddick, is a strong advocate of cultural awareness and shares opportunities with her family and in the community. Now she is looking forward to spending some time during Spring Break to teach kids about Japanese culture.
Megan was born and raised in Surrey but was familiar with Port Alberni before she moved here with her husband, Desmond, in 2005. Her father grew up in town and her nana lived here, so she visited often.
Megan was raised in a family of educators, with her parents and many aunts and uncles being teachers. Before going into the profession, she held several jobs working with children and youth, so teaching was a natural transition.
"I always wanted to be a mom and teaching worked well with parenting," she said. "I didn't have to go into teaching, but I knew the lifestyle and what I was getting into."
Megan was enrolled in French Immersion and graduated high school with a double Dogwood Certificate. She was also fortunate to do extensive traveling with her family and has been to Europe a few times. The experiences helped instill an appreciation of other cultures.
After attaining their Bachelor of Arts from UBC, Megan and Desmond, both lived and studied in Scotland, where they received their teaching degrees. While there, she started job searching and saw a posting at Alberni Elementary School. After accepting it, the two decided to relocate to work, live, and raise a family in Port Alberni. Now with two sons, aged 10 and 11, they enjoy welcoming exchange students into their home and have hosted travelers from Korea, Benin, and currently, Holland. Each time the Abashiri student delegation comes, they open their home as a host family. Now her son, Davin, wants to go to Abashiri on an exchange trip.
"It is a great opportunity for the kids to get to know another way of life," she said. "They learn about the food, culture, and music. They learn to share, build relationships, communicate without English, and how to be polite and respectful of other cultures. They appreciate that not everyone lives the same as we do and that's important to Desmond and I."
Megan hopes to expand that appreciation among the youth of the Alberni Valley with a Japanese Culture Camp through Parks and Rec.
"I was trying to think of ideas about how to promote the Twinning Society and thinking forward if we were to take a delegation to Abashiri," Megan said. "I have done Parks and Rec camps in the past and this is an accessible and fun way to learn about cultures."
She plans on filling the three days, from March 21 to 23, with cooking, arts, crafts, games, and music, along with sharing information about Abashiri.
As a French Immersion teacher, Megan said she has seen the benefits of knowing a second language and being culturally aware.
"There are French speakers on almost every continent," she said. "We have had students travel to France and Quebec and use their language skills in the real world."
The school is also currently accepting registrations for late French Immersion for families who want their children to learn the language at the elementary level.