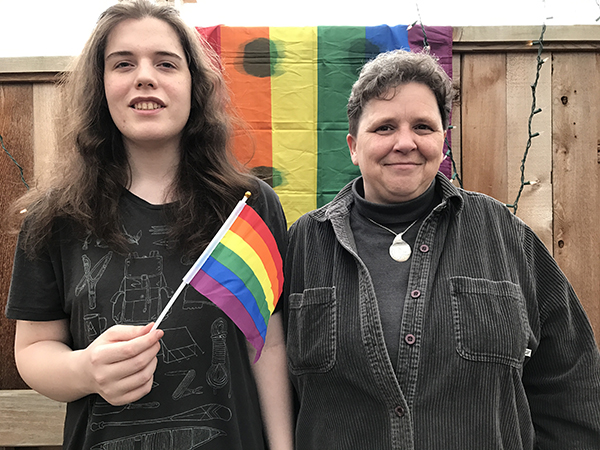 Paige Messer and Shelley Shenton were at Burde Beans last Friday evening for a weekly social.
Last year, the informal Alberni Pride group became an official Society with the hopes of creating a lasting social organization for all walks of life among the LGTBQ community. That is when Shelley Shenton became involved and now runs the group as President.
Along with preparing for the annual Pride Fest in July, she is promoting weekly socials to provide an open space for inclusion and event planning. She hopes her experiences help others recognize that although many changes have been made, there are still many more that need to come.
When Shelley came out in 1981, it was still a challenging time to do so, but she was lucky to have a small group of supportive, like-minded friends while living in Victoria.
"Before our grad party, we had a girl's get-together," she said." I look at that photo now and all but two have come out. After grad, I was talking to a friend I had known since Grade 6 about moving in together as roommates at a time when we were both questioning ourselves."
That was her first relationship and is not to say it did not come with any negative response. She was looked down upon and threatened by a few people.
That same year, though, the two attended the ceremony at the United Church in which the first gay woman was ordained as a minister.
"That made me think a little bit differently about the church," she said.
Shelley said what a lot of people are missing is a community with like-minded individuals and is now hoping to make that connection easier for people in Port Alberni.
Having attended the Pride rides on the steam train from 2008 to 2010, she noticed the gap between such events and hopes to bring them more into the public eye. It helps that the Society is made up of various community members, from students, educators, and even those who were involved years ago and have returned to help.
"A few months ago on our Facebook page people kept suggesting we get together," she said. "Some people start to feel isolated so we set up regular times each week to encourage people to get out and they are starting to feel better about themselves."
There they have a chance to talk about event plans and fundraisers that the high school Gay Straight Alliance (GSA) students are organizing, like upcoming car washes and bottle drives. It all helps to spread the word in the community, she said.
"It is good what ADSS is doing (with the GSA students) and having teachers on board," she said. "And the United Church was recently affirmed. It is all extremely different than it was years ago."
Since forming the Society, Shelley has applied for various funding and is trying to build up the membership. She is currently awaiting word from TransCare BC on a funding opportunity to get trained and be able to train others to provide counselling.
The immediate goal, though, is to continue planning the now-annual Pride Festival. This year it will be a two-day event, with an evening dance on Saturday, July 22 and the family-friendly afternoon on Sunday, July 23 at Rec Park. Attendees can expect to see entertainers on the main stage, face painting, vendors, games and act activities.
For more information, check out Alberni Valley Pride and its Social Group.