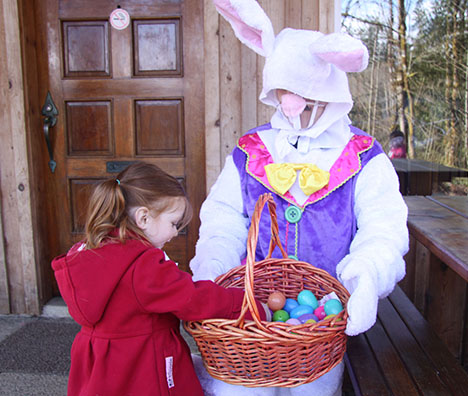 The Easter Bunny will be at Arrowvale Farm this Friday.
Small-scale farmers in the Valley have been facing the reality that the labour-intensive industry is struggling and in order to keep afloat, have to adapt to the changes. That means being flexible to climate change, as well as expanding their product base to ensure sustainability throughout the year.
At Arrowvale Farm, Bob and Ann Collins are doing what they can to promote agritourism in the Valley. The idea of bringing a fun, hands-on and educational approach to the farm is a way of sharing their knowledge and resources with the community, as well as generating income to a struggling industry.
They also do that by incorporating seasonal events most months of the year. This weekend marks the popular family-friendly Easter Egg Hunt. For only $4.50 per child, kids can hunt around the property for eggs, meet the Easter Bunny, check out the petting farm, and enjoy a warm hot chocolate at the cafe. There they will see a whole new look. The kitchen and eating area recently underwent renovations to include a larger working area and a canoe hoisted onto the ceiling. They are now serving up eight flavours of ice cream. 
The market at Arrowvale Farm is open every Saturday, with the main season kicking off on the May 24 weekend. It flourishes with fresh fruit and vegetables in the summer and Christmas wreaths and maple syrup in the winter. The farm produces beef, chicken, free run pork, free run eggs and vegetables. The multitude of products is labour intensive, Ann said, but the diversity is key to their success.
"There are commodity farmers that have only one product and there are only about three left in the Valley," she said. "I am always thinking of what I can grow to make a living off it, but you have to produce a lot of one thing. We can't make enough as a small farm, so we have the campground and cottages."
What also brings residents of all ages to the farm are the educational tours and workshops, she said.
Beginning in February is start of the maple tapping and a successful batch is weather-dependent, when the temperature warms up after a cold snap. After Easter, the Collins' provide weekend activities for families for Mother's Day, Seedy Saturdays, the Fall Fair and Farm Day, Halloween and Christmas. Ann encourages people to book customized workshops and birthday parties.
"We also have farm tours for the school kids year round where they can see the animals," Ann said. "We can show the kids where their food comes from and how to grow their own. It is important to learn how to grow your own food and cook with what you have," she added.
Inside the market, Ann practices what she preaches by offering home-cooked meals and snacks from scratch. Her ingredients consist mainly of products from their farm and bakes with locally grown grain from fellow farmer, Wayne Smith.
"I just made a stew with everything from the farm," she said. "It can take a little more money and time, but it is very rewarding," Ann said.
Check out all the action this Friday and at Arrowvale Farm on Facebook.