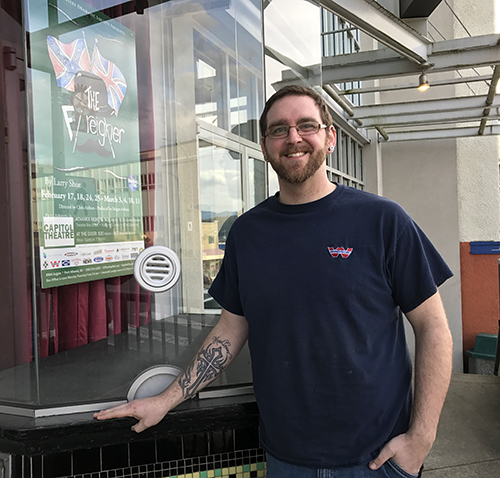 Chris Arthurs invites everyone out to see the latest performance at the Capitol Theatre: The Foreigner
February 24, 2017 - 9:23am
Anyone who knows Chris Arthurs now might be surprised to know he wasn't always the confident, extrovert with a passion for the stage that he is today.
Growing up as an only child, Chris was shy, but as soon as he got involved with the Portal Players Dramatic Society, things started to change. Before that, though, he did show an interest in acting and entertaining people and between the ages of eight and ten, he performed in Sleeping Beauty and Hickory Dickory Dock at the Capitol Theatre. He then took an acting class at ADSS and when he graduated in 2004, joined the theatre.
"I met some people who encouraged me to check it out," Chris said. "My first acting role then was in Shakespear Light. It was a youth show and we took a bunch of scenes from Shakespear. From there it was show after show after show."
In total, Chris has acted in about 15 local performances and is currently on his third project as a director. He said it is the variety that he enjoys.
In 2014, he and his best friend, Cody Taylor, took on a full-length two-person production and last May was in Someone Who'll Watch Over Me. That drama won the Best Ensemble Award at the North Island Zone drama festival in Campbell River.
"It was a hard show to get through," he said. "It (revolved around) three guys in a Lebanon prison cell chained to the floor. I just finished Witches, so it was nice to go from something serious to a fun kid's show to directing a comedy. It takes the edge off things."
Chris' interest in directing peaked quite a few years ago when he wanted to direct the musical, Reefer Madness.
"I got my feet wet with a one-act play which we brought to a one-act festival," he said.
That play won three awards, including best actress (Meghan Arthurs), best actor (Cody Taylor) and best overall play. From there, he was inspired to take on Reefer Madness.
"It was a lot to take on, but we got a good response," he said. "Musicals are different because you have a lot more to consider with timing, choreography, vocals and music, and lighting all compressed into one show. Now with The Foreigner, I can focus on the actors, characterization, and comedic timing. It is fun to work with all of them."
As a volunteer-run organization, Chris also lends a hand with other tasks, like set-building and backstage duties, but acting and directing are his two passions which have become learning experiences into adulthood.
"Acting was a huge thing," he said. "I'm not shy now at all and it helped with my self-confidence. It helps with the way I am able to present myself and can laugh at things. Like the time I had to dye my hair red for a role and had to go to work like that."
It also takes a lot of time, patience, and practice, he said. As an actor in a play, rehearsals can last three to four months from memorizing lines to the full dress rehearsal.
"It is one of those things that I like to work on and try to perfect," Chris said.
He is lucky to have a family to share his interest with and one who understands the time commitment. His wife, Meghan, is also a member and actress with Portal Players. The two met at work in the mid-2000s and he convinced her to pursue her interest in the theatre. The two are currently working together on The Foreigner, Meghan as producer and Chris as director.
"It is great to work together," he said. "We have a shared interest and support each other. We understand the lifestyle of not being home a lot and spending a lot of time away from the family."
He said the theatre is an important aspect of the community and always appreciates the support from those filling the seats.
"It provides a healthy opportunity for people who may be shy like I was all those years ago to get out there and entertain people and have fun," he said. "It is important for every community to have a theatre. For the audience, it's a chance to forget about the troubles of the world and feel something different than what they are feeling at that moment."
Take in The Foreigner while it is still showing at the Capitol Theatre on the following dates: February 24 and 25 and March 3, 4, 10, and 11. Check out atthecapitol.org for more information.