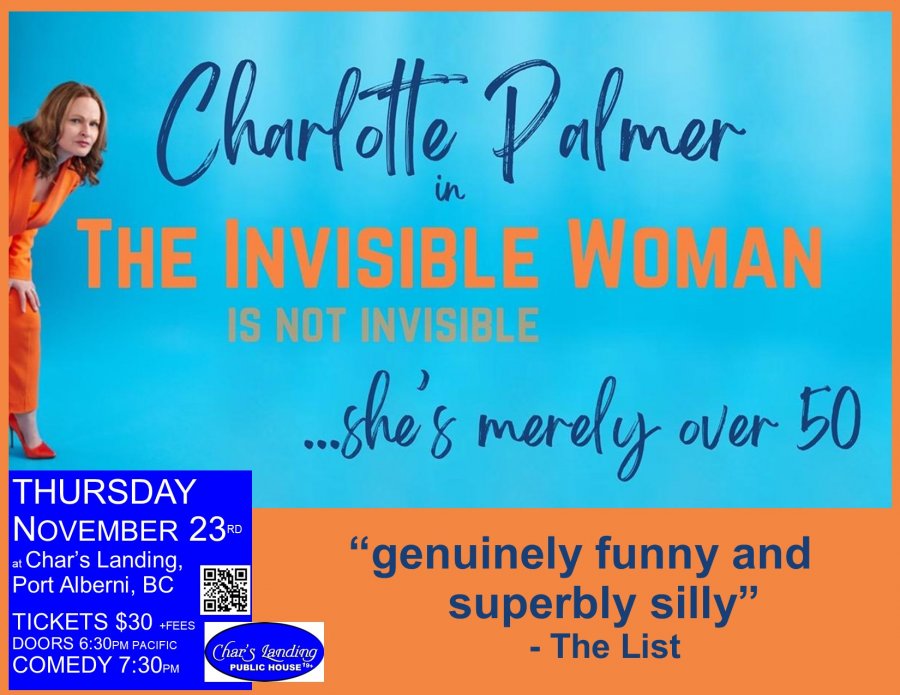 Date:
Thursday, November 23, 2023 -

7:30pm

to

9:30pm
The Invisible Woman (Is Not Invisible) @Char's
Port Alberni, Nov 23
"genuinely funny and superbly silly" - The List
After decades in the spotlight Charlotte Palmer is now Invisible. For years all eyes were on her as she appeared in everything from soaps to sitcoms to dramas, including Extras and Absolutely Fabulous . But one day she noticed that she was no longer noticed. As far as the world was concerned, Charlotte had disappeared.
What had Charlotte done to bring this about? Had she committed a crime? Misused a pronoun on social media? Flouted a social convention making her persona non grata?  NO.
She had the nerve to turn 50.
60,000 women turn 50 worldwide every day. Surely Charlotte can't be the only one who feels invisible?
The Invisible Woman is an hilarious and moving, sometimes angry, exploration of women over 50 who find themselves overlooked, ignored, disregarded, in short, INVISIBLE in all areas of life.
Come and see Charlotte Palmer in this new one woman show.
By the end, you might even be able to see her...
Written by Charlotte Palmer and all the way from the U.K , this will be the Canadian premier of this brand new show.