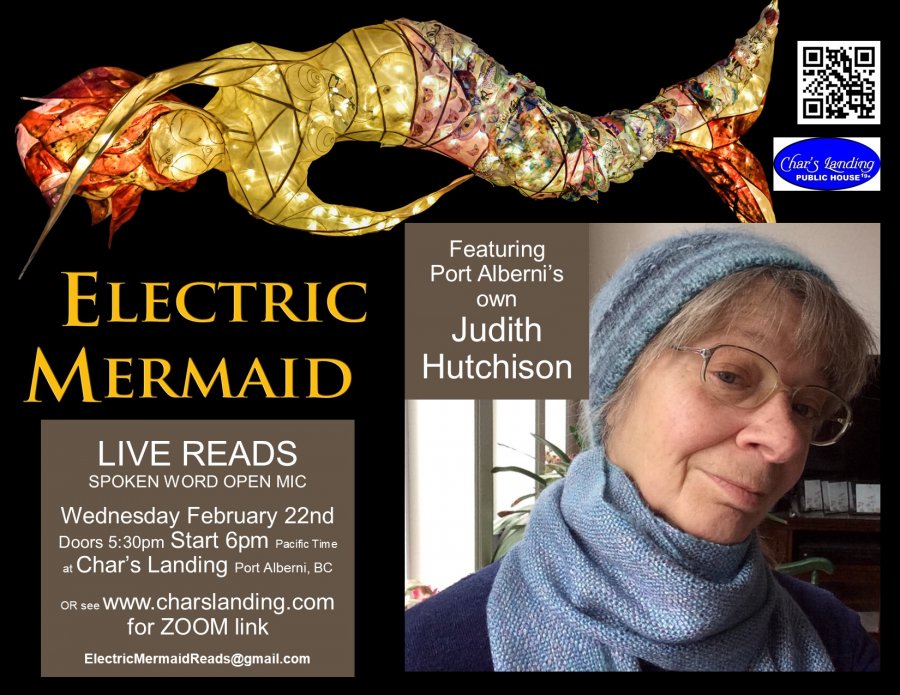 Date:
Wednesday, February 22, 2023 -

6:00pm

to

8:00pm
Contact:
ElectricMermaidReads@gmail.com
Electric Mermaid: Live Reads from Char's Landing, Port Alberni, Vancouver Island, BC, Canada
Emcee: Derek Hanebury  Moderator: Karl Korven   Host & ZOOM Producer: Charlene Patterson
Spoken Word Open Mic at Char's Landing, last Wednesday of each month, Char's physical doors open 5:30pm Pacific Time
Judith Hutchison 20min+Q&A (Port Alberni B.C.)
Dean Lamont 10min (Port Alberni B.C.)
I was born in Illinois. At age fifteen, I emigrated to Alberta. I moved to BC in 1996 and began teaching in Port Alberni a year later, retiring in 2009. I garden, walk the dog, travel, and dabble in the arts. Desired behaviours such as playing guitar, learning Italian, and housecleaning are largely missing in action due to the amount of time procrastination requires. Goals include developing a daily regime of yoga meditation and replacing regimentation with spontaneity. I have written a book of poetry, a very short collection of very short stories, half a memoir, and too many lists. Lists for tomorrow include creating content in all of the above.
FEBRUARY 22ND LUMA'S LIST => CURATED OPEN MIC READERS
READER 01 00:02:30 Lesli Omohundros-Bronczkowski 5 min  via  zoom  ( Germany )
READER 02 00:06:40 Bill Engleson  5min Via Zoom  ( Denman island B.C. )
FEATURE     00:12:30 Judith Hutchison 20min + Q&A  ( Port Alberni B.C.)
READER 03 00:32:00 Kathleen Vance  5 min Via Zoom ( Gibsons  B.C, )
READER 04 00:38:30 David Kippling  7min Via Zoom  ( Gibsons B.C. )
READER 05 00:46:50 Dean Lamont  10 min ( Port Alberni )
READER 06 00:58:00 Victoria Roscoe-Roumanis 5min In Person  (Port Alberni B.C. )
READER 07 01:04:25 Joe lunchbucket aka Bob Frankow  5min  in person ( Port  Alberni B.C, )
READER 08 01:10:05 Peter Paul Van  Camp  5min  via zoom   ( Denman Island B.C, ) 
READER 09 01:15:30 Jennifer Wenn  5min  Via  Zoom   ( London  ont )
READER 10 01:22:40 Stephen Novik 5min  in  person  ( Port Alberni B.C.)
READER 11 01:27:45 Mark Wonneck 5min  Via Zoom ( Quallicum Beach B.C. )
READER 12 01:39:35 Vicki Drybrough 5min in person (Port Alberni BC)
READER 00 01:47:00 Derek Hanebury in person (Port Alberni BC)
TONIGHT'S FEATURE: 
February 22nd Judith Hutchinson, Port Alberni
_______________________________________________________________________________________
Char's Landing 19+ (accompanied kids welcome until 10pm)
4815 Argyle @5th Port Alberni, Vancouver Island, CANADA V9Y 1V9
______________________________________________________________________________________
# # #