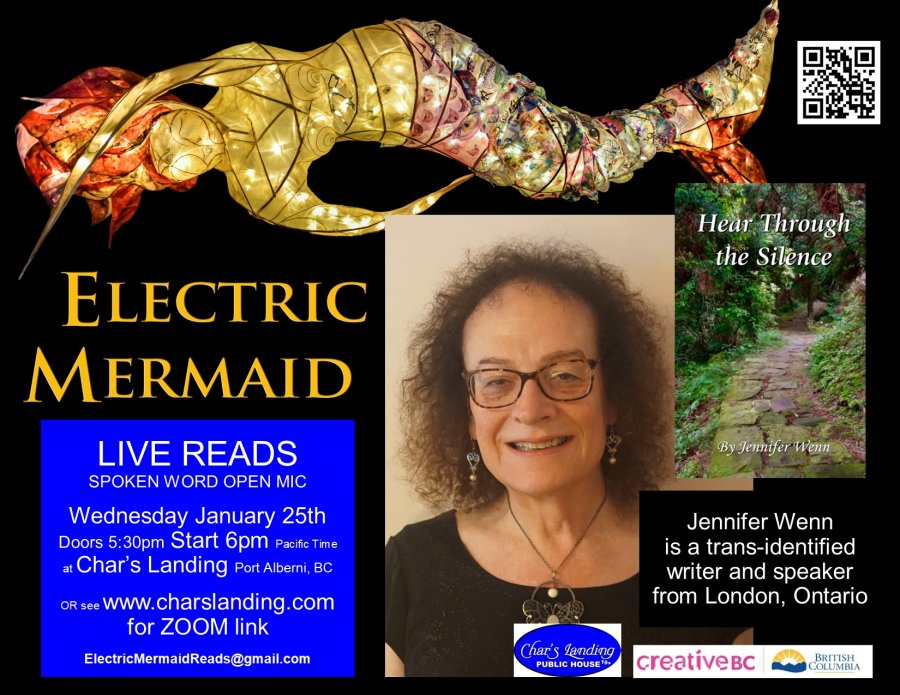 Date:
Wednesday, January 25, 2023 -

6:00pm

to

8:00pm
Electric Mermaid: Live Reads from Char's Landing, Port Alberni, Vancouver Island, BC, Canada
Emcee: Derek Hanebury  Moderator: Karl Korven   Host & ZOOM Producer: Charlene Patterson
Spoken Word Open Mic at Char's Landing, last Wednesday of each month, Char's physical doors open 5:30pm Pacific Time
JANUARY 25TH FEATURING Jennifer Wenn (London, ON)
Jennifer Wenn is a trans-identified writer and speaker from London, Ontario.   Her first poetry chapbook, 
A Song of Milestones
, has been published by Harmonia Press (an imprint of Beliveau Books).  She has also written 
From Adversity to Accomplishment
, a family and social history; and published poetry in 
WordCity Literary Journal
, 
The Stratford Quarterly
, 
Beliveau Review
, 
Journey of the Heart
, 
The Ekphrastic Review
, 
Watchyourhead
, 
Open Minds Quarterly
, 
Tuck Magazine
, 
Synaeresis
, 
Big Pond  Rumours
, 
Fresh Voices
, 
Wordsfestzine
, and the anthologies 
Dénouement
 and 
Things That Matter
.  She is also the proud parent of two adult children.  Visit her website to  buy a book  at 
https://jenniferwennpoet.wixsite.com/home
 . 
https://www.amazon.ca/dp/9395224126
JANUARY 25TH LUMA'S LIST => CURATED OPEN MIC READERS
READER 01 absent  Kim Bothen 5min  in person (Port alberni B.C, )
READER 02 0:03:23 Shawna M  5 min in person (Port  Alberni B.C,)
READER 03 0:09:44 David Kipling 5min Via zoom ( Gibsons B.C.)
FEATURE     0:19:40 Jennifer Wenn 20min + Q&A via zoom (London ON)
READER 04 0:52:20 Kathleen Vance 5min  Via Zoom ( Gibsons  B.C.)
READER 05 0:59:10 Julie Mahfood 5min  In person  (Port Alberni  B.C. )
READER 06 1:06:15 Victoria Roscoe-Roumanis 5 min  in person  ( Port  Alberni B.C. )
READER 07 1:13:50 Vicki Drybrough 10 min  In  person  ( Port  Alberni  B.C)
READER 08 1:25:05 Peter Paul Van Camp  5 min via ZOOM (Denman Island, BC)
READER 09 1:31:30 Joe Lunchbucket (aka Bob Frankow)  5 min  In person  ( Port  Alberni  B.C. )
READER 10 1:36:10 Mark Wonneck 5 min  Via zoom ( Quallicum  Beach  B.C, ) 
READER 11 1:43:40 Sean Hanebury 5 min  in person (Port Alberni BC)
READER 12 1:50:35 Leslie Omohundro-Bronczkowski via Zoom (Germany)
READER 13 1:53:00 Diana Manole via Zoom (Ontario)
READER 00 1:58:50 Derek Hanebury  in person (Port Alberni, BC)
TONIGHT'S FEATURE: 
January 25th Jennifer Wenn (London, ON)
_______________________________________________________________________________________
Char's Landing 19+ (accompanied kids welcome) 4815 Argyle @5th Port Alberni, Vancouver Island, CANADA V9Y 1V9 Tel: 778-421-2427 
www.charslanding.com
Char's Landing gratefully acknowledges:
Creative BC and the Province of British Columbia @creativebcs and #amplifybc
______________________________________________________________________________________
# # #