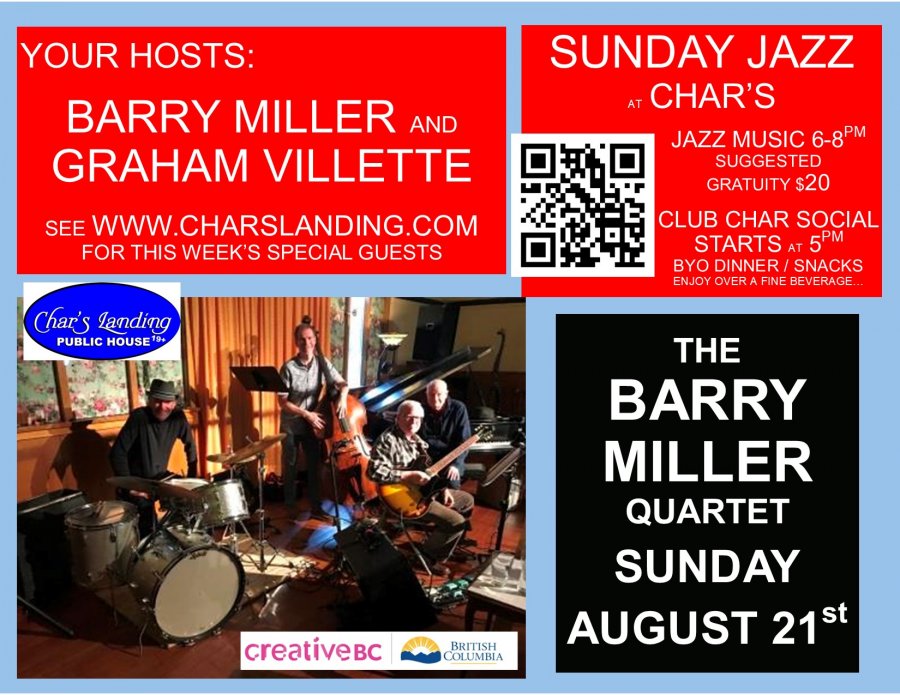 Date:
Sunday, August 21, 2022 -

6:00pm

to

8:00pm
Contact:
info@charslanding.com 250-730-1636
Sunday Jazz Series at Char's... featuring special guests
Char's Lounge opens at 5pm.  
bring your dinner / snacks, enjoy some social time over a fine beverage...
Jazz Concert 6-8pm.  Suggested $20 gratuity, with our thanks.
UPCOMING:
August 21st The Barry Miller Quartet
6pm to 8pm (Doors open at 5pm)
This week (August 21st) the Barry Miller Quartet returns playing an array of Broadway Hits and Pop Music favourites through to well-known jazz standards from the Great American Songbook.
Dave Auld (Drums), Wally Petersen (Bass), Doug Gretsinger (Guitar), Barry Miller (Piano)
The concerts are hosted by retired ADSS music director Barry Miller and Nanaimo based drummer Graham Villette. The two hosts alternate their bands so jazz fans should check Char's website at
www.charslanding.com
to see who is on deck on a particular Sunday.
The music is happening from 6pm to 8pm. Doors open at 5pm and music fans are encouraged to bring their dinner if they so wish. The beverage bar is open. A suggested gratuity of $20 is greatly appreciated.
UPCOMING:
Aug 21st The Barry Miller Quartet
Aug 28th The Andrew Janussen Trio
Sep 4th The Barry Miller Quartet
Sep 11th Graham Villette Presents ... TBA
Sep 18th The Barry Miller Quartet
Sep 25th Graham Villette Presents ... TBA
Oct 2nd The Barry Miller Quartet
Oct 9th Graham Villette Presents ... TBA
Oct 16th The Barry Miller Quartet 
Oct 23rd Graham Villette Presents ... TBA
Oct 30th Graham Villette Presents ... TBA
Nov 6th The Barry Miller Quartet
Nov 13th Melissa Lauren
Nov 20th The Barry Miller Quartet
Nov 27th Graham Villette Presents ... TBA
Dec 4th The Barry Miller Quartet
Dec 11th Graham Villette Presents ... TBA
Dec 18th The Barry Miller Quartet
Dec 25th Holiday Break
PAST (2022):
Aug 14th NYC based Ilhan Saferali 
Aug 7th The Barry Miller Quartet 
Jul 31st The Barry Miller Quartet  CANCELLED due to heat wave
Jul 24th The Drake Shoemaker Trio with special guest vocalist Bri MacCrimmon
Jul 17th The Cookers Quintet featuring Bernie Senensky
Jul 10th The Peter Kang Quartet
Jul 3rd The Barry Miller Quartet
Jun 26th Sunday Char's Social => Jazz festivals this weekend in Victoria, Vancouver & Tofino
Jun 19th The Barry Miller Quartet
Jun 12th Tasha Adams & Jesse Marshall
Jun 5th The Barry Miller Quartet
May 29th The Barry Miller Quartet
May 22nd The John Lee Trio
May 15th Blaine Dunaway w/Miles Black ***CANCELLED***
May 8th The Ryan Bennet Quartet featuring vocalist Tasha Adams
May 1st The Barry Miller Quartet with Wally Petersen on bass and Wayne Finucan on drums 
Apr 24th The Graham Villette Trio with pianist Nick Peck
Apr 17th The Barry Miller Quartet
Apr 10th The Graham Villette Quartet co-lead by Vocalist Tasha Adams
Apr 3rd The Barry Miller Quartet
Mar 20th The Barry Miller Quartet
_______________________________________________________________________________________
Char's Landing gratefully acknowledges:
Creative BC and the Province of British Columbia @creativebcs and #amplifybc
______________________________________________________________________________________