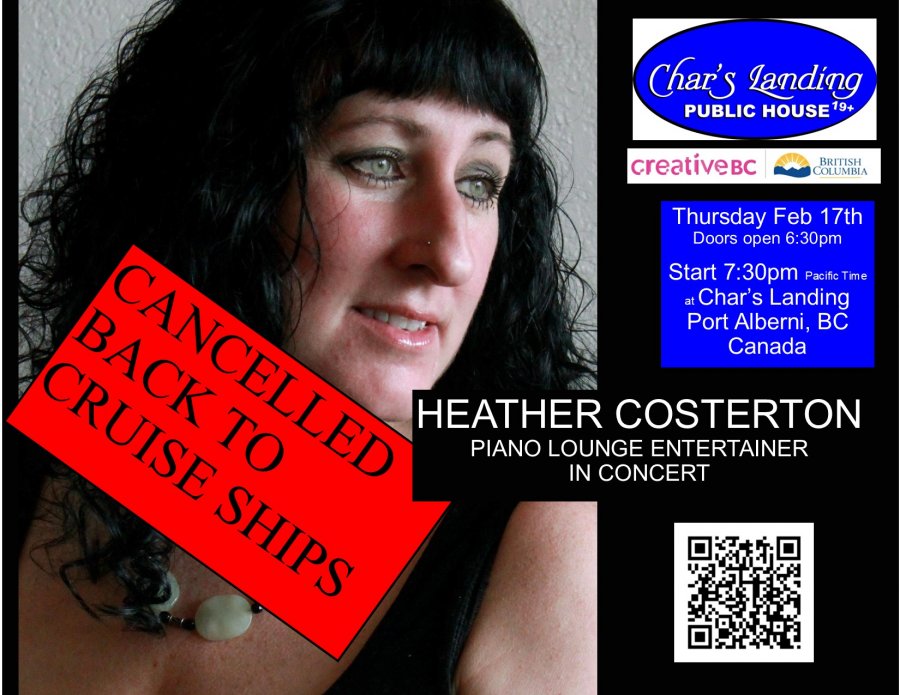 Date:
Thursday, February 17, 2022 -

7:30pm

to

9:30pm
Contact:
info@charslanding.com 250-730-1636
HeatherCO posted FaceBook message this morning "Hello all! My faithful friends and followers! I regretfully must postpone our show on the 17th. I have been offered a cruise contract after 2 years of covid, I am delighted to go back to the high seas but sorry to not have our night of fun and music! I know that you will continue the joy at Char's and enjoy the amazing artists she consistently draws and I will see you all very soon! Much love, Heather"
THURSDAY, FEBRUARY 17TH, 7:30PM (DOORS 6:30PM)  
HEATHER COSTERTON @ CHAR'S
Club Char favourite piano entertainer
Tickets available now: https://sidedooraccess.com/shows/sSBGiZOkW4MzJuAORFhz
PayWhatYouCan (suggested minimum $7 plus taxes & service charges)
OR Call Char @ 250-730-1636 to charge by phone.
Classically trained from the age of four, Heather started her professional career at eighteen, singing and playing in five star hotels throughout Canada.  With over ten years' experience on international cruiselines, Heather has entertained a wide clientele all around the globe.  Her repertoire spans the gamut from Broadway musicals, old time favourites and popular standards, to fifties graffiti, contemporary pop tunes, and many originals.  A dramatic performer with a sultry voice, Heather feels truly at home in any piano bar environment.  With her charming personality, she invariably becomes the life of the party at every performance.
Stage plexiglass in place.  Guests required to prove doubleVAX and wear masks until seated. Thank you.  Char.  
https://charslanding.com/
Char's Landing gratefully acknowledges:
Creative BC and the Province of British Columbia @creativebcs and #amplifybc
# # #
Charlene Patterson dba Char's Landing, INHOUSE Host + ZOOM Producer
For more information call/text Char at Cel: 250-730-1636
Char's Landing Hall & Hostel 4815 Argyle @5th Port Alberni V9Y 1V9 Tel: 778-421-2427
Char's Landing gratefully acknowledges:
Creative BC and the Province of British Columbia @creativebcs and #amplifybc
# # # # # # # # # # # # # # # # # # # # # # # # #