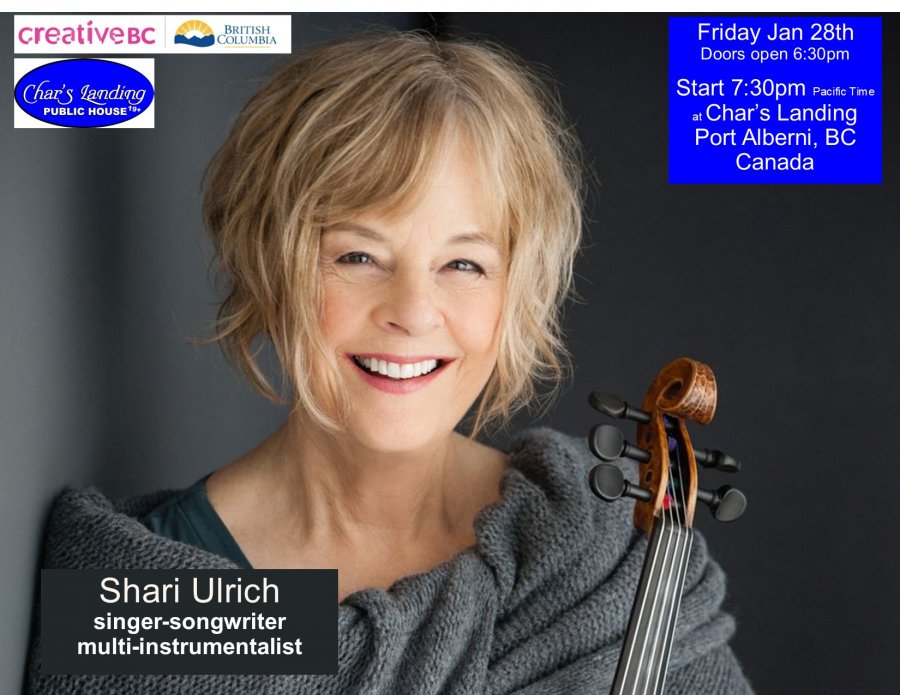 Date:
Friday, January 28, 2022 -

7:30pm

to

9:30pm
Contact:
info@charslanding.com 250-730-1636
FRIDAY, JANUARY 28TH, 7:30PM (DOORS 6:30PM)
SHARI ULRICH @ CHAR'S
SINGER-SONGWRITER, INDIE/ALTERNATIVE, FOLK
Tickets $25 (plus taxes & service charges)
OR Call Char @ 250-730-1636 to charge by phone.
(Jan 27th if you receive a "sold out" message please just wait for the screen to refresh to "buy tickets")
"Music is one the best thing we do as humans as far as far as I'm concerned." Shari's longevity as a songwriter, touring recording artist and multi-instrumentalist (violin, mandolin, piano, guitar, dulcimer, & harmonica) can be attributed to her unabated enthusiasm for the power of music and the joy of making it. Her work with Pied Pumkin through The Hometown Band, and on as a solo artist and multi-instrumentalist has lead to 25 albums – including her collaboration with solo artists Bill Henderson and Roy Forbes (UHF), Barney Bentall & Tom Taylor (BTU), and more recently The High Bar Gang, a 7 piece bluegrass band with Barney Bentall. Her work has garnered 2 Juno awards, several Juno nominations, an induction into the BC Entertainment Hall of Fame, and a 2014 CFMA for English Songwriter of the Year. Shari tours solo, as well as with her trio that includes her daughter – recording engineer Julia Graff, (on violin, mandolin, guitar, and vocals), fellow McGill Grad Cindy Fairbank (on piano, accordion and vocals) and fellow High Bar Gang member Kirby Barber (on bass, guitar and vocals). All combinations including solo make her very happy!
Stage plexiglass in place.  Guests required to prove doubleVAX and wear masks until seated. Thank you.  Char.  
https://charslanding.com/
Char's Landing gratefully acknowledges:
Creative BC and the Province of British Columbia @creativebcs and #amplifybc
# # #
Charlene Patterson dba Char's Landing, INHOUSE Host + ZOOM Producer
For more information call/text Char at Cel: 250-730-1636
Char's Landing Hall & Hostel 4815 Argyle @5th Port Alberni V9Y 1V9 Tel: 778-421-2427
Char's Landing gratefully acknowledges:
Creative BC and the Province of British Columbia @creativebcs and #amplifybc
# # # # # # # # # # # # # # # # # # # # # # # # # # # # # # # # # # # # # # # # # # # # # # # # # # # # # # # # # # # # # # # #