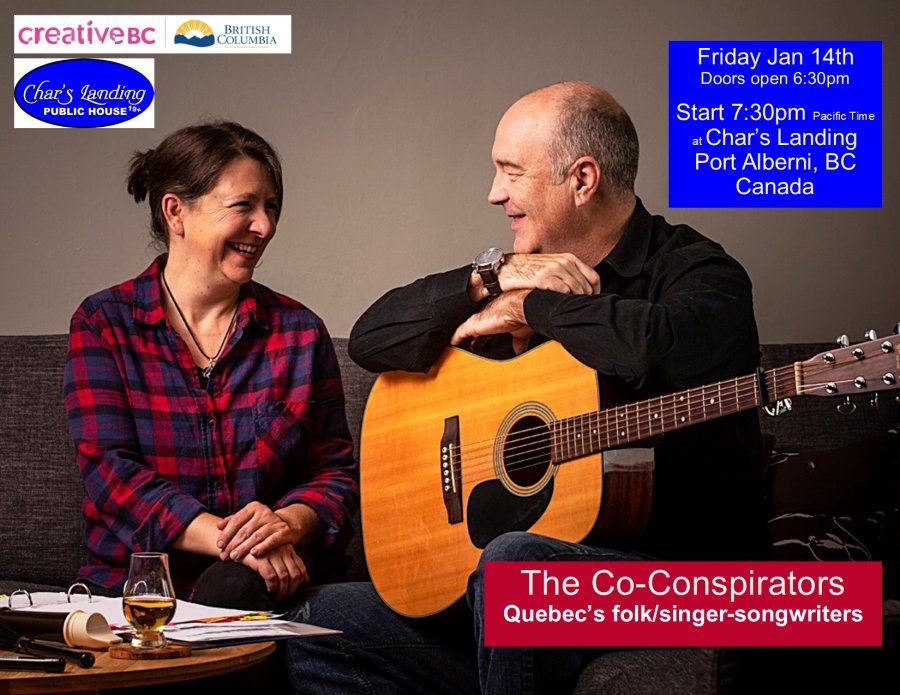 Date:
Friday, January 14, 2022 - 7:30pm
Contact:
info@charslanding.com 250-730-1636
FRIDAY, JANUARY 14TH, 7:30PM (DOORS 6:30PM)
THE CO-CONSPIRATORS @ CHAR'S
a folk / roots acoustic duo from Quebec.
Adults $20, Seniors $17 (plus taxes & service charges)
OR Call Char @ 250-730-1636 to charge by phone.
We are The Co-Conspirators, a folk / roots acoustic duo from Quebec.
The Co-Conspirators is a Hemmingford, QC based duo playing folk/singer-songwriter music with elements of country, rock, blues, gospel, bluegrass, spiritual, and general roots music. With heavy emphasis on vocal harmonies (described as "bulletproof"), this duo had been compared to Ian and Sylvia Tyson, Richard and Linda Thompson, and Gram Parsons and Emmylou Harris. 
Whether about social injustice, tales of travel, or love lost or found, their original songs always bring life and light to a room.
Founded in 2012 by singer/songwriter/guitarist Will Richards, The Co-Conspirators was initially an occasional project to showcase material that did not fit stylistically with his rock band, Sawtooth.
In 2014, Richards met Katherine Simons and they began performing together. Simons comes from a very musical family and is a classically trained french horn player and percussionist. Her pure, angelic voice stands in contrast to the more raw, rock colouring of Richards'.
In March of 2018, Simons and Richards quit their day jobs and began performing together full time. In April 2019, they released their first full length recording: Shadowing the Organ Tuner (with full band accompaniment). They have been touring Canada as a duo ever since; performing hundreds of shows across all provinces.
The duo is currently working on their second LP: The Unreliable Narrators, which shall be released January 5, 2022.
Here are three songs from our upcoming album release:
Here is our website:
And here is our Facebook page:
Stage plexiglass in place.  Guests required to prove doubleVAX and wear masks until seated. Thank you.  Char.  
https://charslanding.com/
Char's Landing gratefully acknowledges:
Creative BC and the Province of British Columbia @creativebcs and #amplifybc
# # #
Charlene Patterson dba Char's Landing, INHOUSE Host + ZOOM Producer
For more information call/text Char at Cel: 250-730-1636
Char's Landing Hall & Hostel 4815 Argyle @5th Port Alberni V9Y 1V9 Tel: 778-421-2427
Char's Landing gratefully acknowledges:
Creative BC and the Province of British Columbia @creativebcs and #amplifybc
# # # # # # # # # # # # # # # # # # # # # # # # # # # # # # # # # # # # # # # # # # # # # # # # # # # # # # # #