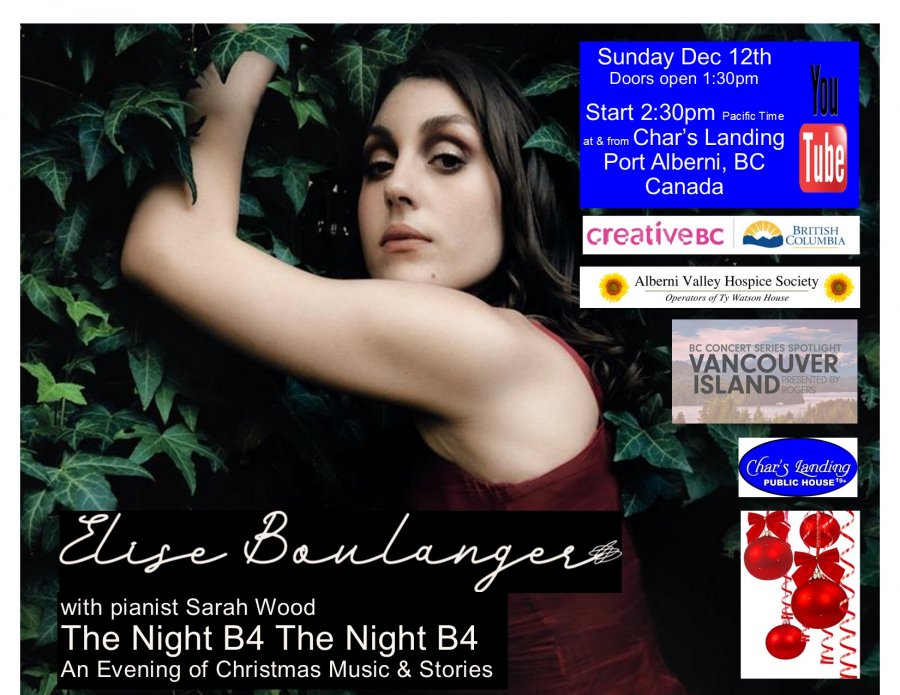 Date:
Sunday, December 12, 2021 -

2:30pm

to

4:30pm
Contact:
info@charslanding.com 250-730-1636
SUNDAY, DECEMBER 12TH, 2:30PM (DOORS 1:30PM) INHOUSE + YOUTUBE
ELISE BOULANGER WITH PIANIST SARAH WOOD @ CHAR'S
The Night B4 The Night B4: An Evening of Christmas Music & Stories
Char's Landing physical hall is now open, following today's COVID safety rules.  Plexi in place. Masks & proof of doubleVAX required.
After two years, Vocalist Elise Boulanger is back to bring you this darling Christmas gathering with Pianist Sarah Wood. Having played together for over ten years, Boulanger and Wood have a magnetic musical chemistry that will bring you Christmas cheer.
The Night B4 The Night B4 is a show to bring everyone together in cozy gratefulness.
INHOUSE $20 YouTube livestream $10 (plus taxes & service charges)
OR Call Char @ 250-730-1636 to charge by phone.
 
Hailing from the West Coast of Canada on Snuneymuxw territory, Elise Boulanger is a bilingual Chamber-Folk-Pop artist with a haunting avalanche of a voice. She creates cinematic dreamscapes influenced by nature, her classical training and artists like Regina Spektor, Patrick Watson, Franz Schubert and Radiohead. She's sonically reminiscent of Kate Bush, Lana Del Rey, and Kishi Bashi. 
"It Started in the Garden" (2021), with its shimmering and tormented string passages and howling vocals, is Boulanger's new single and first music video. "It's more than a dark and moody love story of when you do something you love with someone you love and then they turn around and do it with someone else," explains Boulanger. "As a passionate environmentalist, I've partnered with environmental organizations to raise awareness for the indelible importance of biodiversity in the face of climate change. The video includes choreography in intoxicating gardens and wild forests with roaming wolves."
"It Started in the Garden" contrasts her previous single, "Cigarettes et rosé" (2020) which received national CBC airplay and prompted UK music blog, For the Rabbits, to proclaim her "ready to make a very big impression on the world at large', and the "The Mariner's Remedy" (2019), which received national community/college radio airplay. Boulanger has performed at the JUNO celebrations in Vancouver (2018), several notable Vancouver Island festivals, and large Canadian theatres, like the Tidemark Theatre. For more see:
https://www.eliseboulanger.com
This event is co-presented by Rogers and Side Door. Thank you for supporting live art on Vancouver Island.
Stage plexiglass in place.  Inhouse guests required to prove doubleVAX and wear masks until seated. Thank you.  Char.  
https://charslanding.com/
Char's Landing gratefully acknowledges:
Creative BC and the Province of British Columbia @creativebcs and #amplifybc
# # #
Charlene Patterson dba Char's Landing, INHOUSE Host + ZOOM Producer
For more information call/text Char at Cel: 250-730-1636
Char's Landing Hall & Hostel 4815 Argyle @5th Port Alberni V9Y 1V9 Tel: 778-421-2427
Char's Landing gratefully acknowledges:
Creative BC and the Province of British Columbia @creativebcs and #amplifybc
# # #