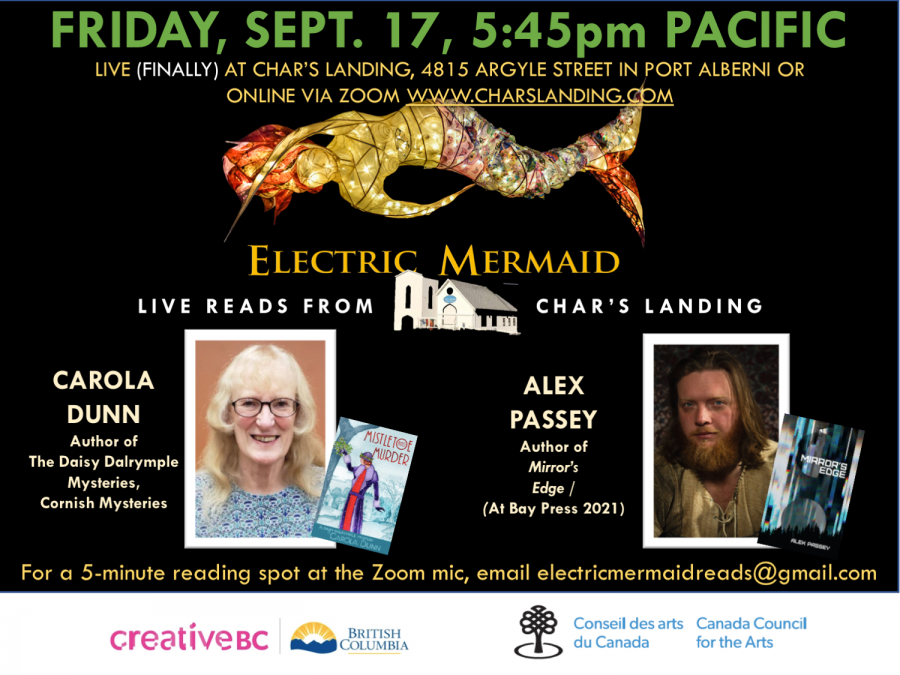 Date:
Friday, September 17, 2021 -

6:00pm

to

8:00pm
Contact:
ElectricMermaidReads@gmail.com
Electric Mermaid: Live Reads from Char's Landing, Port Alberni, Vancouver Island, BC, Canada
Emcee: Derek Hanebury  Moderator: Karl Korven  Artistic Director:  Jacqueline Carmichael  
Photographer: Micah Gardener  ZOOM Producer: Charlene Patterson
Spoken Word Open Mic via ZOOM, 3rd Friday of each month, virtual doors open 5:30pm Pacific Time
Port Alberni venue Char's Landing now plays host to the Zoomed Electric Mermaid
"Since being on Zoom allows us to pull in an audience from anywhere in the world, we've been very fortunate to hear from a wider diversity of regions—the island, the mainland and internationally as well.  going global!"     
http://www.charslanding.com
Port Alberni's literary venue still has its two feet planted in both the digital and brick-and-mortar worlds.
Authors Carola Dunn and Alex Passey will be featured readers at Electric Mermaid: Live Reads from Char's Landing on Friday, Sept. 17 at 5:45 pm via Zoom. Onsite, attendees and readers will gather at Char's Landing, the hostel and live event venue in a historic building at 4815 Argyle in Port Alberni. The event will adhere to B.C. pandemic protocols.
Anyone who feels unwell can still join those tuning in and participating via Zoom at www.charslanding.com by clicking on the event date.
 .Alex Passey is a novelist and poet living in Winnipeg. The novel he is reading from this evening is Mirror's Edge, which is his first novel, but he also has a second novel being released this month, a high fantasy tale called Shadow of the Desert Sun.In addition my novels, I have also had several pieces of short fiction published. My poem Raindrops won the Manitoban poetry competition in 2014. I also occasionally write op-eds for the Winnipeg Free Press.Mirror's Edge is available through most book stores and online. Shadow of the Desert Sun is curre
Carola Dunn is the author of around 60 books: 23 mysteries in the Daisy Dalrymple series, set in England in the 1920s; 4 Cornish mysteries, set around 1970; and 32 Regencies, not counting numerous novellas. was born and grew up in England. After graduating from Manchester University, I set off around the world, but only made it halfway, to Fiji, before turning back to get married. I lived in Southern California for 20 years, and then moved to Eugene, Oregon, where I live now. I love it here, love the changing seasons. Contrary to reports, it doesn't rain all the time! I'm not far from the Willamette River, and walk there every morning with Callie. I enjoy gardening, bird watching, and playing music from medieval to modern with a recorder group.My books are all available as ebooks at Amazon and other sellers. The mysteries are available in print on line--some editions are out of print, some available only from BookDepository.comntly only available through sites like bookdepository, Amazon or Barnes and Noble. It is also available as a Kindle e-book.
SEPTEMBER 17th  FEATURE READERS
FEATURE 01 Alex Passey ( 

Winnipeg)
FEATURE 02 Carola Dunn ( Eugene, Oregon)
READER 01 @0:21:45 Joy Sheldon, Cowichan Valley BC, (via ZOOM)
READER 03 @0:27:35 Jennifer Wenn, London ON, (via ZOOM)
FEATURE 01 @0:41:40 Alex Passey, Winnipeg MN, (via ZOOM)
FEATURE 02 @1:03:40 Carola Dunn, Eugene OR, (via ZOOM)
READER 04 @1:34:00 Kathleen Vance, Gibsons BC, (in house)
READER 05 @1:40:45 David Kipling, Gibsons BC, (in house)
READER 06 @1:48:00 Victoria Roscoe-Roumanis, Port Alberni BC, (in house)
READER 07 @1:54:50 Joe Lunchbucket (aka Bob Frankow), Port Alberni BC, (in house)
READER 08 @1:59:00 Jacqueline Carmichael, Port Alberni BC, (via ZOOM)
READER 09 @2:03:05 Robbie Van, Port Alberni BC, (in house)
READER 00 @2:13:15 Derek Hanebury, Port Alberni BC, (via ZOOM)
Char's Landing 19+ (accompanied kids welcome) 4815 Argyle @5th Port Alberni, Vancouver Island, CANADA V9Y 1V9 Tel: 778-421-2427 
www.charslanding.com
Char's gratefully acknowledges Creative BC and the Province of British Columbia @creativebcs and #amplifybc