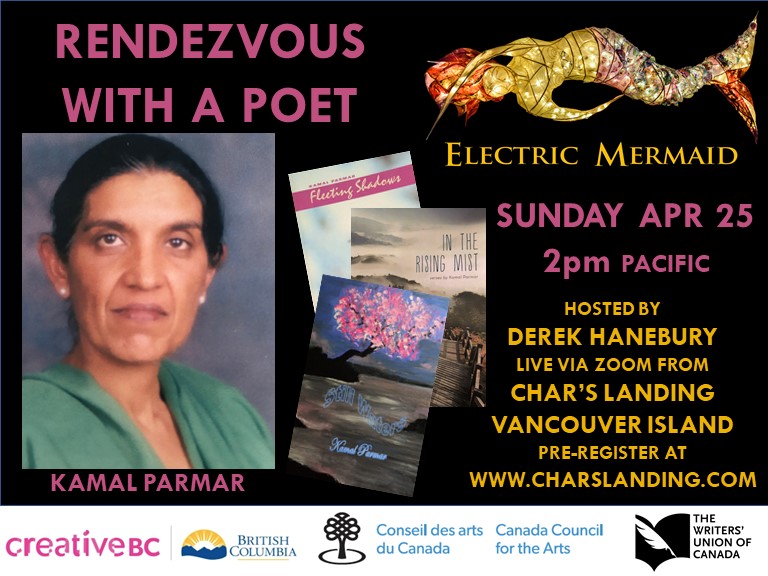 Date:
Sunday, April 25, 2021 -

2:00pm

to

3:00pm
Contact:
ElectricMermaidReads@gmail.com or Char 250-730-1636
PRE-REGISTER NOW TO RECEIVE YOUR INTERACTIVE ZOOM LINK =>
first time to sidedooraccess click => JOIN => WATCH => CREATE ACCOUNT    pay what you can with credit card... suggested ticket price is $10, with our thanks.
Sun, Apr 25th, 2pm PT (virtual doors 1:30pm), Electric Mermaid: Kamal Parmar, Rendezvous with a Poet
Poet and writer from Vancouver Island - Kamal Parmar has been passionately involved in writing since high school and University years.  Her genre is poetry and creative non-fiction and she dabbles frequently with Haiku poetry.  She has a few books published in UK, Canada and India and many publications in US and Canadian literary journals and anthologies. Many of her poems have received Honorable mentions and prizes.
Electric Mermaid host - Derek Hanebury is a Port Alberni writer of poetry, fiction, and creative non-fiction who taught writing here at North Island College for many years.  His latest book, Both Sides Now, is a collaboration of short fiction with two of his past students.  His upcoming solo collection entitled Something Else Altogether will be coming out this fall.
Char's Landing Public House – is a beloved Port Alberni venue, host to many spoken word events since 2010.  Owner / Operator Charlene Patterson has pivoted and now ZOOM Produces live interactive broadcasts.
Review of Fleeting Shadows
"Kamal has crafted verses of beauty, life, childhood memories in India. There are renditions of seasonal cahnges and hope—verses that reflect her acute observation and innate sense of being 'in sync' with natrue. She also writes about Prairies , where she spent many years , under the Living Skies , trying to decipher the language of the vast and bleak landscape….a jouney of self-discovery."— a poet in SK
Review of In the Rising Mist
"Kamal's book, so aptly titled, ' In the rising mist ' highlights her poems reflect a poet's delight in seeing beauty all around us, in self reflection and quiet appreciation. Wisdom and anivete' twinned with nostalgia are juxtaposed to add to the complexity of thoughts and feelings that swell this volume so full of meaning."--- a reviewer from Victoria, B.C
Review of Still Waters
"This is a collection of poems written in an effort to make sense of the changing of lives as she watched her mother's life held in the grasp of Alzheimer's Disease. The book opens with a perfect poem, 'Is the world crazy', as a place to begin - as if looking backward, in the midst of it, and in her mother's voice. Overall, this is a very poignant and an inflective collection of poetry, in which Parmar becomes so immersed in coming to grips with it all, she is able to tell the story from other viewpoints, and many 'starting' points. I was very much taken in as I read this collection. Many of the poems struck me very deeply." --- Bruce Kauffman, poet, editor, radio show producer & host, and author - most recently, an evening absence still waiting for moon.
Review of Still Waters
"In a slender and tender volume, poet Kamal Parmar brings to twilight life a mother/daughter struggle with encroaching Alzheimer's. A vital memoir in verse, Still Waters is sensitive, touching, honest, even gritty, a compelling read that asks the question: Who am I? "Am I a young girl in ponytails with stars in her eyes? Or am I an old decrepit woman with a furrowed face and a doddering gait? And yet, I cry like a baby." A luminous book, it's a tuning fork for families coping with Alzheimer's and the accompanying emotional wasteland. Lovely work." --- Jacqueline Carmichael, author of Heard Amid the Guns: True Stories from the Western Front, 1914-1918, and My Read-Aloud Tales of Social Distancing.
Acknowledgements
We gratefully acknowledge the support of the Canada Council for the Arts. @CanadaCouncil #BringingTheArtsToLife
We gratefully acknowledge the financial assistance of the Canada Council through The Writers' Union of Canada
We gratefully acknowledge Creative BC and the Province of British Columbia @creativebcs #amplifybc