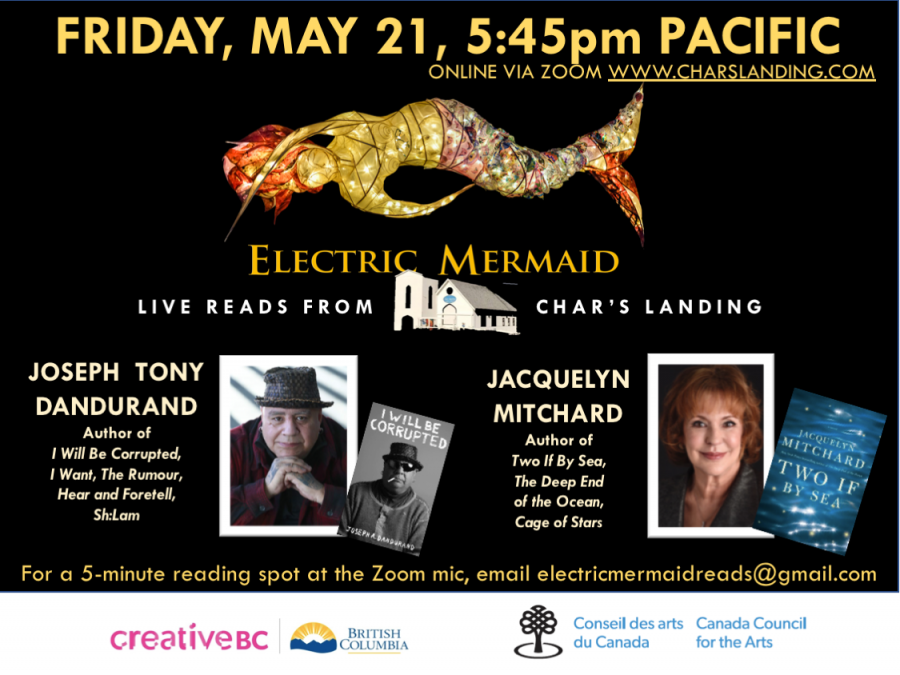 Date:
Friday, May 21, 2021 -

6:00pm

to

8:00pm
Contact:
ElectricMermaidReads@gmail.com
Electric Mermaid: Live Reads from Char's Landing, Port Alberni, Vancouver Island, BC, Canada
Emcee: Derek Hanebury  Moderator: Karl Korven  Artistic Director:  Jacqueline Carmichael  
Photographer: Micah Gardener  ZOOM Producer: Charlene Patterson
Spoken Word Open Mic via ZOOM, 3rd Friday of each month, virtual doors open 5:30pm Pacific Time
Port Alberni venue Char's Landing now plays host to the Zoomed Electric Mermaid
"Since being on Zoom allows us to pull in an audience from anywhere in the world, we've been very fortunate to hear from a wider diversity of regions—the island, the mainland and internationally as well.  going global!"     
http://www.charslanding.com
May 21st FEATURE READERS
Joseph Anthony "Tony" Dandurand Kwantlen First Nation 15min
Jacquelyn Mitchard is the number one New York Times bestselling author of twelve novels for adults, including 
The Deep End of the Ocean,
 which was the inaugural selection of the Oprah Winfrey Book Club and also made into a major feature film. The editor of a realistic Young Adult imprint, Merit Press, Mitchard also is the author of seven novels for Young Adults. Her work has won the Bram Stoker and Shirley Jackson awards, as well as the UK's Walkabout Prize and was short-listed for the Orange Broadband Prize for Fiction. She is a professor of Creative Writing at Vermont College of Fine Arts and a contributing editor for More magazine. Mitchard grew up in Chicago, and now lives on Cape Cod with her fa
Joseph A. Dandurand
2019
Indigenous Storyteller in Residence/Vancouver Public Library
Director of the Kwantlen Cultural Center, Joseph A. Dandurand brings a wealth of experience and knowledge to his role as a storyteller. A member of Kwantlen First Nation located on the Fraser River, Dandurand has been a storyteller since he was a young man. His talent and passion for words and sharing stories has followed him through the many journeys of his life.
An accomplished poet, playwright, researcher, archaeologist and proud father of three children, Dandurand received a Diploma in Performing Arts from Algonquin College and studied theatre and direction at the University of Ottawa. He has produced several plays for adults and youth, including works as the Playwright-in-Residence for the Museum of Civilization in Hull in 1995 and a radio script, St. Mary's, produced by CBC Radio in 1999.
He is also the author of twelve books of poetry, including I Will Be Corrupted;  SH:LAM (The Doctor); I Want; Hear and Foretell; and The Rumor.  
READER 01 @00:29:00 Micki Findlay, Errington BC 10min      www.mickifindlay.com         
READER 02 @00:42:00 Pat Buckna, Powell River BC 5min
FEATURE 01 RAIN CHECK Jacquelyn Mitchard 15min Brewster, Massachusetts   
FEATURE 02 @00:46:30 Joseph Anthony "Tony" Dandurand Kwantlen First Nation 15min
READER 03 @01:11:15 Kathleen Vance, Gibsons BC
READER 04 @01:17:10 David Kipling, Gibsons BC
READER 05 @01:24:25 Joy Sheldon, Cowichan Valley BC 5min   Amazon Books, published 4
READER 06 @01:30:15 Jennifer Wenn, London ON 5min  https://jenniferwennpoet.wixsite.com/home
READER 07 @01:36:50 Vicki Drybrough, Alberni Valley 5min
READER 08 @01:42:20 Jacqueline Carmichael, Alberni Valley 5min   Heritage House Publishing
READER 09 @01:47:10 Joe Lunchbucket aka Bob Frankow, Alberni Valley 5min
READER 10 @01:52:30 Bruce Hornidge, Alberni Valley 5min
READER 00 @01:57:50 Derek Hanebury, Alberni Valley 5min
Char's Landing 19+ (accompanied kids welcome) 4815 Argyle @5th Port Alberni, Vancouver Island, CANADA V9Y 1V9 Tel: 778-421-2427 
www.charslanding.com
Char's gratefully acknowledges Creative BC and the Province of British Columbia @creativebcs and #amplifybc