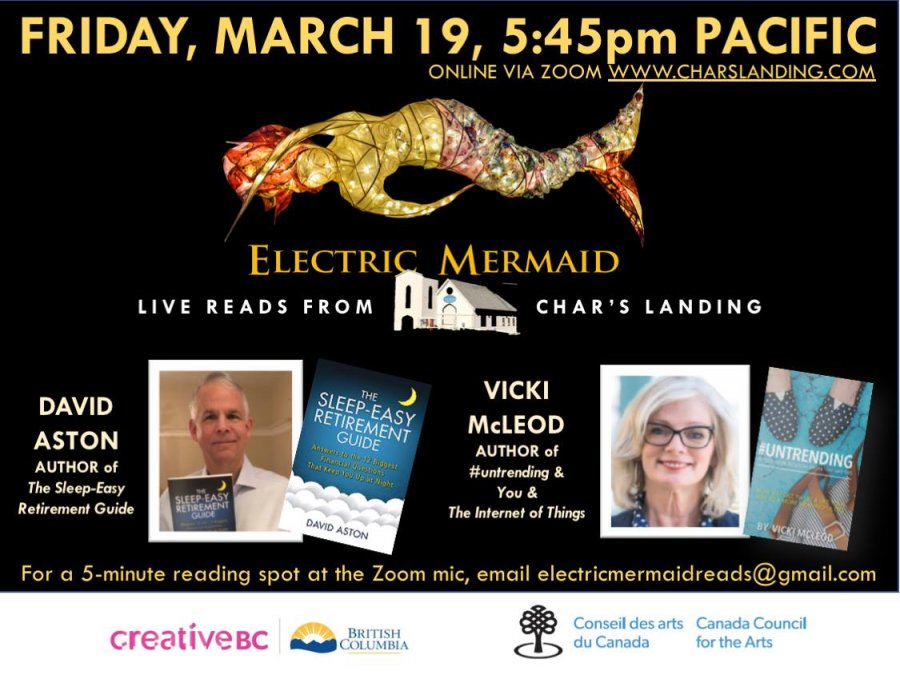 Date:
Friday, March 19, 2021 -

6:00pm

to

8:00pm
Contact:
ElectricMermaidReads@gmail.com
Electric Mermaid: Live Reads from Char's Landing
Emcee: Derek Hanebury  Moderator: Karl Korven  Artistic Director:  Jacqueline Carmichael  
Photographer: Micah Gardener  ZOOM Producer: Charlene Patterson
Spoken Word Open Mic via ZOOM, 3rd Friday of each month, virtual doors open 5:30pm Pacific Time
Port Alberni venue Char's Landing now plays host to the Zoomed Electric Mermaid
"Since being on Zoom allows us to pull in an audience from anywhere in the world, we've been very fortunate to hear from a wider diversity of regions—the island, the mainland and internationally as well.  going global!"     
http://www.charslanding.com
March 19th FEATURES
Vicki McLeod  Nanaimo BC,  15min  + David Aston Toronto, Ontario 15 min
Vicki McLeod is the author of four books, a TEDx speaker, coach, presenter, consultant and an award-winning writer and entrepreneur.
For more than two decades, through her consultancy Main Street Communications Ltd., she has helped organizations, governments, and small businesses create conversations that matter with clients, customers, and stakeholders. She has coached and mentored leaders, executive teams, and individuals to take inspiration and turn it into strategy.
She is a graduate of the Writers Studio at Simon Fraser University, and works in nonfiction, fiction, and poetry. 

Her books include You and the Internet of Things, 

Digital Legacy Plan, and Untrending: A Field Guide to Social Media That Matters.
David Aston is a personal finance and investment journalist. He has an M.A. in economics and is a Chartered Professional Accountant. He published a new book, "The Sleep-Easy Retirement Guide," in January 2020. He will share immediately useful help on your taxes and building your nest-egg in the pandemic era. 
FEATURE 02 @00:58:30 David Aston Toronto, Ontario 15 min  +q&a  
READER 03 @01:27:15 David KIppling , Gibsons 6min 30 Sec
READER 04  @01:36:35 
Kathy Vance, Gibsons  5min
READER 05 @01:42:50 Joe Lunchbucket, Port Alberni  5min
READER 06  @01:48:56 Bruce Hornidge, Port Alberni
READER 07 @01:56:30 Rory Rickwood, Port Alberni
READER 00 @02:07:30 Derek Hanebury, Port Alberni
Char's Landing 19+ (accompanied kids welcome) 4815 Argyle @5th Port Alberni, Vancouver Island, CANADA V9Y 1V9 Tel: 778-421-2427 
www.charslanding.com
Char's gratefully acknowledges Creative BC and the Province of British Columbia @creativebcs and #amplifybc