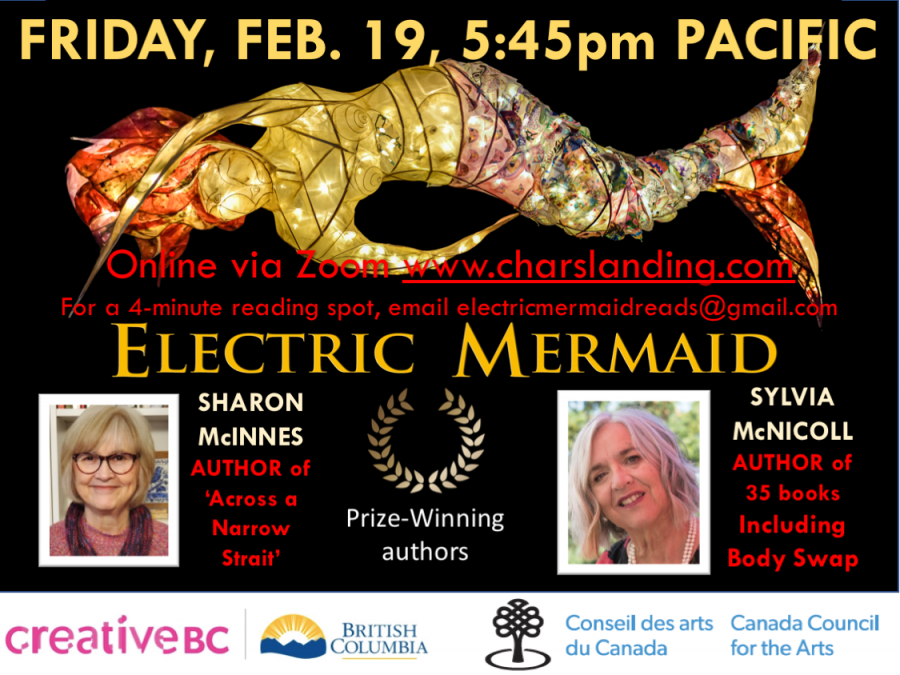 Date:
Friday, February 19, 2021 -

6:00pm

to

8:00pm
Contact:
ElectricMermaidReads@gmail.com
Electric Mermaid: Live Reads from Char's Landing
Emcee: Derek Hanebury  Moderator: Karl Korven  Artistic Director:  Jacqueline Carmichael  
Photographer: Micah Gardener  ZOOM Producer: Charlene Patterson
Spoken Word Open Mic via ZOOM, 3rd Friday of each month, virtual doors open 5:30pm Pacific Time
Port Alberni venue Char's Landing now plays host to the Zoomed Electric Mermaid
"Since being on Zoom allows us to pull in an audience from anywhere in the world, we've been very fortunate to hear from a wider diversity of regions—the island, the mainland and internationally as well.  going global!"     http://www.charslanding.com
https://www.albernivalleynews.com/entertainment/award-winning-authors-to-read-at-electric-mermaid-in-february/
YouTube => https://youtu.be/g_5s7lgqapI
FEBRUARY 19TH FEATURES   Sylvia McNicoll  Burlinton, Ontario.15min   (screen share)  Sharon McInnes Cumberland,15min
Sylvia McNicoll is the recent winner of the Hamilton Fiction Award for Body Swap. She has also won Burlington's Literary Artist of the year in 2011 as well two children's choice awards and many nominations such as The Arthur Ellis Award for YA Crime Writing. With over 35 books to her name, she's spoken at the Seoul International Book Fair as well as book-toured Colombia where her novel Revenge on the Fly/Venganza Contra Las Moscas became a bestseller
My favourite book seller is 
A Different Drummer Books,in Burlington, Ontario,  He will be happy to mail books.
905 639 0925, or by email, diffdrum@mac.com
Sharon McInnes is the author of Across a Narrow Strait (2018), a novel, and Up Close & Personal: Confessions of a Backyard Birder (2012), a compilation of her newspaper columns. She was a monthly contributor to Bird Canada for seven years. In 2012, her personal essay, Formative Years, was published in Living Artfully: Reflections from the Far West Coast (Key Publishing House.) In 2020, her first shortstory, The David and Goliath, was published in Island Writer magazine, then A Symphony of Sparrows took second prize for fiction in Askew's Word on the Lake Contest, and Various Functions of Fire took first place for fiction in the Victoria Writers Society competition. Another short story, The Neighbour was shortlisted for the FBCW BC & Yukon Short Fiction Contest, then won second prize for fiction in the Melody Richardson Memorial Contest. Sharon lives in Cumberland, where she's writing more stories and working on a memoir about the time she spent looking after her mom, who had dementia and died in June 2020.
to order her book  go to
https://www.amazon.ca/Across-Narrow-Strait-Sharon-McInnes/dp/0986745316/ref=sr_1_1?dchild=1&keywords=Across+a+Narrow+Strait&qid=1610766070&s=books&sr=1-1
Febuary  19th  READERS   YouTube => https://youtu.be/g_5s7lgqapI
READER 01  @0:34:10 Victoria Roscoe-Roumanis  5min
READER 02  @0:39:48 JOY SHELDON 5 min
FEATURE 01 @0:48:40 Sylvia McNicoll  Burlinton, Ontario.15min   (screen share) 
FEATURE 02 @1:16:10 Sharon McInnes Cumberland,15min
READER 03 @1:45:44 Vicki Drybrough  5min
READER 04  @1:49:35 Joe Lunchbucket  5 min
READER 05 @1:55:30 Kathleen Vance 5 1/2 minutes
READER 06 @2:01:50 David Kipling 5 min 30sec
READER 07 @2:08:15 Jacqueline Carmichael 5 min
READER 08 @2:13:10 Craig Stephen Copland 10 min   (www.SherlockHolmesMystery.com ,)
READER 00 @2:24:00 Derek Hanebury
For a full ZOOM Chat record, please email electricmermaidreads@gmail.com
Char's Landing 19+ (accompanied kids welcome) 4815 Argyle @5th Port Alberni, Vancouver Island, CANADA V9Y 1V9 Tel: 778-421-2427 www.charslanding.com
Char's gratefully acknowledges Creative BC and the Province of British Columbia @creativebcs and #amplifybc