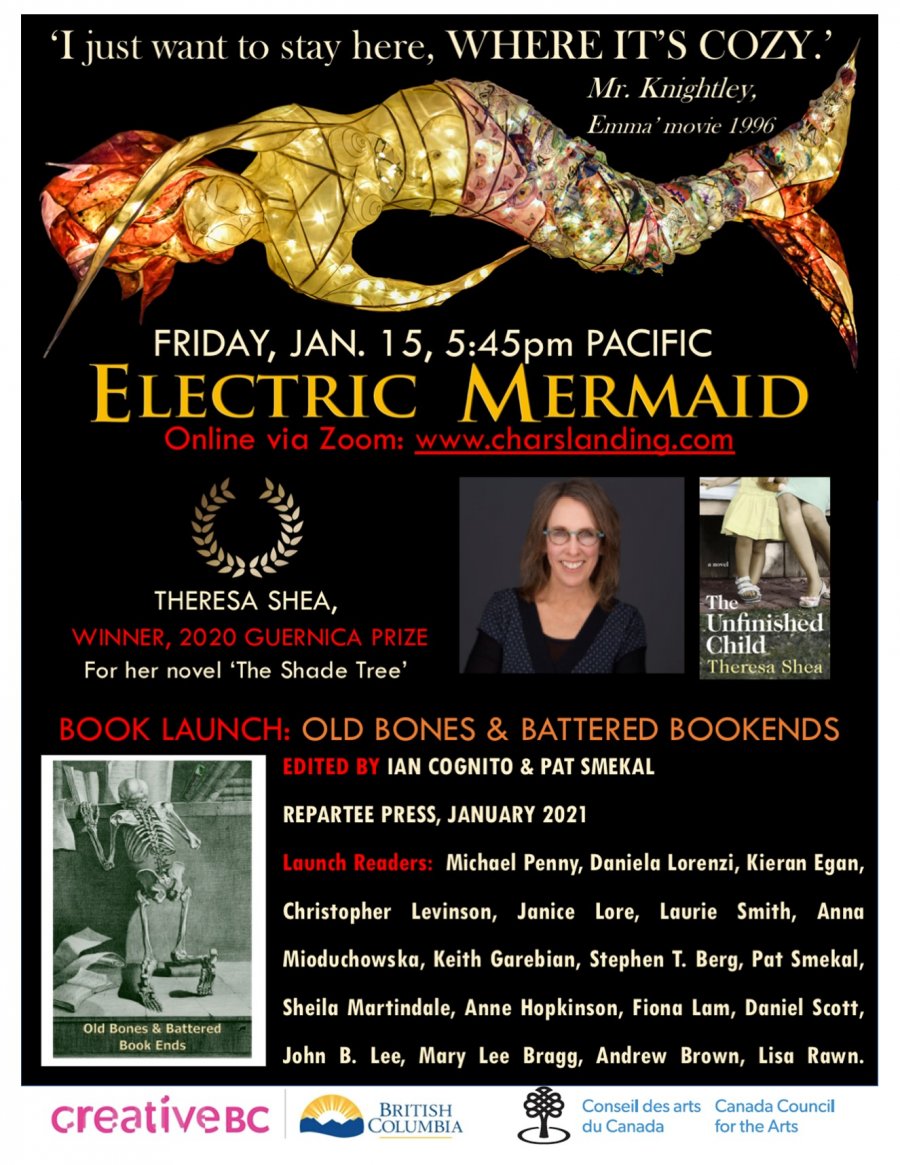 Date:
Friday, January 15, 2021 -

6:00pm

to

8:00pm
Contact:
ElectricMermaidReads@gmail.com
Electric Mermaid: Live Reads from Char's Landing
Emcee: Derek Hanebury  Moderator: Karl Korven  Artistic Director:  Jacqueline Carmichael  
Photographer: Micah Gardener  ZOOM Producer: Charlene Patterson
Spoken Word Open Mic via ZOOM, 3rd Friday of each month, virtual doors open 5:30pm Pacific Time
Port Alberni venue Char's Landing now plays host to the Zoomed Electric Mermaid
"Since being on Zoom allows us to pull in an audience from anywhere in the world, we've been very fortunate to hear from a wider diversity of regions—the island, the mainland and internationally as well.  going global!"     http://www.charslanding.com
January 15th Theresa Shea, Guernica (Edmonton, AB) plus  OLD BONES & BATTERED BOOKENDS edited by Ian Cognito & Pat Smekal
http://www.albernivalleynews.com/entertainment/newest-guernica-prize-winner-to-read-at-virtual-port-alberni-event/
Theresa Shea was born in the US and moved to Canada in 1977. Her debut novel, The Unfinished Child, was a finalist for the Georges Bugnet Award for Fiction and the Alberta Readers' Choice Award. A word of mouth bestseller, the book draws on her experience of coming to motherhood later in life and being surprised by genetic counselling and prenatal testing. It remains a book club favourite.Her second novel, The Shade Tree, won the 2020 Guernica Prize for best literary fiction and will be published in fall of 2021 by Guernica Editions. It is an historical novel that deals with racial and sexual politics in the United States from 1910 through the civil rights movement of the 1960s. It tells a compassionate story of racial discrimination in the US and the search for justice.A graduate of McGill, Queen's, and the University of Alberta, Shea is currently working on The Dog Days of Planet Earth, a novel that examines animal rights and the climate crisis through the historical lens of the nuclear experiments conducted by the United States Government between 1945 and 1992. lives in Edmonton, Alberta, Canada.
 The Unfinished  child  It can be ordered through them here https://www.touchwoodeditions.com/book/the-unfinished-child/
The Shade Tree  It can be ordered through them here https://www.amazon.ca/gp/product/1771836296/ref=dbs_a_def_rwt_bibl_vppi_i1
Theresa  website https://www.theresashea.com/
OLD BONES & BATTERED BOOKENDS edited by Ian Cognito & Pat Smekal
REPARTEE PRESS, JANUARY 2021
Old Bones & Battered Bookends, published by Repartee Press, is an anthology on Ageing. Curators Ian Cognitō and Pat Smekal selected poems from over 300 submissions from BC and beyond for this collection. Tonight 17 authors from among the 27 in this collection have gathered to read from among the works that appear in this volume.
                The poems in Old Bones & Battered Bookends contemplate one of the most profound experiences we hold in common—getting older.               From the days when our progress is chronicled on doorframes in inches of celebration, to a growing reluctance to mark yet another        milestone, we age in shared, and yet deeply personal, sometimes solitary ways.  Our need for companionship on this journey is as old as     the bones of humanity.  Each of its way stations is as newly surprising to us as the discovery of another aching joint, a new wrinkle or        grey hair, the declining vision that alters how we see ourselves and how others may see us. Our appreciation for getting older, like all                 journeys, is as much about what we pass through as what we attend to.                                                                                                                                                                                                                                                 from the Foreword by Anne Marie Carson
Launch Readers: Michael Penny, Daniela Lorenzi, Kieran Egan, Christopher Levinson, Janice Lore, Laurie Smith, Anna Mioduchowska, Keith Garebian, Stephen T. Berg,  Sheila Martindale, Anne Hopkinson, Fiona Lam, Daniel Scott, John B. Lee, Mary Lee Bragg, Andrew Brown,
To Order old Bones  &  Battered  Bookends  https://www.biblio.com/bookstore/well-read-books-nanaimo or https://www.windowseatbooks.ca/  or https://volumeone.ca/
Or  you  can  to contact Repartee Press.   repartee@telus.net
FACEBOOK GROUP: https://www.facebook.com/groups/777940299452077
YOUTUBE CHANNEL:  subscribe to see past events https://www.youtube.com/user/CharsLanding/videos
DONATIONS to help Char's Landing support the live arts are gratefully accepted with our thanks.
Bank online to eTransfer@charslanding.com please include the event date and your email address
PayPal to https://www.paypal.me/CharsLanding please include the event date and your email address
OR call 250-730-1636 to charge by phone.
OR stop by Char's Landing to pay by cash/cheque/interac
JANUARY 15TH ZOOM VIDEO https://youtu.be/b3sCsJoilqY
READER 01 @00:04:00 Victoria  Roscoe-Roumanis      
READER 02 @00:09:00 Bill Engleson
FEATURE 01 @00:16:20 Theresa Shea
READER 03 @00:39:20 Pat Buckna
FEATURE 02 @00:44:20 OLD BONES & BATTERED BOOKENDS
0. Ian Cognito
1. Michael Penny
2. Daniela Lorenzi
3.  Kieran Egan
4. Christopher Levenson (raincheck)
5. Janice Lore
6. Laurie Smith
7.  Anna Mioduchowsa
8.  Keith Garebian
9 .Stephen T. Berg.
10. Sheila Martindale
11. Anne Hopkinson
12. Fiona Tinwei Lam
13. Daniel G Scott
14. John B. Lee (raincheck)
15. Mary Lee Bragg
16. Andrew Brown
17. Michael Penny
READER 04 01:25:40 Janet Miller (Campbell River)
READER 05 01:29:00 Julie Mahfood
READER 08 01:31:50 Kathy Vance (Gibsons)
READER 07 01:38:00 Bob Frankow aka Joe lunchbucket (Alberni Valley)
READER 06 01:42:10 David Kipling (Gibsons)
READER 09 01:49:00 Don Skipp (Char's Landing stage)
READER 00 01:51:40 Derek Hanebury (Alberni Valley)
For a full ZOOM Chat record, please email electricmermaidreads@gmail.com
Char's Landing 19+ (accompanied kids welcome) 4815 Argyle @5th Port Alberni, Vancouver Island, CANADA V9Y 1V9 Tel: 778-421-2427 www.charslanding.com
Char's gratefully acknowledges Creative BC and the Province of British Columbia @creativebcs and #amplifybc