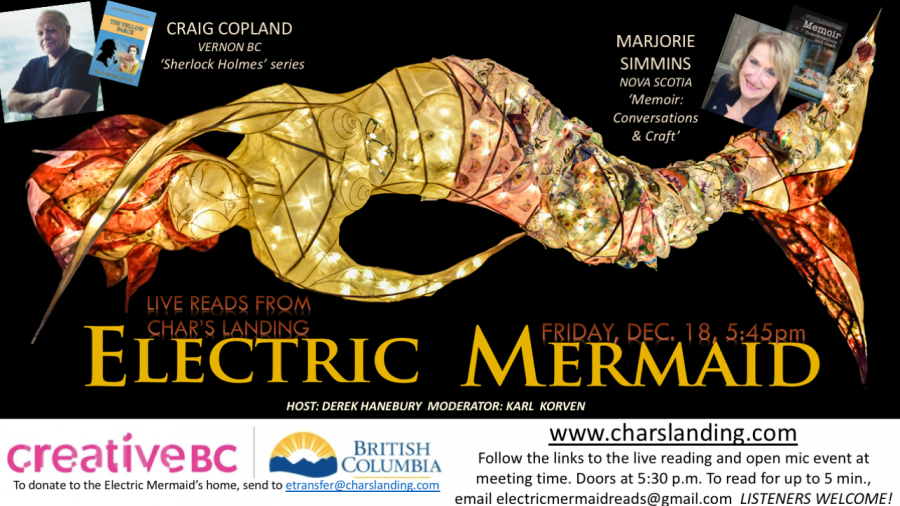 Date:
Friday, December 18, 2020 -

6:00pm

to

8:00pm
Contact:
ElectricMermaidReads@gmail.com
Electric Mermaid: Live Reads from Char's Landing
Emcee: Derek Hanebury  Moderator: Karl Korven  Artistic Director:  Jacqueline Carmichael  
Photographer: Micah Gardener  ZOOM Producer: Charlene Patterson
Spoken Word Open Mic via ZOOM, 3rd Friday of each month, virtual doors open 5:30pm Pacific Time
Port Alberni venue Char's Landing now plays host to the Zoomed Electric Mermaid
"Since being on Zoom allows us to pull in an audience from anywhere in the world, we've been very fortunate to hear from a wider diversity of regions—the island, the mainland and internationally as well.  going global!"     http://www.charslanding.com
December 18th Craig Copland ( Vernon BC ) -  Marjorie Simmins ( Nova Scotia )
https://www.albernivalleynews.com/entertainment/port-albernis-electric-mermaid-takes-a-journey/
PRESS RELEASE
The Dec. 18 edition of Electric Mermaid: Live Reads at Char's Landing transports attendees to Vernon, BC, Nova Scotia, and jolly old England. Feature readers for the event are Craig Copland, author of the new Sherlock Holmes mysteries, and Marjorie Simmins, author of Memoir: Conversations and Craft, and other books. 
Copland and Simmins will join the scheduled readers at 5:30 pm Pacific time for the fledgling online venue via Zoom. Links for the event can be found at charslanding.com, clicking on the Electric Mermaid event and then scrolling down to the Zoom link, and clicking on it at event time. 
"We're very excited to have Craig Copland visiting to share his marvellous self-published Sherlock Holmes series, not just for mystery readers but for any writers who have ever wanted to revisit a series," said artistic director Jackie Carmichael. 
Copland is a member of the Sherlock Holmes Society of Canada--also known as the Toronto Bootmakers. In May of 2014 this esteemed group of scholars announced a contest for the wIriting of a new Sherlock Holmes mystery. Although he had never tried his hand at fiction before, Craig entered and was pleasantly surprised to be selected as one of the winners. Having enjoyed the experience he decided to write more of the same, and is now on a mission to write a new Sherlock Holmes mystery that is related to and inspired by each of the sixty stories in the original Canon. So far, he has published forty-three books of New Sherlock Holmes Mysteries as well as a dozen short stories and other books. Copland pursued professional career that took him to over one hundred countries and endless adventures.
He has been living and writing while living in Toronto, Buenos Aires, New York, Tokyo, Bahrain, and the Okanagan Valley and looks forward to finally settling down when he turns ninety.You can find him at www.SherlockHolmesMystery.com.
"Marjorie Simmons has published an impressive body of work, and we're really looking forward to her reading, all the way from Nova Scotia," said Carmichael. Marjorie Simmins' latest book, Memoir: Conversations and Craft, is intended for any reader or writer who is fascinated by personal life stories that demand to be read, refuse to be forgotten. Whether you are an emerging or experienced writer, this reflection on writing can galvanize you.Included in this celebration of memoir are interviews with best-selling memoirists and top fiction writers: Lawrence Hill, Plum Johnson, Linden MacIntyre, Edmund Metatawabin, Donna Morrissey, Claire Mowat, and Diane Schoemperlen. All speak with candour, humour, and compassion about their journeys to memoir.Simmins is an award-winning journalist and the author of Coastal Lives and Year of the Horse. She also teaches memoir writing across Canada."I have been teaching personal narrative writing in all its many forms for over 25 years," says Simmins. "I have taught people of all ages and backgrounds, all of whom are compelled to write and share their life stories. I wanted to reach an even wider audience of readers and writers who love the memoir genre and want to benefit from my teaching experience, and the wisdom of some of Canada's finest writers, who have practiced memoir themselves." 
FACEBOOK GROUP: https://www.facebook.com/groups/777940299452077
YOUTUBE CHANNEL:  subscribe to see past events https://www.youtube.com/user/CharsLanding/videos
DONATIONS to help Char's Landing support the live arts are gratefully accepted with our thanks.
Bank online to eTransfer@charslanding.com please include the event date and your email address
PayPal to https://www.paypal.me/CharsLanding please include the event date and your email address
OR call 250-730-1636 to charge by phone.
OR stop by Char's Landing to pay by cash/cheque/interac
DECEMBER 18TH ZOOM VIDEO https://youtu.be/Uvj8zWumia0
READER 01 Phoenix Caine  (raincheck)
READER 02 @0:06:30 Kathleen Vance
READER 03 @0:12:30 David Kipling
FEATURE 01@0:18:10 Craig Copland ( Vernon BC )
FEATURE 02 @0:37:00 & @0:59:30 Marjorie Simmins ( Nova Scotia )
READER 07 @0:53:00 Herb Bryce
READER 04 @1:04:20 Bill Engleson (Denman Island)
READER 05  @1:10:00 Jule Briese
READER 06 @1:18:00 Vicki Drybrough
READER 08 @1:23:20 Linda Thompson
READER 09 @1:26:20 Karen Poirier
READER 10 @1:32:25 Joe Lunchbucket (aka Bob Frankow)
READER 11 @1:37:30 Jacqueline Carmichael
READER 12 @1:41:10 Laurie Blakely
READER 00 @1:46:30 Derek Hanebury
For a full ZOOM Chat record, please email electricmermaidreads@gmail.com
Char's Landing 19+ (accompanied kids welcome) 4815 Argyle @5th Port Alberni, Vancouver Island, CANADA V9Y 1V9 Tel: 778-421-2427 www.charslanding.com
Char's gratefully acknowledges Creative BC and the Province of British Columbia @creativebcs and #amplifybc