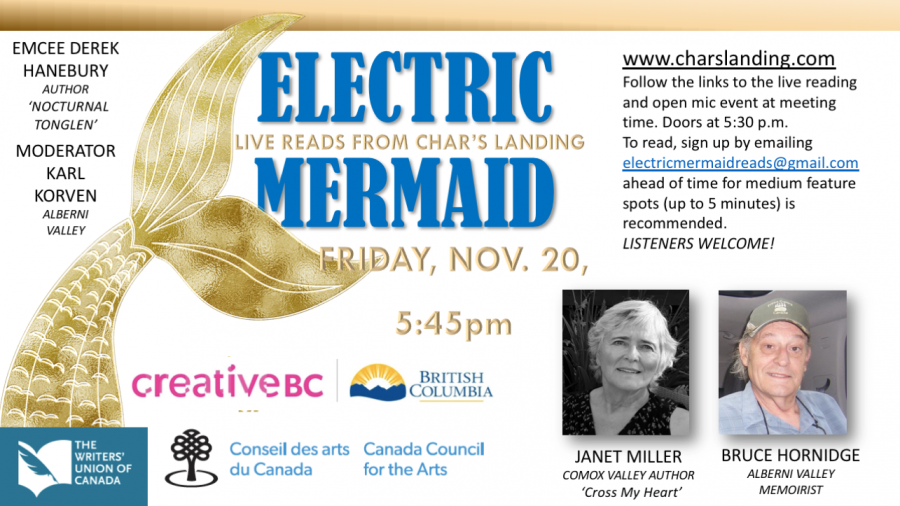 Date:
Friday, November 20, 2020 -

6:00pm

to

8:00pm
Contact:
ElectricMermaidReads@gmail.com
Electric Mermaid: Live Reads from Char's Landing
Emcee: Derek Hanebury  Moderator: Karl Korven  Artistic Director:  Jacqueline Carmichael  
Photographer: Micah Gardener  ZOOM Producer: Charlene Patterson
Spoken Word Open Mic via ZOOM, 3rd Friday of each month, virtual doors open 5:30pm Pacific Time
Port Alberni venue Char's Landing now plays host to the Zoomed Electric Mermaid
"Since being on Zoom allows us to pull in an audience from anywhere in the world, we've been very fortunate to hear from a wider diversity of regions—the island, the mainland and internationally as well.  going global!"     http://www.charslanding.com
November 20th featuring  Bruce Hornidge ( Alberni  Valley )    Janet V. Miller   (Comox Valley)
https://www.albernivalleynews.com/entertainment/new-literary-event-makes-virtual-debut-in-port-alberni/
Bruce E Hornidge Born 1948 in Ontario to military parents. I went in 1967 to logging at Kennedy Lake Division at Ucluelet BC, to road building 3 years then warehouse for 2 years. I broke in falling trees 1972 to 1998. I endured the Clayoquot Sound anti logging protests of 1993. Due to regulation and costs to log all employees were terminated in 1998. I am writing a book on my career which is to reflect the logging we were trying to accomplish. I will speak of the protests from a logger's perspective and the resulting trauma of job loss. This is a story not readily known. I am working on a murder novel and war novels. My feature reading will be my visit to the battlefield of Dieppe in 1999. Thankyou.
Janet V. Miller makes her home on Vancouver Island to be close to the ocean. Her children's book Cross My Heart was published in 2002. Award winning stories of Janet's have been published in Canadian magazines, newspapers and anthologies and she wins the occasional writing contest. She has attended the Victoria School of Writing, the Denman Island Writing Intensive, and the Sage Hill Writing Experience. The short story collection that she is currently working on recently became a novel.
Before Covid-19 descended upon the world Janet spent time on the South Coast of Nova Scotia and down in Mexico.
She is a long-time member of the Comox Valley Writers Society, the FBCW and TWUC
FACEBOOK GROUP: https://www.facebook.com/groups/777940299452077
YOUTUBE CHANNEL:  subscribe to see past events https://www.youtube.com/user/CharsLanding/videos
DONATIONS to help Char's Landing support the live arts are gratefully accepted with our thanks.
Bank online to eTransfer@charslanding.com please include the event date and your email address
PayPal to https://www.paypal.me/CharsLanding please include the event date and your email address
OR call 250-730-1636 to charge by phone.
OR stop by Char's Landing to pay by cash/cheque/interac
NOVEMBER 20TH ZOOM VIDEO : https://youtu.be/QUnN36oUKyI
READER 01  @ 0:08:10 Pat Buckna
READER 02  @ 0:13:00 Jacqueline Carmichael
FEATURE 01 @ 0:21:04 Bruce Hornidge
FEATURE 02 @  0:38:14 Janet V. Miller
READER 03  @  1:00:55 Jule Briese (raincheck)
READER 04  @ 1:01:15 Joe Lunchbucket
READER 05  @ 1:05:55 Kathleen Vance
READER 06  @ 1:11:05 David Kipling
READER 07  @ 1:21:00 Libbie Morin
READER 08  @ 1:26:45 Vicki Drybrough
READER 09  @ 1:32:49 Christine Lowther (raincheck)
READER 10  @ 1:32:50 Craig Copland 
READER 11  @ 1:39:54 Terri  Petz
READER 12  @ 1:40:07 Desmond
READER 14  @ 1:44:50 Judy  Brooks
READER 15  @ 1:49:12 Don Tecson
READER 00  @ 1:56:45 Derek Hanebury
For a full ZOOM Chat record, please email electricmermaidreads@gmail.com
Char's Landing 19+ (accompanied kids welcome) 4815 Argyle @5th Port Alberni, Vancouver Island, CANADA V9Y 1V9 Tel: 778-421-2427 www.charslanding.com
Char's gratefully acknowledges Creative BC and the Province of British Columbia @creativebcs and #amplifybc