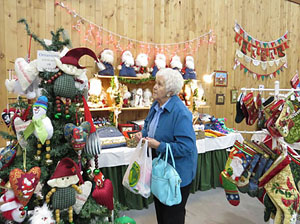 Date:
Friday, November 8, 2019 - 1:00am
Other Venue Details:
3727 Roger Street, Port Alberni
This is a huge craft fair with free admission and wheelchair accessibility. Crafts include needle art, Christmas Creations, First Nations weaving and carving, wood turning, sea glass creations, candles, bird houses, tatting, polymer sculpture, wildlife paintings on stone and canvass, jewelry, hand knit sweaters, glassware and much, much more.  We'll have a free draw each day for a basket filled with hand crafted treasures.  Fair hours are: Friday, Nov. 8th -- 1:00 pm – 7:00 pm, Saturday, Nov. 9th  – 10:00 am – 6:00 pm, Sunday, Nov. 10th  – 10:00 – 5:00 pm.