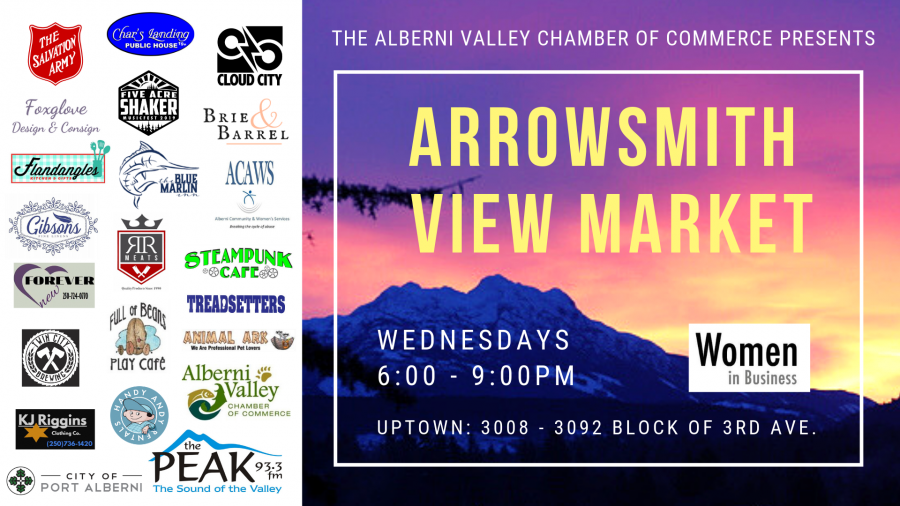 Date:
Wednesday, August 21, 2019 -
Other Venue Details:
Uptown: 3rd Ave. between Angus & Argyle Streets
Port Alberni's newest night market! Every Wednesday from 6:00-9:00pm until August 28th in Uptown on 3rd Avenue between Argyle Street and Angus Street. Meet the vendors selling a little bit of everything: Homemade baking, fresh fruits and veggies, vintage treasures, hard-to-find books, local honey and beeswax products, yummy kettle corn, body lotions and soaps, funky fashion and accessories, cosmetics, and more! Each week there is face painting, a kids fish pond, plus weekly live music so you can groove as you move between the vendor tables and local businesses who are open until 9pm! 
This event is brought to you by the Alberni Valley Chamber of Commerce and Gold Level Sponsor: The Women in Business group. Vendors still accepted - contact the Alberni Valley Chamber of Commerce or simply drop in on market day. Setup starts at 5:00pm. Vendor spots are available for a $20 deposit, paid back in full at the end of the season so long as the vendor attends.