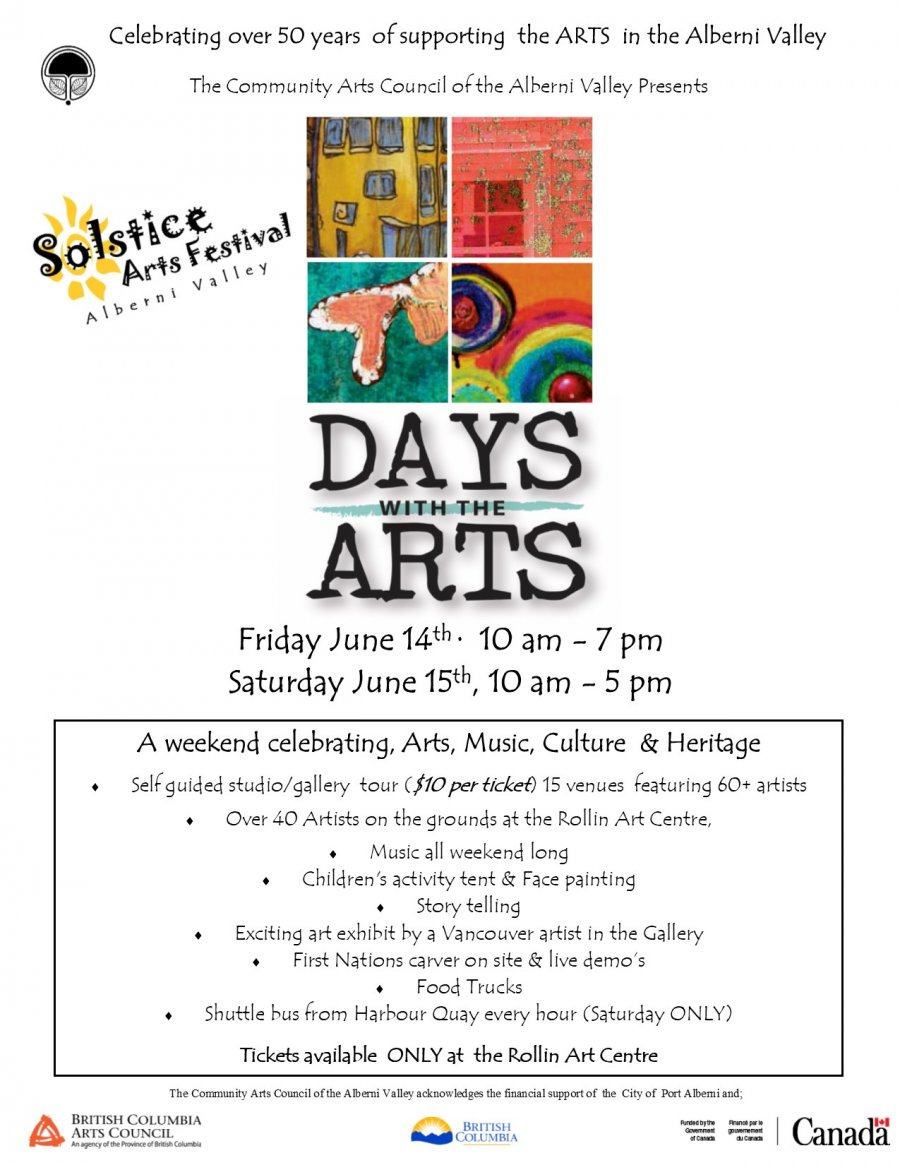 Date:
Friday, June 14, 2019 - 10:00am
to
Saturday, June 15, 2019 - 5:00pm
2019 Solstice Arts Festival
Friday June 14th (10 am - 7 pm) & Saturday June 15th (10 am -5 pm)
This year we have over 80 artists joining us at 15 local venues to bring an amazing selection of wonderful artists.
Tickets are on sale NOW for the 2019 Days with the Arts self guided home studio or gallery tour, June 14th & 15th!
This year proves to be a year to celebrate ART, and what a better way to help support the Rollin Art Centre by purchasing your tickets today! We have painters, metal artists, photographers, glass artists, wood carver, silversmiths, First nations artists, potters, jewelry, and mixed media on this years tour. Join us for two days of amazing art and creativity.
Tickets are now on sale, $10, at the Rollin Art Centre. What a GREAT weekend celebrating ART!
 At the Rollin Art Centre - 3061-8th Ave, Port Alberni
The Solstice Arts Festival brings an unforgettable weekend of art exhibits, music, theatrical performances and entertainment for the whole family. The principal objective of the Solstice Arts Festival is to encourage excellence in all forms of arts and crafts, and to assist in the promotion and sale of quality work, celebrating ARTS, CRAFTS and MUSIC.
Admission Free
DWTA 2019 – Artists, Musicians & Activities
Garden Artists –
1 – Jason Gress -Small and medium sized wood/metal sculptures, small paintings, hand painted greeting cards and some metal garden art
2 – KC & The Carpenter - Nature and Sense of Wonder experiences for children.  We design and build natural wooden toys, explorations, outdoor play equipment and furniture out of locally sourced wood from Vancouver Island. We only use non-toxic paint and sellers to ensure a safe play experience for all.
3 – Tammy Donaldson - Stytch in Tyme Custom embroidered creations
4 – Liliane & Marta Chouvin - Photography and Paintings
5 – TBA
6 – Jim Lawson - Wood Birdhouses
7 – Jordan Lavertu (Friday Only) - Handmade board games and Wood Coasters
8 – Raven Song Soaps - handmade soap
9 – Katreena Bennett - Digital Collage Art sold on canvas in various sizes
10 – Elizabeth Messer and Lisa Harrison - Handcrafted mixed metals and gemstone jewellery and adornments made by two recent NIC graduates of the Metal & Jewellery Design Program
11 – Nancy Husted - Polymer clay Things, Tile Coasters, Leather Things
12 – Kastaway Art – Amanda & Kerry Illerbrun - Upcycled metal artwork for home and garden west coast themed, salmon, crabs, stars, birds of all dimensions
13 – Ruta Ragelskiene – RR Designs - Handmade unique jewelry made with real gemstones and crystals, available as a sets or individual pieces, can be made in any colour or stone of your choice
14, 15, 16 – Wednesday Painters - Mixed media Painting
17 – Botanical Soap works (Janet Morrison) & Valerie's Paper craft Cottage (Valerie Barker) - Botanical Soap Works – Hand crafted soaps, organic oils, essential oils sustainably sourced Valerie's Paper Craft Cottage – Creating cards and paper crafts of unusual beauty
18 – Marina Kitchen & Kim Hansen – Glass and wood work
19 – Shelley Penner - wildlife paintings on stone plaques, using the natural pattern of the stone as the landscape setting, ranging in size from fridge magnets to ten-inch slabs. Also, wildlife paintings on canvas.
20 – Marcia Green - Beach Crafts and Baking
21 – Lori Delainey - Beaded Creations such as Hermit crabs, crabs, scorpions and spiders, some Jewellery, shadow boxes & picture frames with the beaded creations
22 – Lisa Boucher - Baked goods, plants and crafts
23 – Dragon Fly Design/ Barb Creber - Jewellery, crystals and stuffed animals
24 – Ingelore Raven / Fred - Handcrafted boxes and Ornaments
25 – Karla Strickland (Friday Only) - Contemporary Ceramics
25 – Kyla Ilic (Saturday Only) - Creating limited edition handcrafted storybooks for young readers. I also sell greeting cards and fine art prints
26 – Julia Mewhort - Hand Designed Jewellery crystals and gemstones
27 – Wendy Schmidt - Original Watercolour and oil paintings of wildlife, Printed Art Cards
28 – Wandering Fox (Danielle Murray) - Outdoors inspired apparel for the adventurous! Designed and hand printed in Chilliwack, BC. Pick and choose what design you want on what style of shirt!
29 – Yolande Fournier - Pottery
30 – Norma Delange and Elspeth Watson - Functional and Non-Functional Pottery hand built, and wheel thrown, hand fired
31 – All That Glitters (Tamasin Hannaford) - Handmade Jewellery
32 – Valerie Harty - sterling silver with different stones and gems all hand fabricated.
33 – Kim McQueen - Laser wood art
Rollin Art Centre's Gallery Exhibit
Derek Seddon – Vancouver artist – exhibit title – "Landscapes Near and Far"
Entertainers in the Garden
Friday June 14
11:00 - 12:30 – Neil Anderson & Rhonda Holcombe
12:45 – 2:15 – Morgan Schoen - Morgan is a 16-year-old Indie-Alternative-Pop singer and multi-instrumentalist. She's a chocolate enthusiast that loves to perform whether it be acting or singing."
2:30 - 4:00 – Dennis Olsen - Musician ~ Composer ~ Guitar Instructor ~ Performer ~ Sensei
Dennis Olsen perfected his craft and developed his talent as a classical artist; studying and benefiting from such noted guitarists as Gordon Crosskey (England), Jose Thomas (Spain) and George Sakellariou (United States).
Dennis continues to perform classical recitals, jazz duets & party duets as well as playing lead guitar for Storm Warning, a local 5-piece rock band
4:45-6:15 – Catt Sass - About CAT SASS
Colleen and Janet met on a camping trip and, singing around the fire together, instantly bonded. Since then Colleen and Janet have sung together in local choirs and musicals. Powerhouse vocalists and seasoned musicians, Colleen and Janet perform songs from the '50s to now in many genres. That feeling when tight harmonies come together naturally? That's Cat Sass!
COLLEEN BROOKS has been a professional musician for 25 years. She started singing in church and youth choirs, and later as the vocalist in her high school's stage band. At 19, Colleen joined local band, Country Club. From there, she played larger venues in Nanaimo, Victoria and Calgary in the bands Night Magic and Kick A Little. In 1999, Colleen recorded her first solo album If Only I. Colleen went on to tour Alberta, Saskatchewan and Ontario with country recording artist Julian Austin. Currently, she plays bass and sings anything from Patsy Cline to Pink in Cat Sass.
JANET DEAKIN picked up her first guitar when she was 9-years-old. In her early 20s, she started playing and singing in a few different bands in southern Ontario. Since moving to Port Alberni in 2001, she's been a part of Storm Warning, Diamond Dog and Cat Sass. For the past four years with Cat Sass, Janet has been playing guitar and singing a variety of music, from Bonnie Raitt to Blue Rodeo.
All day –
·         Children's activity tent
·         Cecil Dawson – First nations Carver
·         Fred Raven – Demo – Wood inlays
Saturday June 15
11-12 – Marim – Bam – Buzz - Following the tradition of other Zimbabwean marimba bands, Marim-Bam-Buzz's original band members crafted their own instruments. They were built, within one intensive week, under the guidance of Marimba Muzuva's legendary Dean Samuel and Lesquiti Islander Don McDonald. The process of building the instruments not only helped to increase members' appreciation for the music, but also helped to build and solidify a communal basis for the budding band.
This style of this music originated in 1960's Zimbabwe, when traditional "Mbira" tunes and rhythm were transposed to the much louder 7-piece marimba ensemble format. Marim-Bam-Buzz was founded on an enjoyment of the music and the process of playing it, rather than a technical finesse. However, over the years, and with a variety of band members and mentors, the techniques have been refined and expanded on.
MBB has performed well over 100 concerts in its almost two decades of existence and is pleased to share this Zimbabwean style dance music with Vancouver Island residents and visitors alike.
12:00 - 5:00 – Charli Jaenta – face painting - Charli has been adding a splash of colour to birthdays, community events, costuming events and more for over 10 years now!
12:45 - 2:15 – Jim & Babs – Country Duo
1:00 - 2:00 – Logan Richards & Bronwynn Marie – Reminiscences of Reconciliation - Storying Telling with Song and Dance in the Children's Garden
Reminiscences of Reconciliation is a brief time-travelling adventure of a Cree man and Caucasian woman who come to the present day to espouse on the historic injustice and possible future of the relationship between the North American Indigenous civilization and the Caucasian people. It is told by Logan Richards and Bronwynn Mairie through story, song and dance. Logan Richards has performed in Victoria's Fringe Festival and Bronwynn Mairie has performed with the Portal Players. 
2:30-4:30 – Dennis Olsen & Guy Langlois – Jazz Duo
 Dennis Olson - to perform classical recitals, jazz duets & party duets as well as playing lead guitar for Storm Warning, a local 5-piece rock band
Guy Langlois - Upright bass player, guitarist, synthesizers. Performing in all genres of music
 All day –
·         Children's activity tent
·         Cecil Dawson – First nations Carver
·         Fred Raven – Demo – Wood inlays
On-Site
Sami's Hut - Falafels on a bun, warm soft pretzels with a variety of toppings, pop, potato chips, cheezies. Sami's Hut food cart is brand new to the Port Alberni area. I am also brand new to the food cart business. My husband, myself and our precious black lab Sami moved to the Alberni Valley a couple years ago from Steveston in the lower mainland. We have made this valley our forever home. Our goal is to serve delicious fun food and have fun doing it.
MR Potato - Hot Dogs, Hamburgers/ Cheeseburgers French Fries, Poutine, Pop
Days with the Arts Self Guided Tour –
Tickets $10 each
15 Venues – more then 88 artists
Rollin Art Centre – 37 artists & 15 musicians
DRAW Gallery – representing west coast artists
Angel Eyes Studio – crystals & gemstones and nature - paintings
Ocean Valley Ink – painter, poet & spiritualist
Darran Chaisson Photography – specializing in landscape, concert & promotional advertising photos
Power of Three – Winter Darby (graphics portraits), Kathleen Bodaly (art that makes you smile) & Shelly Llewelyn  art in many shapes and forms)
This N That – First nations art
Desneige Zvonarova & Katie Grieve – sketch artist, painter art cards
Burde Beans - Pamela Holl Hunt – contemporary artist
Diane Dobson – nostalgia vintage jewelry
Coastal Flow Glass – kiln formed glass
Chris Duncan – chainsaw wood carvings
Todd Robinson – glass, metal, wood & stone designs
Mae LeBlanc -watercolour painter in home studio
Vittoria Doughty – stainless steel wall sculptures
SELF GUIDED GALLERY TOUR TICKETS ON SALE NOW 
Tickets Limited
15 VENUES - over 80 ARTISTS