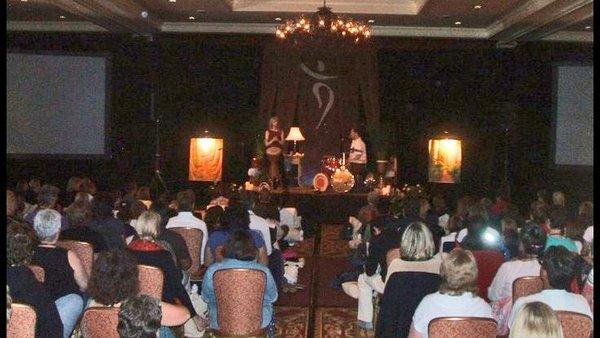 Date:
Saturday, March 10, 2018 -
Other Venue Details:
The Studio on 3rd Port Alberni
Contact:
Georgina Cyr HealingAll@hotmail.com 250 720-5587
A soulful, musical experience to ignite your inner fire
POWERFUL … NURTURING … ENCHANTING!
"Absolutely one of the most outstanding things I have ever experienced! It's something you'll never forget!"
~ BBC Radio 2's legendary Johnnie Walker after a SacredFire concert in the UK
Come celebrate Community and raise your energy! Immerse in the mystical, timeless, intentional music of Worldbeat Sound Healing Musicians, MJ Vermette and Dean Richards fromSacredFire,
The duo's distinctive musical style conveys the vibration of tribal, Celtic and progressive rock music with opera & devotional new age flavors. This intimate music concert & sound meditative journey will blend sacred sounds & ecstatic drumming with heart-opening, mesmerizing songs, to help you attain a sense of balance, deep joy, nourishment and harmony.
With the theme of Water & Fire, this one-of-a-kind, 2-part experience will allow you to set your intention for personal awakening & connect you with your intuition. MJ & Dean will be offering songs from their album CONTINUUM – Music for Peace & Healing, as well as new material from their upcoming album.
ABOUT SOUND HEALING & INTENTIONAL MUSIC
Sound Healing & Intentional Music stimulates the release of endorphin in our bodies, therefore increasing a feeling of well-being and, in some cases, decreasing the need for medication. It provides relief from stress and anxiety, which are known to cause physical and emotional imbalances such as high blood pressure, headaches, insomnia, weight disorders, depression, and other various health issues.
LINKS
Click here to listen to SacredFire's magical music
Watch their videos on YouTube: www.youtube.com/sacredfiremusic
LIKE the Facebook page: www.facebook.com/sacredfiremusic
BIO
Newly established on Vancouver Island, MJ & Dean are Canadian Worldbeat Music Medicine Artists who travel the world as SACREDFIRE, igniting spirits and bringing a sense of grounding & connection with their intentional concerts & workshops.
In the last 8 years, they have performed & toured in France, Germany, Mexico, Canada & the United States, and have recorded 3 albums. Their latest album CONTINUUM includes collaborations with prominent musicians who have worked with Pink Floyd, Paul McCartney, Eurythmics and more.
MJ & Dean use musical expression as an empowering tool, to create a sense of wholeness and JOY, & build pathways between humans and their ancestral inner wisdom. Read SacredFire's full bio here.
MJ Vermette – Sound Healing Artist, Musician, Music Producer, Workshop Facilitator and certified, Bodymind & Energy Therapy Practitioner.
Dean Richards – Musician, Recording Artist, Music Producer and Sound engineer.
Tickets $29.00 in advance - $35.00 at the door.
More info: www.sacredfiremusic.com
Watch a SacredFire Music Video: https://youtu.be/2UJsiHAsBtM
Visit SacredFire's website: www.sacredfiremusic.com
Special invitation: All wellness practitioners and therapists attending are welcome to bring flyers / cards to promote their services. Let's create a healthy community web together!