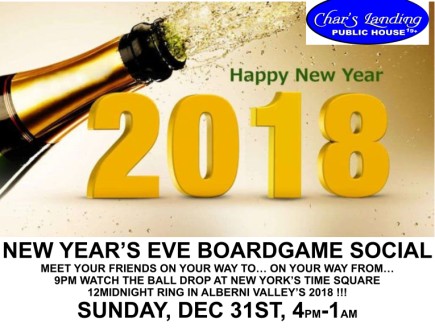 Date:
Sunday, December 31, 2017 -
Contact:
info@charslanding.com 778-421-2427
Sun, Dec 31st, 4pm-1am, New Year's Eve Social – Boardgames, Big Screen TV – Kids welcome
9pm watch the ball drop at New York's Time Square.   12midnight ring in the Alberni Valley's 2018 !!!
Tons going on in Port Alberni for New Years Eve !!!  Why not stop by on your way to... or on your way back from... for a mocktail or cocktail... meet your friends at Char's where we have lots of free overnight parking and taxi on to your event?  Bring some nibblies?  Bring your own music to play on Char's P.A.?  Maybe disco ?  We'll have the dance floor set up.  Consider Char's your living room.  We also have the 3 bedrooms (each with private bathroom) downstairs in the guesthouse.  Full kitchen.  No need to drive home.
FMI http://alberni.ca/events/25978 Char's 19+ Lounge open 4pm-12midnight Thu/Fri/Sat/Sun www.charslanding.com Char's Landing, 4815 Argyle @5th. Port Alberni V9Y 1V9