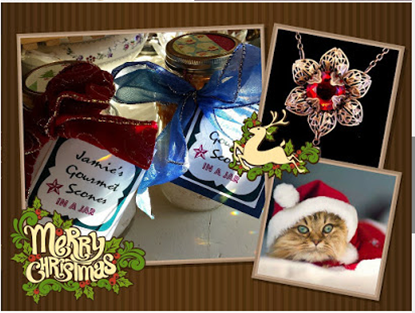 Date:
Friday, November 17, 2017 - 12:35am
to
Sunday, November 26, 2017 - 5:00pm
Other Venue Details:
3945-4th Ave Port Alberni BC
10th Annual Magic Cottage Craft & Gift Sale
With winter's chill upon us and our thoughts filling with festival flare, what better way to celebrate the season than with a trip to the Magic Cottage. Our crafty elves have been busy working all year round to create lots of new and delightful things made especially for you. Many Island artisans have gathered to help you find that perfect treasure for gift giving, or to enhance your home this holiday season.
Embracing the finer things in life the Cottage has an incredible assortment to offer you, all at reasonable prices. There's sweets for your sweetie, tasty treats for your tummy and lots of delightful décor to deck the halls. You'll find a beautiful selection of glass work, trendy jewellery, needlework, Victoriana and collectables. There'll be an assortment of origami, paper crafts, woodwork, fabric crafts, body products, Christmas gifts and trimmings galore! Jamie's scones are always a favorite, and hot apple cider will be served as well. And don't forget the gift basket draw for a donation to the Read and Feed Program that feed our hungry little ones at school.
The Magic Cottage will open on Friday, Nov.17 (6-9), Saturday, Nov.18 (10-6), Sunday, Nov.19 (10-5) as well as the following weekend on Friday, Nov.24 (6-9), Saturday, Nov.25 (10-6), Sunday, Nov.26 (10-5). The Magic Cottage is still located at 3945-4th Avenue, between Morton and Maitland, Port Alberni, BC but as a celebration of our 10th year the fair will be held in the second Cottage behind the main building to provide more room for browsing. So be sure to come in and browse. Just look for the signs to lead the way. Don't forget to "Like" us on Facebook. https://www.facebook.com/themagiccottage