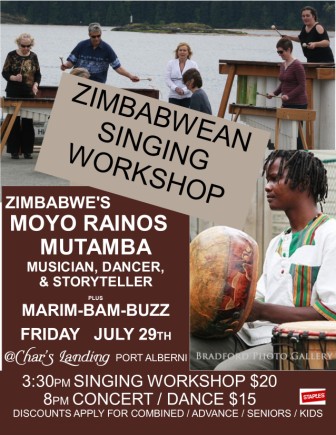 Date:
Saturday, July 29, 2017 -
Contact:
info@charslanding.com 778-421-2427
Sat, Jul 29th, 3:30-5pm, Workshop – Moyo Rainos Mutamba – Sing a Zimbabwean Song
Sing traditional Zimbabwean song with Moyo Mutamba and Marim-Bam-Buzz.
http://www.albernivalleynews.com/local-entertainment/music-of-zimbabwe-t...
Learn the spiritual, historical and cultural background as you sing in the Shona Language of Zimbabwe.
Enjoy the energy of many voices.  "If you can Walk you can Dance.  If you can Talk you can Sing"
Advance $25/$20 (Workshop+Concert)/(Workshop) LIMITED SEATS now @Char's from 4pm daily, charge by phone (778) 421-2427, online http://bpt.me/
FMI http://alberni.ca/events/ Char's 19+ Lounge open 5:30-12midnight 365+ days a year www.charslanding.com Char's Landing, 4815 Argyle @5th. Port Alberni V9Y 1V9
Sat, Jul 29th, 8-10pm, Concert – Moyo Rainos Mutamba + Marim-Bam-Buz – Zimbabwean mbira + marimba
Moyo Rainos Mutamba is a multi-disciplinary artist, community learning facilitator, speaker, researcher and PhD student at the University of Toronto. He is a musician, dancer and storyteller. His music is centered around mbira, an instrument that has been played in Zimbabwe for hundreds of years. He tells Zimbabwean-based historical stories and folk tales. Storytelling and song have been a part of Mutamba's life since he was a child in a small village in Zimbabwe where he grew up. His love for storytelling was deepened by his large family for whom telling stories was a ritual every night—gathered around burning fire under the watching eye of the moon. To this day he draws upon stories that his grandmother, sisters, mother and other relatives inherited from his ancestors. He has told stories in schools, community centres, festivals, healing circles and around fires. Moyo performs with the mbira band Nhapitapi, but can also be seen performing solo. He has performed at major festivals in Canada such as Afrofest in Toronto among others.  He has also performed in Canada, the U.S. and Zimbabwe.  The DANCE floor will be open !!!
https://2014.zimfest.org/teachers/moyo-rainos-mutamba/  
Marim-Bam-Buzz bio   The irrepressible music of Marim-Bam-Buzz has been welcomed by people in the Alberni Valley since 1999.  The instruments were made after a few enthusiastic attendees of a Marimba Muzuva concert thought a Port Alberni marimba band would be an excellent community building project.  We thought the process of building the instruments would not only help us to truly appreciate the music but also help us solidify a communal basis for the budding band.  And the adventure began… The marimbas built were the Zimbabwean marimbas that are based on Shona music.   Marimbas are finely crafted xylophones made from hardwoods such as vermilion, mahogany and peduk (Marim-Bam-Buzz used peduk).   The keys are fine-tuned to reflect the tones played in African societies.  Each key has a resonator which amplifies the sound, producing a unique musical effect--from the clear, bell-like tones of the soprano marimba to the deep, percussive tones of the bass (Marim-Bam-Buzz used PVC pipes and wood plugs covered with cellophane which gives the buzz).   Marimbas are about five feet long with their heights varying from two feet to more than five feet. This style of this music originated in Zimbabwe in the 1960's when traditional "Mbira" tunes and rhythm were transposed to the much louder 7-piece marimba ensemble format.  Although we practised we were more concerned with having fun and just enjoying the process rather than the technical finesse, hence the name Marim-BAM-BUZZ.   In the Marim-Bam-Buzz ensemble there are seven marimbas (3 sopranos, 2 tenors, a baritone and bass) along with percussion instruments: hoshos, cow bells, triangle and various hand drums.  Over the years and a hundred odd gigs later the band members have changed, but overall the energy and attitude remains the same.   Marim-Bam-Buzz keeps bamming and buzzing and bringing a smile to the various member's faces and its listeners.
Advance $10 (Showdate $15 / Senior $10 / Kids $10) now @Char's from 4pm daily, charge by phone (778) 421-2427, online http://bpt.me/3021857
FMI http://alberni.ca/events/ Char's 19+ Lounge open 5:30-12midnight 365+ days a year www.charslanding.com Char's Landing, 4815 Argyle @5th. Port Alberni V9Y 1V9